NEXT STORY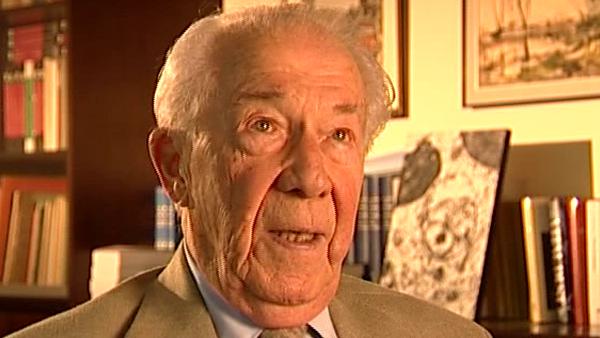 'Pericanalicular dense bodies'
Dame Honor B Fell and vitamin A
Christian de Duve
Scientist
1
...
4
5
6
7
8
...
11
Incidentally, all these diseases are the price we pay for having constipated cells; I mean, if the cells could discharge the contents of their lysosomes outside there would be no storage disease and so we see here... again, I'm talking about with my new incarnation of an evolutionist, we see here natural selection at work, choosing the least of two evils. All right, well, so much about lysosomes, I don't... I could go on, you know, books and books have been written about them and many very interesting people have become involved. I might mention one person because I have a special affection for her – she has disappeared since then, she has left us – but that was Helen Fell... Honor Fell, sorry, Honor Fell... Honor B Fell, Dame Honor B Fell, one of the great British biologists who really was famous for developing organ culture, and she became interested in vitamin A. She had worked with Mellanby and she became interested in vitamin A and actually studied the effect of excess vitamin A on cultures of chicken cartilage, bone, explants. Vitamin A is one of the only really toxic vitamins if you give... you know, every year, even today, paediatricians get visits from mothers who come with their babies and a broken arm and a broken leg because they have given their babies too much vitamin A. And vitamin A, when it is given in excess causes the destruction of bone tissue. Well, that's what Honor Fell had studied in vitro... in organ cultures and she, really, just by adding vitamin A, saw the whole matrix of the bone disappear, being dissolved, leaving only the cells; the cells were intact. And so she heard about lysosomes – in fact, I remember she came to me, a very gentle lady... in fact, very forceful as I happened to know afterwards, but she came to me at some congress in Paris and talked to me about this and said, 'This may of interest to you.' And she had with her a young man called John Dingle, and John Dingle was a biochemist; she was not. And so he went back and found that under the influence of vitamin A these bone transplants would release the contents of their lysosomes outside and cause all this destruction. And so she, with John Dingle, started a series of books on lysosomes in physiology and pathology of which seven volumes were published between the years '69 and '74, or something like that, so that was an interesting experience. And I met a number of other very nice people doing this work, and we did, of course, a lot of work ourselves on various aspects of lysosome physiology and pathology.
Belgian biochemist Christian de Duve (1917-2013) was best known for his work on understanding and categorising subcellular organelles. He won the Nobel Prize in Physiology or Medicine in 1974 for his joint discovery of lysosomes, the subcellular organelles that digest macromolecules and deal with ingested bacteria.
Title: Dame Honor B Fell and vitamin A
Listeners: Peter Newmark
Peter Newmark has recently retired as Editorial Director of BioMed Central Ltd, the Open Access journal publisher. He obtained a D. Phil. from Oxford University and was originally a research biochemist at St Bartholomew's Hospital Medical School in London, but left research to become Biology Editor and then Deputy Editor of the journal Nature. He then became Managing Director of Current Biology Ltd, where he started a series of Current Opinion journals, and was founding Editor of the journal Current Biology. Subsequently he was Editorial Director for Elsevier Science London, before joining BioMed Central Ltd.
Tags: Honor B Fell, Edward Mellanby, John Dingle
Duration: 3 minutes, 49 seconds
Date story recorded: September 2005
Date story went live: 24 January 2008