NEXT STORY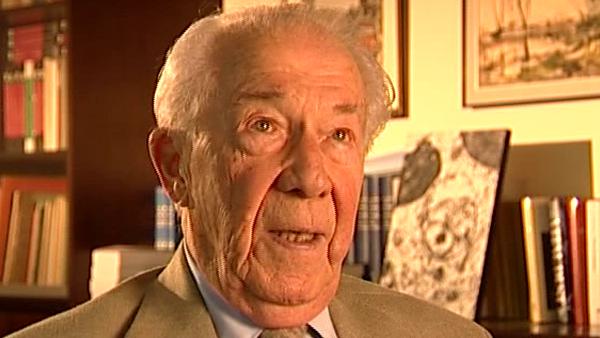 Expanding and funding the ICP
Collaboration within the ICP
Christian de Duve
Scientist
1
...
5
6
7
8
9
...
11
Those four groups were the first ones and I think it's rather interesting to point out that we really tried to put together, in this institute, cell biologists and molecular biologists, the idea being that these people should really talk to each other and collaborate – they have complimentary kind of expertises that could reinforce one another in the study of many problems. And I should perhaps tell you that, for quite a long time, I lived... at least cell biology and molecular biology really were separated by a sort of communication barrier; that is, molecular biologists were jealously protecting their own turf and they were exclusively interested in, let's say, phage and maybe sometimes bacteria, viruses they were interested in... they really were mostly interested in genes and DNA and eventually RNA and translation of the RNA into proteins, but they had very little interest for the things I did – biochemistry, cell biology, wasn't really very much interest to them, so we followed what they did, because obviously cell biologists had to know about DNA and RNA but they thought they were dealing with the basic fundamentals of life and they didn't need to go into all the details of the cells, animal cells, plant cells that we were working on, and so this, of course, was bound to change. I mean, it was obviously important that the molecular biologists should become interested in cell biology and vice versa. And this, of course, has happened today very much, but when we created this institute, this project, the idea of putting together cell biologists and molecular biologists was really somewhat new and extremely important because one of the basic principles of the new institute was multidisciplinary researches... collaboration between people, different disciplines. You have an immunologist collaborating with a biochemist, this didn't happen in many places and, obviously, they could both learn from each other and together do things that they could not do singly. The same thing for the cell biologists and the molecular biologists. And so all these techniques were supposed to be... expertises were supposed to join into common projects that would eventually lead to applying this whole gamut of techniques and knowledge to studies of problems of pathology such as cancer, endocrinological disorders, metabolic disorders, bone disorders, arthritis, etc., etc.
Belgian biochemist Christian de Duve (1917-2013) was best known for his work on understanding and categorising subcellular organelles. He won the Nobel Prize in Physiology or Medicine in 1974 for his joint discovery of lysosomes, the subcellular organelles that digest macromolecules and deal with ingested bacteria.
Title: Collaboration within the ICP
Listeners: Peter Newmark
Peter Newmark has recently retired as Editorial Director of BioMed Central Ltd, the Open Access journal publisher. He obtained a D. Phil. from Oxford University and was originally a research biochemist at St Bartholomew's Hospital Medical School in London, but left research to become Biology Editor and then Deputy Editor of the journal Nature. He then became Managing Director of Current Biology Ltd, where he started a series of Current Opinion journals, and was founding Editor of the journal Current Biology. Subsequently he was Editorial Director for Elsevier Science London, before joining BioMed Central Ltd.
Tags: International Institute of Cellular and Molecular Pathology
Duration: 3 minutes, 29 seconds
Date story recorded: September 2005
Date story went live: 24 January 2008