NEXT STORY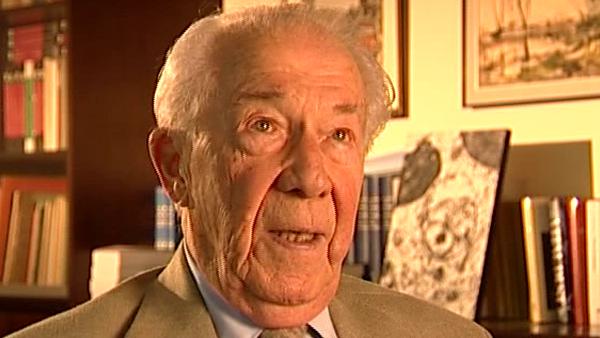 'Choose your mentors well'
Christian de Duve
Scientist
1
...
6
7
8
9
10
11
Well, one thing I had to... to learn when the ICP [International Institute of Cellular and Molecular Pathology] was started – something I had little experience of before – was fundraising. Of course, I had to apply for money like anybody else, but I did this by way of grant applications and the usual... the usual system. This was different; this was finding money for the institute as such, and of course I had some experience of how this worked in the United States, where there's a tradition of philanthropy. And in doing this I discovered the enormous difference between the United States and Europe. As I said, in the United States there is this tradition of giving; I mean, when you've made your first $10 million or so, the first thing an American does is to look around for some organisation – research institute, an orchestra, museum or whatnot – they can support, usually in their own community. In Europe what they look around for is a tax shelter – some place where they can stash their money and not pay taxes, and this is very strange because there are very wealthy people in Europe and there are very powerful businesses in Europe, and I was a little naive when I... having witnessed what happened in United States, I decided I'd try the same thing in Europe; I was fortunate enough to find a few people who were... who were motivated, and together we created what we call the Development Council for the institute and this has been... I wouldn't say very successful, but somewhat successful, and it has given me an opportunity to mix a little with a crowd that I have never mixed before: the wealthy. And, well, I found out that they are just like other people – there are good ones and bad ones, but I've made a few friends among them and it was, on the whole, a nice experience, and we've found quite a number of truly motivated people who not only support us personally but work for us to find additional support.
Belgian biochemist Christian de Duve (1917-2013) was best known for his work on understanding and categorising subcellular organelles. He won the Nobel Prize in Physiology or Medicine in 1974 for his joint discovery of lysosomes, the subcellular organelles that digest macromolecules and deal with ingested bacteria.
Title: Fundraising for the ICP
Listeners: Peter Newmark
Peter Newmark has recently retired as Editorial Director of BioMed Central Ltd, the Open Access journal publisher. He obtained a D. Phil. from Oxford University and was originally a research biochemist at St Bartholomew's Hospital Medical School in London, but left research to become Biology Editor and then Deputy Editor of the journal Nature. He then became Managing Director of Current Biology Ltd, where he started a series of Current Opinion journals, and was founding Editor of the journal Current Biology. Subsequently he was Editorial Director for Elsevier Science London, before joining BioMed Central Ltd.
Tags: International Institute of Cellular and Molecular Pathology, ICP, USA
Duration: 2 minutes, 37 seconds
Date story recorded: September 2005
Date story went live: 24 January 2008