NEXT STORY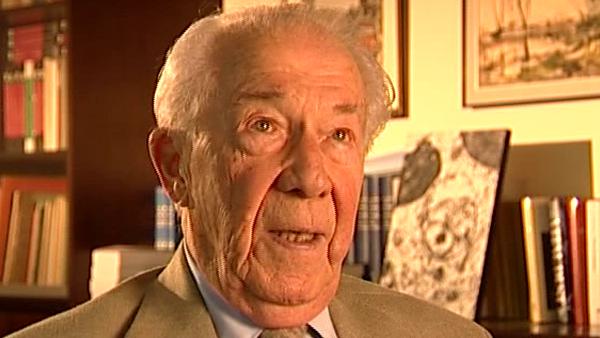 Writing Blueprint for a Cell: The Nature and Origin of Life
A Guided Tour of the Living Cell
Christian de Duve
Scientist
1
...
6
7
8
9
10
11
Now, it so happens that those lectures were taped, and later I was approached by the people who run or ran the Rockefeller University Press; they said, 'Could we make a book out of this?' I said, 'No way, I'm much too busy doing research.' I was still very active in the lab at that time. 'No way I'm not going to spend my time writing a book', and so, okay, they let the matter rest until a few years later. A young man from Argentina came to visit the university and he had a sort of double job – he worked with a well... well-known cell and molecular biologist in Argentina called De Robertis but at the same time he was something of a journalist; he wrote science articles for newspapers. And he heard about those tapes and said, 'Oh, could I edit them?' I said, 'Well, why not?' And so he started transcribing the tapes and rewriting some of the stuff and he sent it to me. And I can't say I was appalled but I didn't recognise my own writing or my own stuff and so I started... I started correcting and rewriting and after having done so for one or two chapters, I said to him, 'Listen, it's impossible – either I have to rewrite the whole thing or you drop it', so he dropped the project. But I sort of got caught in the act and started rewriting the whole thing. Now that took several years because I really had to start learning first. Because my field was biochemistry... I knew a little about biochemistry; cell biology, as I said before, I knew only those parts that I was personally working on but then I really had to start reading and studying, well, all the other parts of the cell. I had to start making illustrations – this book has about 200 illustrations, many of them actually drawn by myself and then redrawn by an artist. I had a very pleasant collaboration with an illustrator called Neil Hardy, and he actually came to Belgium and worked with me for several days. And it was rather amusing; it was an amusing experience because somehow those drawings that I made were very crude drawings, of course – I made them simply by imagining molecules, because these were really scale models of molecules. I imagined those things, or imagined chromosomes or things like that. But he had to build... he was an artist, a professional – he had to build a paper model of the molecule before he could start drawing... is a very interesting difference. Well, anyway, I had to find electron micrographs and photographs, I even included a few works of art, I had a Henry Moore to compare with the structure of mitochondria, a Hans Arp to compare with the structure of a protein, and so on. Anyway, it turned out to be a big undertaking, especially since I was still busy doing research at the same time, but I really enjoyed it and I... I enjoyed really beginning to learn something. It was sort of an experience, like what I had been doing all my life had been digging, and the deeper you dig, the narrower your scope and finally I was down there in that little tunnel and just looking at lysosomes and peroxisomes and so, slowly, I was moving up and looking around and saying, 'My God, but this is also interesting, this is fascinating and so on.' So it was... it was a tremendously gratifying experience and the end result was a book called A Guided Tour of a Living Cell – many illustrations; appeared I think in 1984. And it appeared as... as a second book in a new collection called The Scientific American Library, so I had a very good publisher for the book and in fact made good friends, thanks to this publisher, and I think the book was moderately successful because there was a subscription organised by The Scientific American for all the books of this library.
Belgian biochemist Christian de Duve (1917-2013) was best known for his work on understanding and categorising subcellular organelles. He won the Nobel Prize in Physiology or Medicine in 1974 for his joint discovery of lysosomes, the subcellular organelles that digest macromolecules and deal with ingested bacteria.
Title: "A Guided Tour of the Living Cell"
Listeners: Peter Newmark
Peter Newmark has recently retired as Editorial Director of BioMed Central Ltd, the Open Access journal publisher. He obtained a D. Phil. from Oxford University and was originally a research biochemist at St Bartholomew's Hospital Medical School in London, but left research to become Biology Editor and then Deputy Editor of the journal Nature. He then became Managing Director of Current Biology Ltd, where he started a series of Current Opinion journals, and was founding Editor of the journal Current Biology. Subsequently he was Editorial Director for Elsevier Science London, before joining BioMed Central Ltd.
Tags: Rockefeller University Press, A Guided Tour of a Living Cell, 1984, The Scientific American Library, Neil Hardy
Duration: 5 minutes, 26 seconds
Date story recorded: September 2005
Date story went live: 24 January 2008