NEXT STORY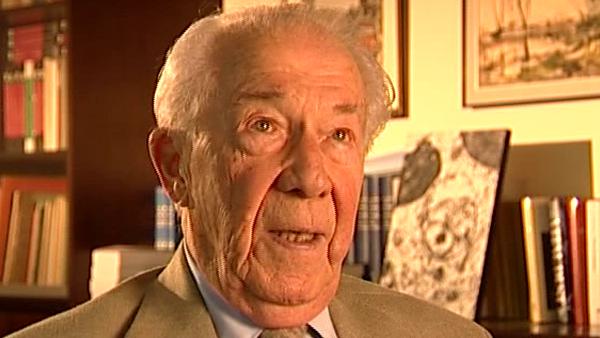 Religious considerations regarding the chair at Louvain
From philosophy to religion
Christian de Duve
Scientist
1
...
7
8
9
10
11
Back to what was really a new thing in... in the... Life Evolving, in the latest book, namely for the first time I moved from just philosophy, Vital Dust, to religion. The last chapter of Life Evolving is titled How about God in all that? Now, that was a topic that I had carefully avoided for most of my professional life. I talked about my childhood. I explained how I had been a pupil of the Jesuits and a devout Catholic at that time. And I had been trained, let's say, to think in terms of philosophy and theology. Socrates... Socrates and Thomas Aquinas. And then suddenly when I discovered science at university I discovered a new way of approaching reality and suddenly all these dogmas, these beliefs, appeared to me just completely irrational and there is no justification. And so, my faith, if I may say, was lost, very rapidly, and this raised a major problem for me when I was offered a chair at the Catholic University of Louvain. Because, in those days, the Catholic University of Louvain was very Catholic. It was... the chancellor was a bishop, the board of administrators was all the bishops of Belgium, and if you were appointed a professor you had... I wouldn't say swear allegiance, but at least you had to, sort of, make some kind of gesture with respect to the... to the church, and this attitude of the university is, of course, what caused the foundation in Belgium of the Free University of Brussels, which was in fact founded by Freemasons as a reaction against the dogmatic University of Louvain. I should say that even though Louvain has always been Catholic and rooted in the Catholic Church, it has always been at odds with the Vatican. It's been a haven for rebel theologians and they've had many fights with the Vatican, and the University has had a number of really first-class scientists. Georges Lemaître who discovered the Big Bang – a friend of Einstein and so on, and he discovered the Big Bang and called it l'atome primitif, the primitive atom. He was a priest and so we've had some very good mathematicians, some biologists. So the University did not put any constraint on the research. That is, they accepted the fact that science is a completely free tool to investigate matters; there was never any question of imposing, let's say, some kind of vitalism or finalism or intelligent design – all the biologists were quite free and happy to do biochemistry like everyone else. There was no Catholic biochemistry as opposed to freethinking biochemistry; there was only one biochemistry. So there was no problem there, but when it came to philosophy, theology, the humanities; there... of course, there was a manifest slant in favour of the prevalent dogma, if I may say.
Belgian biochemist Christian de Duve (1917-2013) was best known for his work on understanding and categorising subcellular organelles. He won the Nobel Prize in Physiology or Medicine in 1974 for his joint discovery of lysosomes, the subcellular organelles that digest macromolecules and deal with ingested bacteria.
Title: From philosophy to religion
Listeners: Peter Newmark
Peter Newmark has recently retired as Editorial Director of BioMed Central Ltd, the Open Access journal publisher. He obtained a D. Phil. from Oxford University and was originally a research biochemist at St Bartholomew's Hospital Medical School in London, but left research to become Biology Editor and then Deputy Editor of the journal Nature. He then became Managing Director of Current Biology Ltd, where he started a series of Current Opinion journals, and was founding Editor of the journal Current Biology. Subsequently he was Editorial Director for Elsevier Science London, before joining BioMed Central Ltd.
Tags: Life Evolving, Vital Dust, How about God in all that?, Catholic University of Louvain, Socrates, Thomas Aquinas, Georges Lemaître
Duration: 4 minutes, 42 seconds
Date story recorded: September 2005
Date story went live: 24 January 2008