NEXT STORY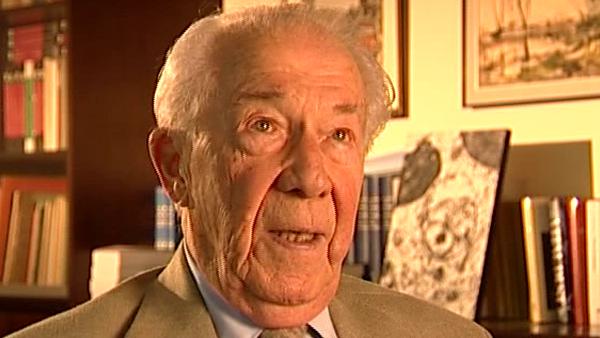 Accidental events and natural selection
Singularities: The accident of life
Christian de Duve
Scientist
1
...
7
8
9
10
11
I wrote a book, very thin, called Singularities. It will come out any day in the United States and it has already come out in French a few months ago. And Singularities deals with a number of events or properties that are single in the history of life – unique. And, for instance, there is a single common ancestor for all living beings. All living beings are made of cells; singularity. All cells are surrounded by membranes based on lipid bilayers; singularity. All cells use metabolic reactions that are catalysed by protein enzymes; singularity. All living cells use ATP as a major vehicle for energy; singularity. All cells use electron transfers and proton transfers in the mechanisms serve to generate ATP; singularity. All living cells use... living organisms use DNA as the repository... the replicable repository of information; singularity. DNA in all living organisms is transcribed into RNA which does a lot of things. Some of that... much of that RNA is messenger RNA – is translated into protein; all these are common to all living beings. That's what I call singularities, and so with this little book, I've in a way done what I did twenty years ago with Blueprint for a Cell, summarising what are the really key properties of life as I see them, and of the origin and evolution of life. And one... perhaps the most... slightly original part of the book is a sentence which reads: 'Chance does not exclude inevitability.' Now, it's a sort of dogma among biologists and the dogma has been supported by extremely... extremely competent and charismatic and convincing... convincing preachers. I'm thinking, for instance, of the late Steven Jay Gould, Lynn Margulis and a number of others, and the dogma says the history of life has been governed by chance. If it were to be started all over again, the outcome would be completely different and so even in this history, we human beings are just accidents that... produced merely by chance.
Belgian biochemist Christian de Duve (1917-2013) was best known for his work on understanding and categorising subcellular organelles. He won the Nobel Prize in Physiology or Medicine in 1974 for his joint discovery of lysosomes, the subcellular organelles that digest macromolecules and deal with ingested bacteria.
Title: "Singularities": The accident of life
Listeners: Peter Newmark
Peter Newmark has recently retired as Editorial Director of BioMed Central Ltd, the Open Access journal publisher. He obtained a D. Phil. from Oxford University and was originally a research biochemist at St Bartholomew's Hospital Medical School in London, but left research to become Biology Editor and then Deputy Editor of the journal Nature. He then became Managing Director of Current Biology Ltd, where he started a series of Current Opinion journals, and was founding Editor of the journal Current Biology. Subsequently he was Editorial Director for Elsevier Science London, before joining BioMed Central Ltd.
Tags: Singularities, Blueprint for a Cell, Steven Jay Gould, Lynn Margulis
Duration: 3 minutes, 21 seconds
Date story recorded: September 2005
Date story went live: 24 January 2008