NEXT STORY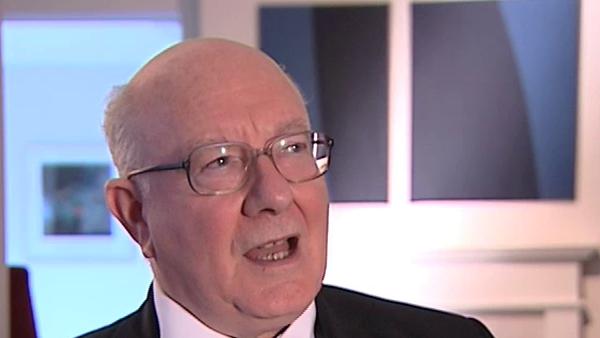 Excavating at Canterbury: learning basic skills
St Albans School and developing an interest in archaeology
Colin Renfrew
Archaeologist
1
2
3
4
5
...
8
There were some really very good schoolmasters. I think, thinking about it, the man that taught us physics, this is from about the third or fourth form onwards, had got a very clear mind and he always wanted to prove everything, every principle, everything that needed to be proved or demonstrated, he just- he didn't just refer to the text but he would write it all out in longhand on the blackboard so one might studiously copy down but he was very willing to answer questions and argue it out. So if one thought a proof didn't make sense, one was encouraged to question it, and I think that's - that encouraged one to have a questioning frame of mind, as it were. So I think that was really very good education and at that time I was, well, as anybody is, interested in lots of things, interested in everything. The, the English classes were very good. Mr. McClellan got us all hugely enthusiastic, so doing for O level, doing Shakespeare's "Twelfth Night" was great fun. Of course we read it all in class, acted it all through and that was a very good experience. So, gradually, one was encouraged to get interested in a whole range of things and one of the things that interested me quite early on was archaeology. As, as quite a small boy, this was during the war years initially, my father used to take, take me on his bicycle, on the handlebars of his bicycle, just going visiting parish churches, just things to do nearby because there were no cars available in the war years. And I enjoyed that and we used to go and see a few parish churches, didn't make any very serious study of them but the atmosphere was agreeable. And I began to get rather interested in archaeology and so the Latin master was very positive about that and he knew the curator of the Verulamium Museum and she was able to fix up that I should go on some excavations in Canterbury, which I did, I suppose, from the age of 13 or so. And they were directed by Sheppard Frere who started off as a schoolmaster at Lancing College, but I remember Sir Mortimer Wheeler came to visit and obviously the excavations were very good and he was - got a job as a lecturer in London and then quite soon as Professor of Roman Archaeology in London. And so excavating in Canterbury was a good experience, it was the opportunity to go and visit the cathedral and all the buildings which one got to know very well. And it was a marvellous initiative of, or initiation, I should say, in excavating, to be trowelling away and really getting to know stratigraphy and it's often said that Roman British strata are among the, the best way to learn and that was, I think, the experience.
Baron Renfrew of Kaimsthorn is a British archaeologist known for his work on the dispersal of the Proto-Indo-Europeans and the prehistory of PIE languages. He has been Disney Professor of Archaeology at Cambridge as well as Master of Jesus College and Director of the McDonald Institute for Archaeological Research.
Title: St Albans School and developing an interest in archaeology
Listeners: Paul Bahn
Paul Bahn studied archaeology at Cambridge where he did his doctoral thesis on the prehistory of the French Pyrenees. He is now Britain's foremost specialist on Ice Age art and on Easter Island, and led the team which discovered Britain's first Ice Age cave art at Creswell Crags, Nottinghamshire, in 2003. He has authored and edited numerous books, including Journey Through the Ice Age, The Enigmas of Easter Island, Mammoths, The Cambridge Illustrated History of Prehistoric Art, and, with Colin Renfrew, Archaeology: Theories, Methods and Practice which was published in its 5th edition in 2008.
Duration: 3 minutes, 11 seconds
Date story recorded: January 2008
Date story went live: 14 May 2009