NEXT STORY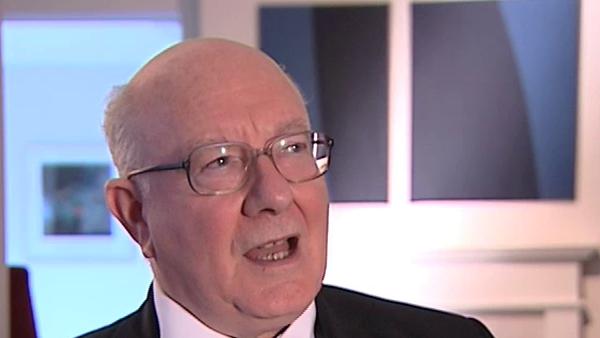 My interest in contemporary art (Part 2)
My interest in contemporary art (Part 1)
Colin Renfrew
Archaeologist
1
...
4
5
6
7
8
One theme that has always interested me very much, that came to the surface rather during our years at Jesus College was contemporary art and particularly contemporary sculpture. Already while we were in Southampton, we'd had some good contacts with some artists. Indeed, I'd got to know William Turnbull, who is a wonderful sculptor back in my research student days through knowing Ted Power, who had that wonderful collection of paintings including American abstract expressionist paintings. And Ted also knew and was very encouraging to a number of younger British artists including Barry Flanagan, so I remember meeting Barry Flanagan briefly at one of Ted Powers' parties way back in the late '60s or early '70s. But while we were in Southampton, we had an artist in residence in Southampton, Ray Smith whom we got to know very well, partly because he rented a house next door to us where we were living in Chandlers Ford, and he's a very dynamic artist, written a number of very interesting books on how to paint and so on, not that I've used those books, but I've admired them, and we invited him to do a family portrait and he did a very beautiful family portrait and has since then done other portraits for us. We've kept in touch with him and his wife, Catriona, but while he was artist in residence, he organised a series of lectures and meetings and exhibitions in Southampton. I think Barry Flanagan came to one of those but I missed that. I was somewhere else at the time. But he then organised an exhibition of the work of David Nash, the sculptor in wood, which I very much admired and was able to buy a couple of small pieces from, not very expensive, and then he also organised a visit by Richard Long, whose work I hadn't really known much before that time. I'd heard of it but I hadn't, hadn't seen very much of it and there was a very good space near the theatre in, on the campus, a very well lit space, a large floor area and the work was called "Chalk Line" and it was just a line about four or five feet wide and I suppose about 30-40 feet long, of chalk lumps, which were very carefully and neatly arranged and put together. And there it was, "Chalk Line". And so when you first saw it, if you didn't know Richard Long's work, it was a little inscrutable, a little enigmatic, and Richard Long has never lectured about his work but because he was a good friend of Ray Smith, they arranged that he would organise an evening when Richard showed a sequence of slides of his work, and that was accompanied by music from people like Johnny Cash, mainly Johnny Cash I think, whose sort of folk type singing he, he valued, and it was a very dazzling display of slides of Richard Long's work in the landscape and it was amazing. It was put together in such a way that without any words, because there was no talk, he didn't appear in front, just afterwards we had a drink together, so he didn't speak to the audience, but this show of slides managed to put his work in context wonderfully well, so that this "Chalk Line", instead of being rather enigmatic was one of a number of works and most of his works were done in the landscape, although by that time he was doing some works in galleries of that kind. And I was fascinated by that in its own right but also fascinated in a way because of the rather superficial resemblance his "Chalk Line" had with the trench which we had excavated on the west side of the Quanterness Cairn in Orkney and the first year of that excavation we'd done, opened a trench on the west side of the cairn, which had involved, involved removing the turf and coming down on the very beautifully laid stone work, and those were not dressed stones, they were undressed stones, and our trench, I suppose just by coincidence, had been seven or so, or eight feet wide and 30 or 40 feet long so the dimensions of our trench, although it had gone downhill, down the slope of the cairn, were rather like those of Richard Long's "Chalk Line" and the stonework of our trench had been very carefully cleaned for photography and so on, so it looked very neat, it wasn't at all earthy by that time, and just the material, the materiality of the two things; one was a line of chalk; the other was a line of Orcadian sandstone, were more than superficially similar and I found that interesting in a slightly troubling way, sort of seriously interesting way, not a frivolous way. And I sent Richard Long a photograph, we've got some very good photographs by the very good photographer in Southampton, Nick Bradford, and so I sent him a photograph of the, the cairn side and we just got to know each other a little, which was very pleasant, so that when in, when I became Master of Jesus College, Kettle's Yard, which is the gallery for contemporary art in Cambridge, had a scheme where they by, whereby they would fund an artist in residence for a year and they liked to place one in successive years in different colleges, so they wrote to Jesus College, so they wrote to me as Master, saying we have this scheme, would you care to be accommodating this year's artist in residence in Jesus College and if so, please join the appointing panel. So the college council agreed that was a good idea. The Arts Council were paying the salary. We had to provide a room, and so the panel chose a very dynamic artist of West Indian origin, Veronica Ryan, and so she came and lived in the college and got on very well. She was interesting, and her work was abstract but used natural materials and was very interesting, and that was all going very well, and out of that came first of all, a small exhibition of her work, which we held, which was not very surprising, but then we had discussions and we thought it might be a good idea to have a, a sculpture exhibition in the college, and college doesn't have much wall space so it would not, unless new buildings were built, be very easy to have much in the way of paintings. The students had a good collection of art, which is lent out to the students, but that was never particularly exhibited except for the purposes of lending it out to individuals. And so we agreed and the college council agreed that we would have an exhibition and the college council provided some money to make this possible.
Baron Renfrew of Kaimsthorn is a British archaeologist known for his work on the dispersal of the Proto-Indo-Europeans and the prehistory of PIE languages. He has been Disney Professor of Archaeology at Cambridge as well as Master of Jesus College and Director of the McDonald Institute for Archaeological Research.
Title: My interest in contemporary art (Part 1)
Listeners: Paul Bahn
Paul Bahn studied archaeology at Cambridge where he did his doctoral thesis on the prehistory of the French Pyrenees. He is now Britain's foremost specialist on Ice Age art and on Easter Island, and led the team which discovered Britain's first Ice Age cave art at Creswell Crags, Nottinghamshire, in 2003. He has authored and edited numerous books, including Journey Through the Ice Age, The Enigmas of Easter Island, Mammoths, The Cambridge Illustrated History of Prehistoric Art, and, with Colin Renfrew, Archaeology: Theories, Methods and Practice which was published in its 5th edition in 2008.
Duration: 8 minutes, 3 seconds
Date story recorded: January 2008
Date story went live: 14 May 2009