NEXT STORY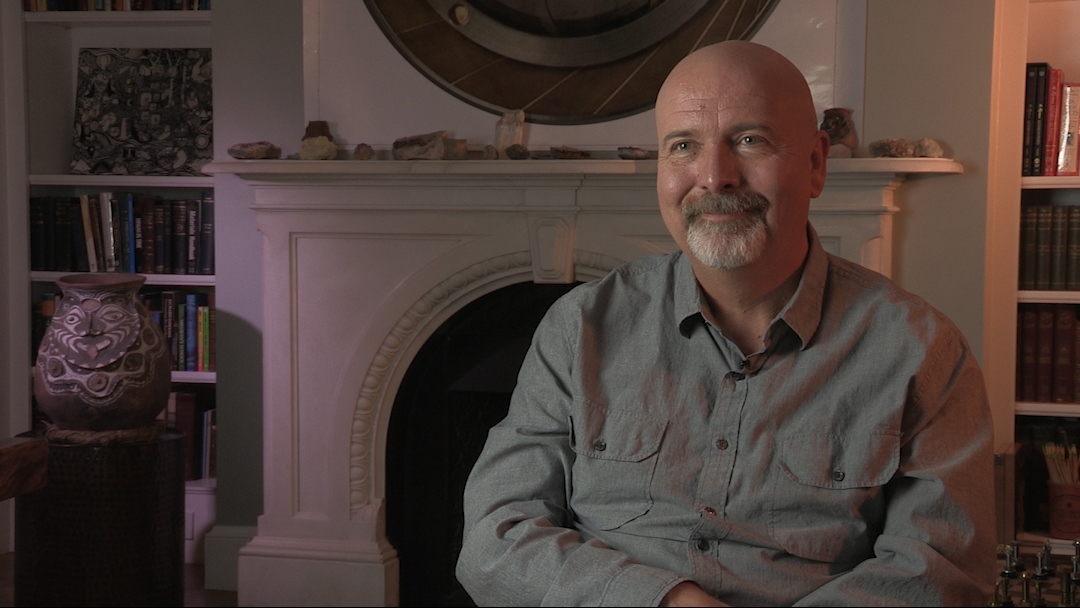 Finding the village, the pots and the lost world
W Daniel Hillis
Scientist
1
...
3
4
5
6
7
...
25
And we were greeted by everybody ready, you know, knowing we were coming. And of course this guy shows up, his brother's there to greet him and there's a homecoming for him. And we just happened to arrive as this initiation ceremony is going on. The initiation ceremony where they're keeping people away, covering... You know, scarifying them, covering them with mud. And so they're a little bit worried because the initiation ceremony's happening in the men's house and they play these special flutes, this strange flute music. And they're worried because Courtney can hear the flute music. The women have to stay away because if you hear the flute music it will cause you to grow testicles. But Courtney decided to chance it.
And so we go visit the men's house and watch these people standing almost in a trance. You know, as they're going through the ceremony. It was one of the strangest... Just fantastic coincidence that we showed up there and the strange flutes, I have recordings of the flute music. And seeing them covered with this mud that's rubbed into their scars.
And when we went down in the village and there was... It just reminded me so much of Africa though, you know, it was a small village and everybody was so friendly to us and we went... And one of the things that was happening was a kind of a trial was going on because the way that they settle problems is everybody gathers together. And there'd been a problem because some of the children had violated taboo during the initiation ceremony, and some of the elders were upset about it. And so they were trying to decide what to do about it. But the way that they do this is everybody gathers together in the village and there's a chair called 'an orders chair' which is a carved chair that has a sort of a flat butt, and the chair has five leaves on it. And the prosecutor who's upset or the person who's upset gets up and he picks up the five leaves and he makes a point and he puts down a leaf and he makes a point and he puts down a leaf. And when he makes his five points he takes all the leaves, shuffles them together, makes a summary and puts them down. And then he has to sit down and then the next person gets up, makes their... It's like a PowerPoint slide, right? They each make their points. Then they sit down.
So it means only one person is talking at once and everybody sort of gets their chance to say what they were saying. It took us a while, at first we thought they were upset that we had violated some taboo or something like that but it had nothing to do with us. So we watched this trial. And eventually everybody reaches consensus and they decided, you know, to penalise the parents of the children somehow. And then everybody decided that was a good solution and they disbanded.
And we actually saw that happen a couple of times at other villages that we visited.
W Daniel Hillis (b. 1956) is an American inventor, scientist, author and engineer. While doing his doctoral work at MIT under artificial intelligence pioneer, Marvin Minsky, he invented the concept of parallel computers, that is now the basis for most supercomputers. He also co-founded the famous parallel computing company, Thinking Machines, in 1983 which marked a new era in computing. In 1996, Hillis left MIT for California, where he spent time leading Disney's Imagineers. He developed new technologies and business strategies for Disney's theme parks, television, motion pictures, Internet and consumer product businesses. More recently, Hillis co-founded an engineering and design company, Applied Minds, and several start-ups, among them Applied Proteomics in San Diego, MetaWeb Technologies (acquired by Google) in San Francisco, and his current passion, Applied Invention in Cambridge, MA, which 'partners with clients to create innovative products and services'. He holds over 100 US patents, covering parallel computers, disk arrays, forgery prevention methods, and various electronic and mechanical devices (including a 10,000-year mechanical clock), and has recently moved into working on problems in medicine. In recognition of his work Hillis has won many awards, including the Dan David Prize.
Title: A trial in the village
Listeners: Christopher Sykes George Dyson
Christopher Sykes is an independent documentary producer who has made a number of films about science and scientists for BBC TV, Channel Four, and PBS.
Tags: Papua New Guinea
Duration: 3 minutes, 45 seconds
Date story recorded: October 2016
Date story went live: 08 August 2017