NEXT STORY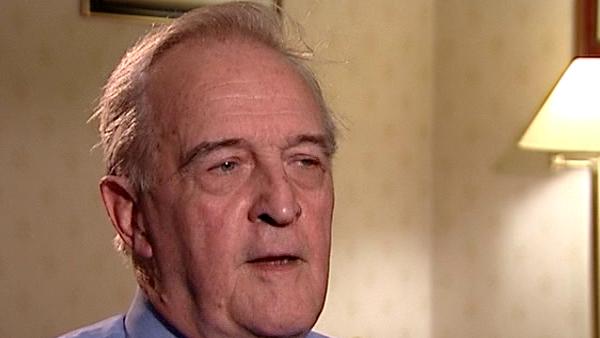 Medical school (Part 1)
My father and mother and school
David Weatherall
Scientist
1
2
3
4
The family came from Liverpool on both sides, and we, we lived in a little outskirts of Liverpool called Walton, and my father had been, came from really quite a poor family and had to leave school early, but he went to work as a technician in a lab with a big company called Bibbys, who make cattle food and soap, and he went to night school and got a degree in chemistry and gradually kind of worked up, his way up, and became eventually manager of the analytical lab at Bibbies, but his real love was music, he was quite a good amateur musician. What he really would have liked to have been, apprenticed to a kind of cathedral organist, I think, but he was a very good organist and choir master, so he had various church jobs and finally ended up as organist and choir master at the Liverpool parish church of St Nicholas in the famous sailor's church on the waterfront, which has very close connections with the Anglican Cathedral so he could take his choir up and do evensongs there, and it was only ten minutes walk from the lab, so he oscillated it between the two, and he ran these very good music, lunch hour series of concerts for the city, so we were constantly having the great artists through the place, and it was a very interesting life, musically. And my mother was also quite a talented singer, one of these great, deep sopranos, which have gone now I think, due to the oestrogen in the tap water or something. And, but I had a elder brother who was brain damaged at birth, and so she gave up everything really, had to look after him for many years, so she gave up her musical life, but, so her brother acted as my elder brother and he was a, rather a literary character, he'd got a scholarship from some dilapidated grammar school in Liverpool to Oxford, just before the war, so it was quite an amusing bunch to be brought up with, but my father, I don't know whether he foresaw what was going to happen to Liverpool, but he moved us over to the Wirral peninsula, to that little fishing village in Hoylake, on the water. Yeah, I think it's very nice [unclear]. Yeah, and, but my grandmother stayed in Liverpool, and so we were constantly going backwards and forwards, and I suppose- On the ferry, in those days, I guess? Well, the, yes, they had built one tunnel. Oh, they had? Yeah, the first tunnel which my parents walked through backwards and forwards the day it opened. In fact, I think it opened in 1933 actually, as well. But- so we had to go and stay quite a lot with the old lady during the war, and my most vivid memories of that, because the, the Germans tried to flatten Liverpool in the May blitz in 1941, because it was the main port for the Atlantic, and on the, on the Friday night our house had, all the windows were blown in, a couple of incendiary bombs lying in the garden, so we went over to patch it up and stayed that night, and that was the night when they dropped- they absolutely flattened Liverpool, and it was all kind of bombs raining all around, so the next morning my mother and I had to, there was no transport, we had to walk back through this kind of blazing Liverpool to get back over to the Wirral. Extraordinary memory, it's the kind of smell of burning or shops on fire, great Lewis', you know the great stores, that was the night Lewis' got it, and so, so yes, so I went to a little church school over on the Wirral and then to a place called Calday Grammar School, which- [unclear]? Yeah, which, I think its only claim to fame when I went was that it had the highest prison record among its old boys, and the only grammar school in the north, they were a pretty rough lot. Right. But um- They [unclear] got caught, really, basically. Well, they did get caught, yes, in fact, this is absolutely true, I mean they stole from the Liverpool shops, sold, and one guy stole a suit for himself, which it didn't fit him, so he took it back to get it changed, and, they were not very bright, and that's when they all got arrested. But these, because education in war time was tough, because all the younger men were away, so they brought dear old ladies out of deep retirement, and science at the school was somewhat limited. We did physics and chemistry, you couldn't do biology, you could do zoology. You had to go to the local girls school to do biology, and my predecessor had disgraced himself so I wasn't allowed to do botany, so, but the school was a very good sporting school, and, and a wonderful social mix like those kind of north country grammar schools were, but my objective was to get out as quickly as possible. I did much better in English than anything else in those, what we called the school certificate those days, and they wanted me to focus on that. I said no, medicine, and so I did science, but they let me do English right through to the A Levels, which was nice, and so I went and was interviewed at the age of 16 I think, for the medical school in Liverpool. I didn't get replies from any of the other places I wrote to, so, we had a most bizarre interview, which was a kind of mixture of the novels of Thomas Hardy and Liverpool Football Club. I thought the chap who was questioning me knew a lot more about Liverpool Football Club than Thomas Hardy, actually, but anyway, they, I got in.
British Scientist Sir David Weatherall (1933-2018) was a world renowned expert on blood diseases, in particular thalassaemias, and used his expertise to help control and prevent these diseases in developing countries. He founded the Institute of Molecular Medicine at Oxford in 1989 and was knighted in 1987.
Title: My father and mother and school
Listeners: Marcus Pembrey
Marcus Pembrey, now Emeritus, was Professor of Paediatric Genetics at the Institute of Child Health, University College London and consultant clinical geneticist at Great Ormond Street Hospital for Children London. He is a visiting Professor at the University of Bristol UK, where he was the Director of Genetics within the Avon Longitudinal Study of Parents and Children until 2006. A past president of the European Society of Human Genetics, he is also the founding Chairman of the Progress Educational Trust.
Duration: 6 minutes, 22 seconds
Date story recorded: July 2007
Date story went live: 02 June 2008