NEXT STORY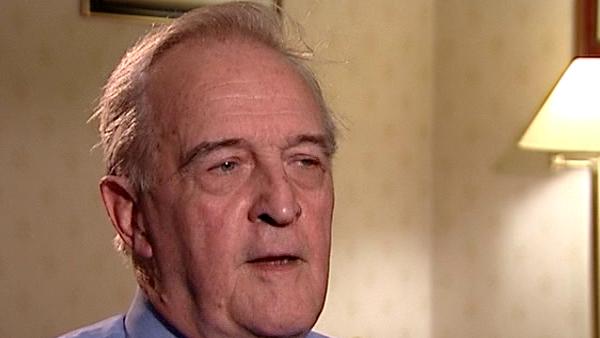 Developing the overseas programmes in tropical medicine
The Department of Medicine at Oxford
David Weatherall
Scientist
1
2
3
4
I suppose we ought to just say a few words about the Department of Medicine in Oxford. It was a big transition from the days of Liverpool, when we, there was a man and a boy, and I think one of the reasons I moved there was it looked like there was never going to be anything else but a man and a boy. When I got to Oxford my predecessor, Paul Beeson the American, had set up a very good clinical department and it looked to me as though one had to try and maintain and expand those standards, but to move it into the kind of more modern era of research. And to do that, it's very difficult, I think, to be a kind of clinical professor running a department, trying to run a research group and all the other stupid things you have to do, and I was very fortunate because we had a, the senior readership post in the department was available, and I was able to appoint John Ledingham, who probably is the best clinician I've ever worked with, a very fine clinician, and also a very good nephrologist, so, and we worked very much, very much together as a team, and we had at the time, the great lady Sheila Callender the haematologist who'd been one of the great iron figures in literally both iron, personality and metabolism, and when I got there they didn't really want me to come in the haematology department in the, in the hospital, they didn't want another really stupid clinical haematologist, so I had to make the peace for several years with all that. And we had a very strong gastroenterology and there were one or two areas that needed strengthening and I managed to find a respectable geriatrician in John Grimley Evans, and he set up a very big programme for the aged and so on, so we gradually expanded clinically, and I think we did manage, I think the job of a department of medicine and academic centre is really to set standards, in this country anyway. You don't, you can't run it as in the States, because you're sharing a lot of the services with the NHS folk, and it's trying to bring all that together. One or two of the oddball things that happened of course, was I suppose the most peculiar event was "The Oxford Textbook of Medicine", which, I'd only been in Oxford for a short time, and my secretary came in one morning and said- there's an extremely agitated young man outside, I think he's been weeping, you better see him. And, as you know, in Liverpool, we're not used to weeping males, so I thought I'd see him, and he was one of the senior editors of Oxford University Press, and he, they'd just published the umpteenth edition of something called "Price's Textbook of Medicine", which was the great flagship, and it had not come out to what you might call critical acclaim, and he dumped all these reviews on the desk and the one on the top was from the United States, and it said, it was by somebody called Hugh Bean, and it said, when I opened this textbook I noticed that the senior editor was physician to Her Majesty the Queen. After reading the book, my only thought could be, God Save the Queen. So, that was, and they got worse. So, I think rather reluctantly we decided, then we decided that they'd have to scrap this and we'd start, have to start again with a new textbook. So I got John Ledingham and David Worrell who has an enormous knowledge of infectious disease and global medicine, and we did it. It was very difficult, and working with a kind of ageing press which was just coming into the kind of 18th century. We had a lot of disasters, I mean, for example, the first set of page proofs, lots of the tables somehow got scrambled into ancient Greek, and we didn't even know about this till the authors rang us up in a bit of a state, and said, you know, what the heck's happening? Anyway, finally it came out and I suppose the worst couple of weeks of my life with the phone calls that came through, what had been omitted. The first one was from an angry GP who said, I can't find anything on hiccups, and, sure, there wasn't anything on hiccups, so you know, I told him, well, you've tried to blow in and out of bag, haven't you? But that didn't go down too well, and then there was a very, I'd say, well, I don't know if the voice were, I think the, I think the chap may have been suffering from the disease by the tone of voice, he said- there's nothing on priapism in your book. Oh My God, so, and then I said- oh yes, I said, it may not be, there's something in the chapter on sickle cell anaemia. Oh, he said, I haven't got sickle cell anaemia. So that was a disaster, and then there was a phone call from Papua New Guinea, some chap who said- I can't find anything on Pigbel. Oh, I said- dear, I'll consult Professor Worrall. There was nothing on Pigbel, whatever that is. But it went on like this for several months, and then we went through a lot of new editions and so on. I think it was reasonably successful, but, and it started the whole series of Oxford textbooks then, but the good thing about it, and the American review I liked, which said that, if I was working in the United States, I'd obviously stick to the standard American text, but if I was going to travel abroad in the wide world, the first thing I'd do was pack this text book in my bags, so I think the idea we make it a kind of global thing, worked all right.
British Scientist Sir David Weatherall (1933-2018) was a world renowned expert on blood diseases, in particular thalassaemias, and used his expertise to help control and prevent these diseases in developing countries. He founded the Institute of Molecular Medicine at Oxford in 1989 and was knighted in 1987.
Title: The Department of Medicine at Oxford
Listeners: Marcus Pembrey
Marcus Pembrey, now Emeritus, was Professor of Paediatric Genetics at the Institute of Child Health, University College London and consultant clinical geneticist at Great Ormond Street Hospital for Children London. He is a visiting Professor at the University of Bristol UK, where he was the Director of Genetics within the Avon Longitudinal Study of Parents and Children until 2006. A past president of the European Society of Human Genetics, he is also the founding Chairman of the Progress Educational Trust.
Duration: 6 minutes, 55 seconds
Date story recorded: July 2007
Date story went live: 02 June 2008