NEXT STORY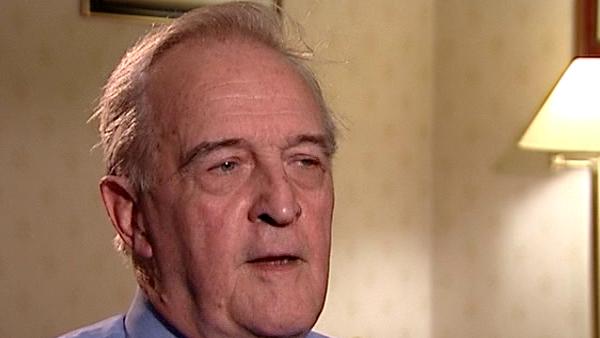 Work on haemoglobin synthesis (Part 1)
Continuing work on haemoglobin at Johns Hopkins
David Weatherall
Scientist
1
2
3
4
I stayed with Victor a little bit longer, but it was clear that to do anything further in haemoglobin, I'd have to really join the haematology department with Lockard Conley, and I continued the cord blood stuff, and found this fast haemoglobin in some of these babies, which was the same stuff that Lehmann had described a few years before as Barts. We didn't know it was Barts, but a lot of the babies had it, and we, I, that did have to have some proper structural analysis, and by that time they'd just opened the department of biophysics at Hopkins, and a crazy Irishman called Mike Naughton was there, and Mike had been Fred Sanger's PHD student in Cambridge, and had, was very bright, and he'd actually started as Fred's technician and then his PHD student, and Mike was quite interesting, was working haemoglobin with Howard Dintzis, and so he taught me how to fingerprint, and I fingerprinted this stuff, and it was Barts, and I had a lot of family studies, and showed there was some obvious kind of thalassemic changes in, in the family members and that, and kind of put the kind of start on alpha thalassemia and Barts and the different carrier states, but I then had to go back to Liverpool and I knew than that- What time of, when was this? This was about '63, and I had, or '62, and the fellowship was an 18 month fellowship really, and there was a senior registrar, locumship at the Royal Infirmary going, so I went back, but at that stage I was really hooked on this problem, and I realised that we weren't going to get any further unless we could start measuring what was happening in those cells. And, you know, going back to a senior registrarship in Liverpool, and it was quite busy, and there was no lab. I ended up with a, I don't know, just a kind of little kind of a corner of a laboratory, with a couple of kind of refrigerators. But about two months or three months after I got back from Liverpool, I had a letter from Conley, from Hopkins, saying, if I'd like to come back for another spell, I could come back as an instructor in medicine or something. I'd lived on $4,000 a year in my time with Victor, and it was not easy. Drove me to marriage, because I, that was when I met Stella who was working- So it was the first time you met her? Yeah, she was working in a lab in what they called the School of Hygiene, and in fact, she was working on DNA transformation. She was a kind of technical assistant to the group there who did some of the first transforming experiments, and we met at the International Club, and so we got married just before I came back to Liverpool the first time. And this letter came, would you come back. I didn't know, everybody said, oh, you can't go twice, ruin your career, you know, you know what medicine's like, so I went to ask Cyril Clarke's advice and Cyril was not too great, by current kind of mentor standards he didn't say very much. I went into his office and he was writing; what do you want, well what do you want? So I said- I have this offer to go back to America, but people think it would be unwise. He didn't look up, he said- well, what do you want to do? So I said- I'd really like to go back for a few years. Well, bugger off then. That was, I think that was the only career advice I've ever had actually, so I buggered off.
British Scientist Sir David Weatherall (1933-2018) was a world renowned expert on blood diseases, in particular thalassaemias, and used his expertise to help control and prevent these diseases in developing countries. He founded the Institute of Molecular Medicine at Oxford in 1989 and was knighted in 1987.
Title: Continuing work on haemoglobin at Johns Hopkins
Listeners: Marcus Pembrey
Marcus Pembrey, now Emeritus, was Professor of Paediatric Genetics at the Institute of Child Health, University College London and consultant clinical geneticist at Great Ormond Street Hospital for Children London. He is a visiting Professor at the University of Bristol UK, where he was the Director of Genetics within the Avon Longitudinal Study of Parents and Children until 2006. A past president of the European Society of Human Genetics, he is also the founding Chairman of the Progress Educational Trust.
Duration: 3 minutes, 56 seconds
Date story recorded: July 2007
Date story went live: 02 June 2008