NEXT STORY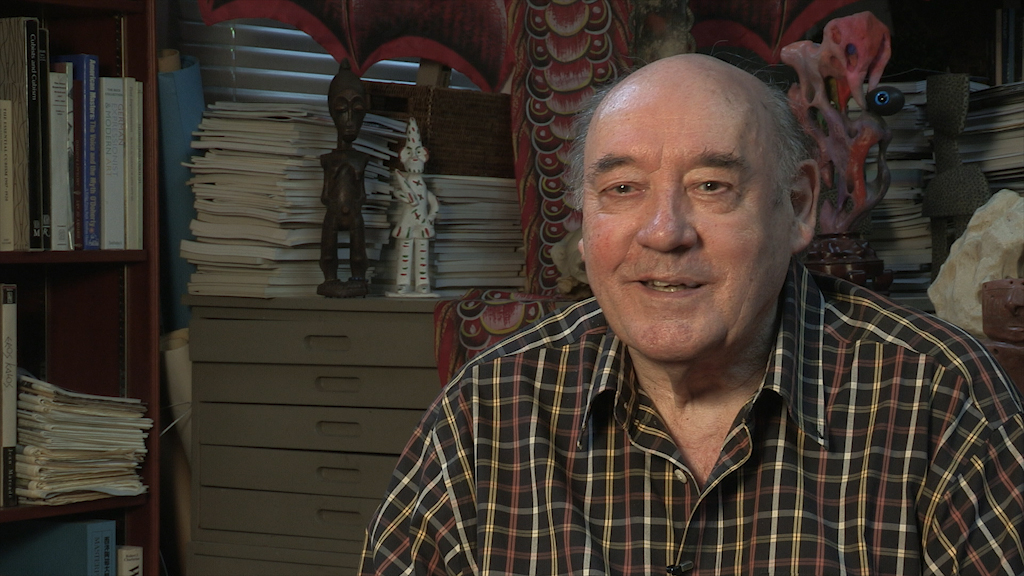 Genesis of The Naked Ape
Life in the Animal World – an exciting and lively project
1
2
3
4
At this time my wife, Ramona, who was working in the... in the – she was also employed by Granada and we worked together in the... in the film unit – she employed a young assistant, a young girl by the name of Jane Goodall who, I'm ashamed to say, we didn't recognise... we didn't spot how good she was going to turn out to be, how important she was going to turn out to be, and Jane had come to London to get a job and all she wanted to do was to study chimpanzees. And so she went off to Africa and, of course, everyone knows now about the Jane Goodall studies of chimpanzees in the wild and she became the world authority on chimpanzee behaviour in the wild. And I also had other students working with chimpanzees on other aspects of chimpanzee behaviour and I'd built up a research group, studying monkeys, chimps, rodents, birds, and these were all doctoral students who were treating me as a sort of field station. They had their university connections, but they would come to me as if the London Zoo was a... was a field station. And they worked together and we had this group and it was this group of research workers that led to something quite important which was that we had seminars.
And at these seminars we discussed animal behaviour issues. And David Attenborough, who'd left broadcasting briefly – he wanted to study anthropology and he was studying anthropology in London – and he said can I come to your seminars? And so David came and sat in on our seminars. Shortly after that, he was grabbed by BBC to become the director of a new channel, BBC2, and he became Controller of BBC2. It was a job he couldn't very well refuse. I mean, to become Controller of a whole new channel was wonderful. And he remembered these seminars that he'd attended at the zoo and said to me couldn't we do something like that on television? And he had this brilliant idea of having a discussion about animal issues on television. It was a programme called Life in the Animal World and Life was alternating with Horizon. And it was the first time that anybody had had a programme which didn't just look at beautiful animals, you know. All the other animal studies just said, look, there's a rhinoceros, you know. What we did was we had zoological experts coming into the studio and debating controversial issues in the field of evolution or any aspect of zoology. And some of those discussions were very lively and it involved some very senior people.
On one occasion I did a whole hour's tribute to Julian Huxley on his 80th birthday and I got all the top people in the world – Lorenz, Tinbergen, Ernst Mayr – all these... and Peter Scott – all these people who had known Julian Huxley, and I also managed to get the last interview out of Julian, who was a little frail by this time. And Julian was wonderful because... I'd always admired him because, like me, he was a serious zoologist, but also concerned with popular communication. And he once said to me, do you know, I'm the only Fellow of the Royal Society who's ever won a Hollywood Oscar? And I said, how did that come about? He said, well, I made this film about the gannets and it won the documentary film in 1933 or something, whenever it was. And I said, where's the Oscar? I must see... I want to see your Oscar. And he said, oh, filthy, ugly thing – it's upstairs somewhere. And eventually he did go up and bring it down and show it to me. Unfortunately, it was a filthy, ugly thing because it wasn't like the one they have now. It was a... this was very early on in Oscar's history – Oscar and I are the same age, by the way – and in those early days of Oscar, they had a rather nasty little statuette which they gave to documentary film-makers. But he was so proud of the fact that he'd won an Oscar and was very concerned with getting across to a very wide audience the joy of studying animal behaviour, you know. And so he was... to me, he was... I idolised his approach.
And I did this one hour tribute to him and he was wonderful because he talked about his childhood and he talked about his brother, Aldous Huxley. Now Aldous was a very strange man. I knew him and a very, strange, interesting, fascinating man. But Julian's stories about Aldous Huxley as a child were amazing. I remember one of them. He said, our nursemaid saw Aldous sitting in a... on a windowsill, looking out of the window, and she said, 'Hello, little Aldous, what are you thinking about?' And the boy turned to her and said, 'Skin', and then turned back again, looking out of the window. And there was something terribly sinister about this. And these stories were pouring out of Julian and it was a wonderful programme. And when Julian died, I asked David, who was still controlling BBC – I said, look, we've got that whole hour's tribute to Julian, now he's died, we ought to show it again. And David said, of course we should. But in those days, unfortunately, these programmes weren't kept. It had all been wiped and we couldn't find it, so it never did get shown again. Archives are much better kept now than they were in those days.
Born in Wiltshire, UK in 1928, Desmond Morris had a strong interest in natural history from his boyhood. Later, as an undergraduate, he studied zoology, and after obtaining a First Class Honours Degree from the University of Birmingham, he moved to the Oxford University Zoology Department where he began his research into animal behaviour for his doctorate thesis. In 1957, having moved to London, Morris famously organised an exhibition at the ICA of art work created by Congo the chimpanzee. Morris's engagement with the visual arts remains strong and he has often exhibited many of his own paintings since 1950 when his paintings went on show alongside those of the surrealist painter, Jean Miró. 1950 was also the year when Morris began his career in TV creating and presenting Zootime and Life in the Animal World. Soon after this, he began work on a book that has proved a huge best-seller, The Naked Ape. Focusing on human behaviour, it was the first in a series of books in which the author observes humans primarily as a species of animal. Today, Desmond Morris has lost none of his inquisitiveness and continues to observe and write about what he sees in the world around him.
Title: "Life in the Animal World" – an exciting and lively project
Listeners: Christopher Sykes
Christopher Sykes is an independent documentary producer who has made a number of films about science and scientists for BBC TV, Channel Four, and PBS.
Tags: London Zoo, Life in the Animal World, Jane Goodall, David Attenborough, Ernst Mayr, Julian Huxley, Aldous Huxley
Duration: 6 minutes, 17 seconds
Date story recorded: June 2014
Date story went live: 06 November 2014