NEXT STORY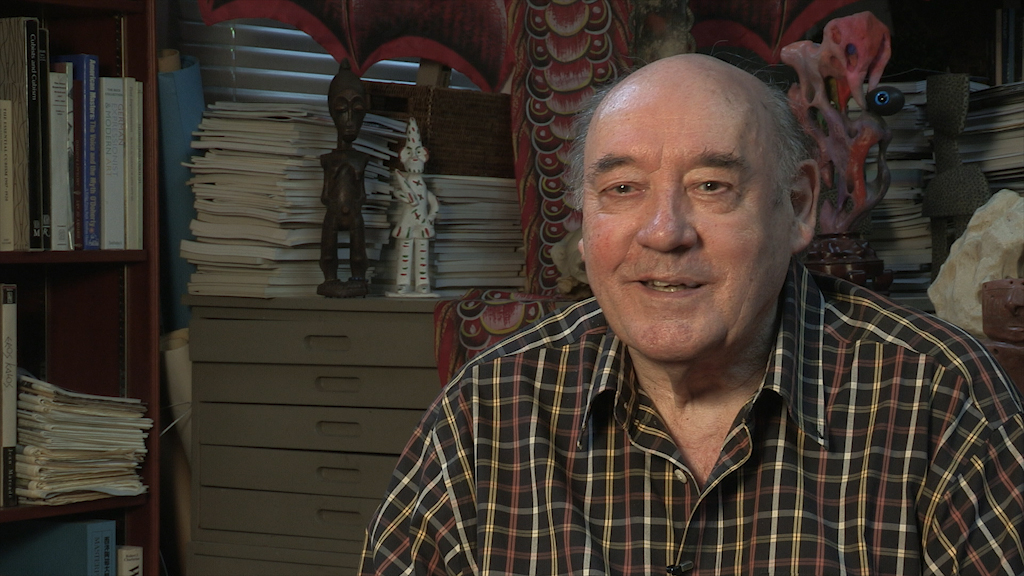 Even a space ape must urinate
Curiosity is the key to finding solutions
1
2
3
4
And that was another thing that interested me was that, when I studied artists, it was clear that you could have an artist who was extremely pleasant and friendly and down to earth – someone like Henry Moore. Henry... I knew Henry Moore and he was... he was a really sort of pleasant man. I loved his company and there was nothing strange about him at all. Down to earth; he could've been a Yorkshire farmer, you know. And then, there were people like Caravaggio who were murderous thugs and who produced masterpieces. And when you look at sort of Henry Moore and Caravaggio, you know, here you have two completely different human beings. And I started asking this question about what it is that goes with being intensely creative. I'm still asking that question today because there are still... for me... although I'm 86 now, I can't stop asking questions because so many unanswered questions, so many things I want to know about and it's that that keeps me going now in my old age and I'm still writing books and painting pictures because I'm driven by a mature form of childlike playfulness.
Adult play is the key, I think, to human success because, as a species, we have this incredible curiosity, a very high level of investigativeness. We want to investigate everything, we want to... we want to analyse things, we want to study, we want to understand things. And as long as we have this level of curiosity and playfulness, we'll be a successful species because every time we throw up a problem for ourselves, we'll find a solution to it. And there are going to be some solutions that I won't see in the next 10, 20, 30, 40, 50 years, which will make the present day seem medieval. I'm very optimistic about the future. Everybody says, oh, the planet is dying and we're killing the planet and warfare continues. Yes, it does – the horrors are still with us. But we are an ingenious animal. We're the most ingenious animal that has ever existed on this planet and we're going to go on using that inventiveness and that ingenuity to find new solutions. And they're going to be new solutions of a kind that obviously we can't even dream about at the moment, otherwise we'd have them.
People say, what do you think will happen in the future? I say, well, if I knew that, they'd happen now. You can't guess. I mean, nobody... I mean, when I was a child, there was no television. Nobody could've guessed television when I was a child in the... in the 30s. Nobody could've guessed the computer and... the worldwide web. I mean, this is extraordinary new development. And there will be other major developments like this which will change our lives. And the next major one is going to be anti-gravity. People are already researching on that now.
Born in Wiltshire, UK in 1928, Desmond Morris had a strong interest in natural history from his boyhood. Later, as an undergraduate, he studied zoology, and after obtaining a First Class Honours Degree from the University of Birmingham, he moved to the Oxford University Zoology Department where he began his research into animal behaviour for his doctorate thesis. In 1957, having moved to London, Morris famously organised an exhibition at the ICA of art work created by Congo the chimpanzee. Morris's engagement with the visual arts remains strong and he has often exhibited many of his own paintings since 1950 when his paintings went on show alongside those of the surrealist painter, Jean Miró. 1950 was also the year when Morris began his career in TV creating and presenting Zootime and Life in the Animal World. Soon after this, he began work on a book that has proved a huge best-seller, The Naked Ape. Focusing on human behaviour, it was the first in a series of books in which the author observes humans primarily as a species of animal. Today, Desmond Morris has lost none of his inquisitiveness and continues to observe and write about what he sees in the world around him.
Title: Curiosity is the key to finding solutions
Listeners: Christopher Sykes
Christopher Sykes is an independent documentary producer who has made a number of films about science and scientists for BBC TV, Channel Four, and PBS.
Tags: Henry Moore, Caravaggio
Duration: 3 minutes, 36 seconds
Date story recorded: June 2014
Date story went live: 06 November 2014