NEXT STORY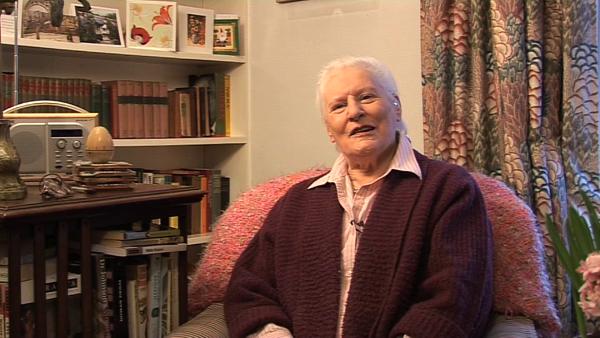 A mesalliance in the family
1
2
3
4
5
...
8
A rather modest lifestyle, for its scale. I mean, there was no unnecessary extravagance. Your clothes were made… I mean, Granny's clothes were all made by her… she had a lady's maid who made them. She did have a dressmaker up in London, but I don't think… I mean, I think that she had one or… perhaps her very, very, very best dress would have been made by Mrs Somebody-or-other up in London. But ours were always made… my clothes were all made by my mother. And, for instance, our family car, for a long time, was a Baby Austin. And at one time, everybody's family car… there was, at one time, when everyone was at home, there were six Baby Austins standing in front of the house. My grandfather, of course, had a bigger and more sedate car.
Necessities, in my grandparents' house, were pretty substantial. I mean, you had to have a very large staff. You had a butler with his footmen. You had a cook who was always called Mrs, although she was not… that was a wonderful, sort of, hangover from the past: cooks were always called Mrs. Mrs Wiseman was not married at all, but that was a title that was given to cooks. And the cook had her kitchen maid and her scullery maid under her. And then there was the head housemaid and she had two or three under-housemaids. And then there was Granny's lady's maid, who just looked after Granny, did all her clothes, brushed her hair, I believe, kept her jewels in proper order. And those were all necessary. And enormous numbers of books were necessary, because it was an academic family. My grandmother had… her father had been master of an Oxford college. An enormous amount of food was necessary. At breakfast time in that house, there would be, of course, bacon and eggs and porridge and there was always a boiled egg for everyone there, even if you didn't eat it. And there were horses to ride, ponies for the children. I mean, those were all necessary. So it was pretty substantial. And… but you didn't have smart clothes, or showy cars. I mean, a lot of people had much, sort of, more grand motorcars and things than we did, because I think the Yorkshire inheritance was level-headed. And it was definitely understood that you mustn't show off, and that it was more important to be good than to be showy.
I remember boasting to a friend that, my grandfather… my Granny's house has 20 bedrooms. And I remember my mother telling me, 'Don't do that sort of thing. You mustn't boast about things and say you have 20 bedrooms when you know somebody else only has three. It's very nasty. It's not right'. And after that, I didn't use to boast, but I still was conscious of having 20 bedrooms in my Granny's house.
Diana Athill (1917-2019) was a British literary editor whose publishing career began when she helped André Deutsch establish his company. She worked with many notable writers, namely Philip Roth, Simone de Beauvoir, Jean Rhys and VS Naipaul. Following the publication of her memoirs, she came to be hailed as an author in her own right.
Title: Our lifestyle
Listeners: Christopher Sykes
Christopher Sykes is a London-based television producer and director who has made a number of documentary films for BBC TV, Channel 4 and PBS.
Tags: clothes, grandparents, cars, Baby Austin, servants
Duration: 3 minutes, 17 seconds
Date story recorded: January 2008
Date story went live: 23 December 2008