NEXT STORY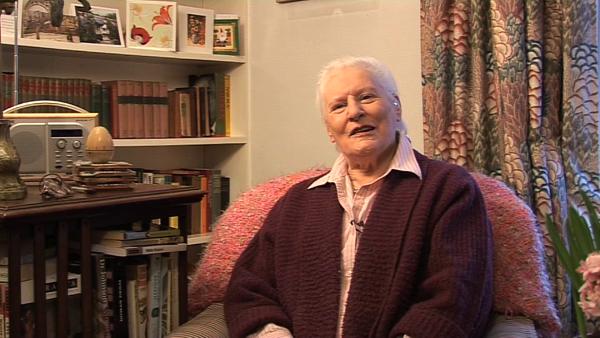 Resilient natures
1
...
3
4
5
6
7
8
He put his arm around me, he put his hand on my breast. That was thrilling. Yes, I think that was one of my big moments. I mean, to me, well it seemed at the moment, this is the best thing that had ever happened to me. Because I had been, you see, all this time rather modestly thinking I was too young to be interesting to him. Now he had… I had always intended that sooner or later, he would see me, so to speak, and now he had. It was what I'd been hoping for, aiming for.
[Q] Hence the shock of your mother's…?
I think my mother had a very shrewd idea of the kind of girl I was, really. But you see, we used to go sailing together, before then. We had a wonderful time. And I used to… he had a sister who was his favourite sister, not far from his age. I used to hang about her as much as possible, knowing that… you know, I loved her, too, but it just brought me closer to him. I had my sights fixed on him.
[Q] And when you were at Oxford, he would come to visit you?
He would come to visit me, yes. He used to fly down from Grantham, which made it awfully glamorous, my young man flying down.
[Q] And under what circumstances was he killed?
He was killed over Greece. He was coming back from a raid, he was the only one left, I think. His son wrote, actually, a very good account of his life for his children, which he sent to me to, sort of, get a few details. It was pretty awful. He was flying some really… they were flying some absolutely ghastly bombers, which were known to be clumsy and useless and heavy and impossible. And he, I think, was probably running out of fuel at that stage, and he wasn't shot down, but he ran into a mountain. And no one knew where he fell for a long time. It was… but he… it was… they knew, the ones who were flying in those planes, that it was very, very dangerous, because the planes were so unwieldy and… and bad.
[Q] And they were so young, weren't they?
They were so young. He was very wicked and naughty, because he'd been… he'd done a dreadful thing, then it'd have worked. He'd been forbidden to go out to bomb an oil… a huge oil supply somewhere that the Germans had. And he thought, it's mad not to go, and he'd taken his bomber and he'd gone out, against orders, and he bombed it. And something awful had happened, as a result. I think some other person who'd gone with him had got killed, or something. And he was court-martialled. But in the end, the person who was sort of in charge, gave him a sort of furtive congratulations and let him off, because it had been such a dashing thing to do, and it had worked. All that oil… oil tank went up and that was splendid. But he was very reckless, very reckless man.
[Q] So the fact that he was killed, I mean, on top of the other thing. I mean, I suppose by the time he was killed, he still mattered a great deal, so this was like a…
Well, it was sort of… just more of the same, really. I think I felt quite sorry for his poor little wife, actually.
Diana Athill (1917-2019) was a British literary editor whose publishing career began when she helped André Deutsch establish his company. She worked with many notable writers, namely Philip Roth, Simone de Beauvoir, Jean Rhys and VS Naipaul. Following the publication of her memoirs, she came to be hailed as an author in her own right.
Title: Tony's death
Listeners: Christopher Sykes
Christopher Sykes is a London-based television producer and director who has made a number of documentary films for BBC TV, Channel 4 and PBS.
Tags: Greece
Duration: 4 minutes, 4 seconds
Date story recorded: January 2008
Date story went live: 23 December 2008