NEXT STORY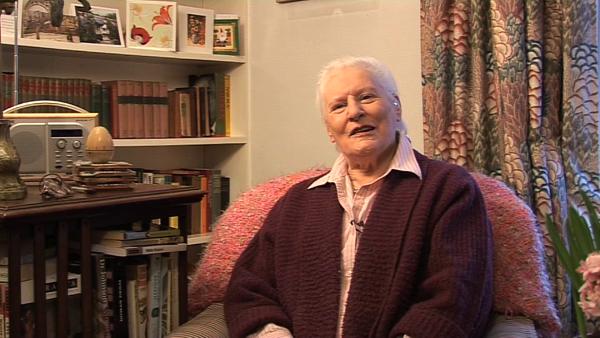 A long and bleak war
1
...
4
5
6
7
8
I haven't had any children. The first time I got pregnant, which was during the war, and panic stations. But there was a famous lady doctor to whom we all went to get our Dutch caps. Sort of like The Group, you know, that book of Mary McCarthy's. And I went to see her. I didn't really expect her to say that she would do anything, give me an abortion. And she just very firmly said, of course she wouldn't do anything of the sort. And she was… she was a very, sort of, schoolmarmish, sort of, high-minded lady. And she said, 'Well, of course it's up to you. You could perfectly well have this child and we can do the… there are alternative things. We can do various things. We could either get it adopted.' And I thought, well, I don't see the point of going through nine months of being pregnant and having a child and then getting it adopted. I don't like the idea of that at all. 'Or, we could have it fostered and then, when you've found another man or made enough money, you could have it back'. And I thought, well, supposing I never do find another man or make enough money? I don't think I really like the idea of that. She said, 'Well, the best thing would be, of course, if you simply told your parents and let them help you. You'd be surprised at how often this works'. And I said, 'My parents would be absolutely horrified'. 'Oh, it would do them good, silly old things'. And I thought, you bloody woman! You have no idea of who my parents are, what they're like, what our relationship is. You've no clue as to whether it would do them good or not. And she said, then, and she sort of shifted… I can see it, still, she shifted the ruler from that side to that side, thinking, on her desk, and she said, 'Of course, it's entirely up to you if you choose to murder your own child'. And I said, 'Yes, it is. Thank you so much. Goodbye'. And went away. And… one always knew… in those days, you know, one always knew somebody who knew somebody who'd had an abortion, and I knew somebody who knew somebody and they gave me the address of a doctor, and that was it. I thought that this was… she was manipulating me, and I did not feel… and I don't know… this whole problem of abortion is very, very dicey, I know. But I still don't feel that, at that very, very early stage, what is happening inside one is a person. Not yet. It's going to be, quite soon, but it isn't yet. I don't think it makes much different whether you're interrupting its life by using a contraceptive or whether you have an abortion. I may be wrong about that, I would say that I'm prepared to believe people who very strongly do think I'm wrong. Maybe then, they're right, but I still feel like that about it.
[Q] But in those days, the actual business of having an abortion… I mean, I've got notions in my head about what that might be like, I suppose from films and books and so on, but I mean this was when that we're talking about? During the war?
During the war.
[Q] So what was that actually like? I mean, should…
You went to see him in an empty flat in Chelsea, where he was, with a lady who may have been a nurse or may have been his wife, I don't know. You lay on a desk and it wasn't in any way… I mean, he gave you something. It didn't hurt, nothing hurt, because firstly it was very, very early stage. It was a, sort of, rather indecent procedure. You didn't like lying on a desk with your legs in the air. Not at all. Horrid. But it wasn't difficult in any way. You had a cup of tea, and you went home. And he said, 'You've got to be at such and such a café in three days' time, and she will come and see you to make sure that all is well. And here is a telephone number, but don't ring it unless you absolutely have to.' And I didn't absolutely have to. And I went and met her and we had an embarrassed sort of cup of tea together, this lady and me. And she said, 'Well you're alright', okay, and that was that.
And I can say that the only result in my life was that before that, I used, from time to time, to have very painful periods, and afterwards, I never had another painful period. So it did me no physical harm whatsoever. And nor, I'm sorry to say, did it give me any psychological harm. I feel rather ashamed of that, but it didn't.
Diana Athill (1917-2019) was a British literary editor whose publishing career began when she helped André Deutsch establish his company. She worked with many notable writers, namely Philip Roth, Simone de Beauvoir, Jean Rhys and VS Naipaul. Following the publication of her memoirs, she came to be hailed as an author in her own right.
Title: Having an abortion
Listeners: Christopher Sykes
Christopher Sykes is a London-based television producer and director who has made a number of documentary films for BBC TV, Channel 4 and PBS.
Tags: 1940s
Duration: 5 minutes, 53 seconds
Date story recorded: January 2008
Date story went live: 23 December 2008