NEXT STORY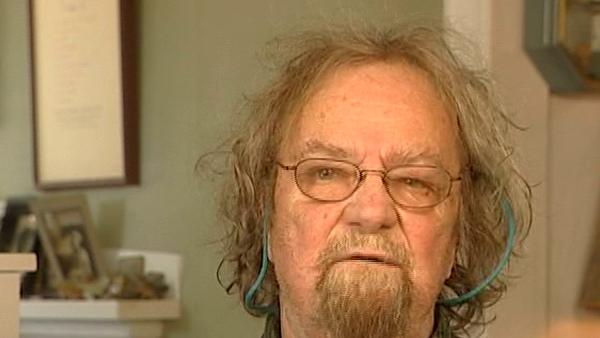 A sarcastic teacher
A rather unimpressive second term at Exeter
1
2
3
4
5
...
12
When I came back to Exeter for the second term of my first year, I had passed at the end of the first term, just barely, and I was on the track team, and things were looking up a bit, and then some bad things happened. I had progressed to, I think, three different classes in English, that were harder, but I heard that there was a... an elite class, 'English three special' for the brightest guys inthe school, and I decided I wanted to be in that, and my present English teacher said, 'That's fine, go talk to the teacher of three special. Maybe he'll let you in.' And I went and talked to him, and he was a man who was kind of a figure of fun. He was an... an apostle of clean living. He led kids during sporting period at chopping wood in the country and he was all for everybody being clean cut, and he was bright actually. He had done a PhD from Yale, and he was bright about literature, but he was a prig. He told me when I came to ask to get into his class that he loathed my poetry, that he had read it in a magazine. And that was a challenge for me. He said that it was like EE Cummings and all that modern stuff and he didn't like it. This was an older faculty at Exeter at this time because of the war. There were lots of instructors off in the army and the English faculty, who could teach Shakespeare and Moby Dick, and most of them knew a hell of a lot about literature, tended to dislike all modern poetry. There was one guy there, a man named Leonard Stevens, who loved modern poetry, and I never had him as a teacher, but he and I could talk about it and that was a great saving thing for me. But Chilson Hathaway Leonard was the teacher of this special group and he told me he loathed my poetry, and did I want to be in the class anyway? He read over some themes I had done, and he said alright, you could be in. So, I took his class and I wrote a paper for him about a bar that my parents had taken me in for a couple of years - they drank quite a bit and I was with them - and I wrote about the drunks in the bar and so on, and he handed it back with some derisory grade, saying, this is not a subject for a young American to write about. And then I wrote another one about chasing wild heffers with my grandfather, and that got back with an A. That was something for young Americans to write about, and there was a bit of culture, but the students were very bright... students are always more important than the teacher anyway, and it was... it was a good bunch. So one day he said he was going to give a free theme - we could do anything we wanted, and he really meant an essay, but I went to him and said I would like to submit poems. I was challenged. I wanted to convince him. And he said, 'You know what I think of your poetry?', and I said 'Yes', and he said, 'Alright, go ahead'. So I did. At the same time, the mid-term exams for the winter term came out, and I was flunking everything again, and I was cut from the track team, I think because of the grades. If you were flunking, you couldn't participate in varsity athletics. So it was just a dreadful time, just a dreadful time. And after I'd learnt I'd been cut, I went to the class where the free theme was going to be handed back.
The 14th US Poet Laureate Donald Hall (1928-2018) was educated at Phillips Exeter Academy, then earned a bachelor's degree from Harvard in 1951 and a BLitt, from Oxford in 1953. He published many essays and anthologies of both poetry and prose including String too Short to be Saved: Recollections of Summers on a New England Farm, White Apples and the Taste of Stone, Without: Poems, and Ox-Cart Man, a children's book which won the Caldecott Medal. Hall was editor of the magazine Oxford Poetry, literary editor of Isis, editor of New Poems, and poetry editor of The Paris Review. He won many awards, including two Guggenheim Fellowships and a Robert Frost Medal. At the end of his first Oxford year, he also won the university's Newdigate Prize, awarded for his poem Exile.
Title: A rather unimpressive second term at Exeter
Listeners: Kendel Currier
Kendel Currier started working for Donald Hall in August of 1994 as his correspondence typist. Later she took on his manuscript typing as well, and in October of 1998 moved 100 meters down the road from Donald and became his personal assistant, adding many various new tasks to her work. As well as working for Donald for the last 10 and-a-half years, Donald Hall and Kendel Currier share a set of great (or for Kendel great-great) grandparents, making them distant cousins and part of a similar New Hampshire heritage.
Tags: Phillips Exeter Academy, Yale University, Moby Dick, EE Cummings, William Shakespeare, Leonard Stevens, Chilson Hathaway Leonard
Duration: 4 minutes, 18 seconds
Date story recorded: January 2005
Date story went live: 24 January 2008