NEXT STORY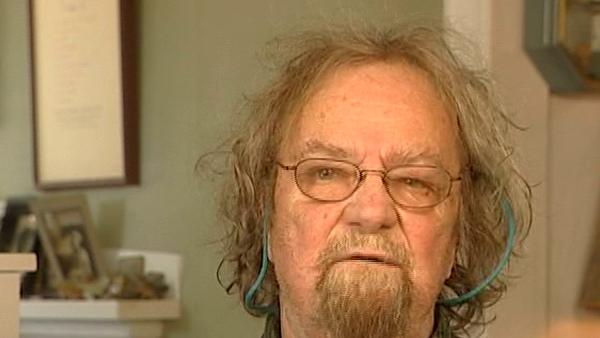 Arriving at Christ Church College, Oxford
1
2
3
4
5
...
12
It was also there, before I went up to Oxford, that I first met TS Eliot at Faber & Faber. I had had a connection with him earlier, slightly, because while Robert Bly was still running The Advocate [sic], we had, without his permission, reprinted all his undergraduate poems in order to sell copies of the magazine... we were in debt. And we not only reprinted them, we misprinted them. This was of course before photocopy, and Bly set two of the drunker editors to type them out of old bound volumes of The Advocate. There were, I don't know... seven or eight poems by the young Eliot. The... the young Eliot began by writing about how flowers come in the spring and they wither in the fall, but by the... by the end of his four years, he was writing, 'Romeo, grand sérieux, beneath a bored but courteous moon'. He had discovered Laforgue... wonderful transformation. And Eliot wrote a very angry letter to The Advocate, and by that time I was running it, so I had to answer the letter. At the same time, this is in my senior year, I guess, I was asked to edit an anthology of the juvenilia of famous men from The Advocate, including of course, Eliot. I mean without Eliot... nothing. So I had to write him back and apologise for this unauthorized and misprinted reading, and ask him for permission to... to reprint them. And I wrote him a fawning, apologetic letter, and he wrote me back, beginning, 'Mr Hall, I wish that you would date your letters'. And, I've dated every letter since, you know. But... he then he had come to The Advocate before I had left, for a cocktail party after a reading... someone had told him I was coming up to Oxford, and he sought me out and asked me to come see him at Faber on the way to Oxford. Which was amazing, but he was a very kind man to me certainly. So, when I was in London waiting to up to Oxford, I wrote him a note at Faber. I was staying at a... Tavistock Hotel... terrible hotel right near Faber & Faber, and the British Museum, and he wrote me a note, to drop around one afternoon, at three o'clock, and to send him some poems. So I sent him some poems, and agreed to come by, and he had made a mark on... you know a pencil mark or two on pages of poems... keep this one, and so on, not very much. But we talked for an hour, and I was totally boring, because I was so overwhelmed by being in the presence of the great Eliot, whom I had been reading while I was 12 years old... trying to read... when I was 14... and who was the king of the mountain so much, as a poet. And I'm sure I was totally boring, but he knew what I was going through. And we talked about... he talked about our literary generations, as if I had one. And he talked about the poetic drama... we talked a little about that. I don't know what I said... I'm sure I didn't say anything intelligent. But then after an hour, he scraped back his chair a little, and I pretended it was my idea, and I leapt up to go, and he lingered in the doorway with me, waiting to say the final words. And he said, 'Let me see, 40 years ago I was going from Harvard to Oxford... now you are going from Harvard to Oxford. What advice may I give you?' And, I just waited for this incredible, historic, moment that I'd be recounting to Peoples Archive a hundred years later. And with a comedian's exact pause, he said, 'Have you any long underwear?', which was incredibly funny, but I didn't know it was at the time. I said, 'No, no, shall I get some?' So on the way back to the hotel, I bought long underwear. And six months later I realized that was funny, that was very funny. And he was like that... I saw him... when I... I saw him many times again, when I had stopped being so anxious, and was actually present when I was with him, and I heard him do that kind of old possum joke. He didn't care whether you thought it was funny or not, it was just, it was a wonderful line, a wonderful line. He was a dear man, so, when I was at Oxford, I saw him maybe once a year, twice a year, and when I came back to England I did... and finally, many years later, after his second marriage, I did The Paris Review interview with him, that's the only formal interview, but otherwise we just talked. One time I was in his office and there was a great picture of Groucho Marx on the wall together with Marianne Moore and Charles Williams, and a few others. And I noted Marx, and he said, 'Would you like to meet Groucho Marx?', and I said, 'Yes', but it never happened... it would have been an encounter I would love to have been talking about.
The 14th US Poet Laureate Donald Hall (1928-2018) was educated at Phillips Exeter Academy, then earned a bachelor's degree from Harvard in 1951 and a BLitt, from Oxford in 1953. He published many essays and anthologies of both poetry and prose including String too Short to be Saved: Recollections of Summers on a New England Farm, White Apples and the Taste of Stone, Without: Poems, and Ox-Cart Man, a children's book which won the Caldecott Medal. Hall was editor of the magazine Oxford Poetry, literary editor of Isis, editor of New Poems, and poetry editor of The Paris Review. He won many awards, including two Guggenheim Fellowships and a Robert Frost Medal. At the end of his first Oxford year, he also won the university's Newdigate Prize, awarded for his poem Exile.
Title: Meeting TS Eliot
Listeners: Kendel Currier
Kendel Currier started working for Donald Hall in August of 1994 as his correspondence typist. Later she took on his manuscript typing as well, and in October of 1998 moved 100 meters down the road from Donald and became his personal assistant, adding many various new tasks to her work. As well as working for Donald for the last 10 and-a-half years, Donald Hall and Kendel Currier share a set of great (or for Kendel great-great) grandparents, making them distant cousins and part of a similar New Hampshire heritage.
Tags: University of Oxford, Faber & Faber, The Advocate, Tavistock Hotel, British Museum, Harvard University, Peoples Archive, The Paris Review, TS Eliot, Robert Bly, Jules Laforgue, Groucho Marx, Marianne Moore, Charles Williams
Duration: 5 minutes, 40 seconds
Date story recorded: January 2005
Date story went live: 24 January 2008