NEXT STORY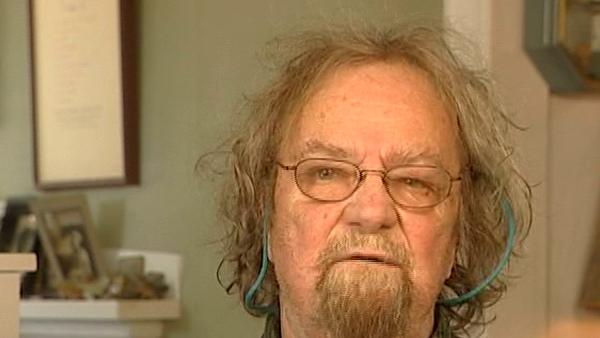 A job offer from The New Yorker and a profile of Henry Moore
1
...
3
4
5
6
7
...
12
EB White sent a copy of String Too Short to be Saved to his son-in-law, Roger Angell, who was an editor on The New Yorker and a writer for The New Yorker - still is - and Roger Angell loved it, and he showed it around, and suddenly The New Yorker wanted to print the first chapter that they had turned down years before - or two or three years before - and they wanted to do another chapter. And they said, 'If we'd known about this earlier, we would have printed more of the book'. Well, they had known about it earlier, and Roger went and looked up... they kept all their copies of their deliberations, and two editors had read the first chapter, and they'd come close to taking it, they'd finally decided against it - it was a close thing. And Roger said, 'Whatever you do, don't tell any writers that this happened'. I've been telling people ever since, you know! So they printed... before the book came out... they printed two chapters in The New Yorker, and in one of them... I... that book is almost entirely recollected as honestly as I can do it. But there was one point when I was writing up in that music room, where I told a big lie - with great excitement. My grandfather and I went up on Ragged Mountain, which rises up in back of the house, high up, to where there were low bush blueberries growing wild... wild blueberries, one day, and we picked, I don't how many quarts - enough for many pies all winter - and came down... well when we came down I had him take me on a journey to show me an abandoned railroad on the mountain. There isn't any abandoned railroad on the mountain - but it was my perfect symbol for the... the emptying out of ... of New Hampshire - there was a railroad track, and then there was a rusted locomotive, and I, at the age of 14 or whatever, want to make it work, and get it back to run again, but then I know it can't, and so on. It's probably the best writing in the piece, and it's fiction, it's pure fiction. So when that came out in The New Yorker, before the book came out, I was driving up here - we used to drive from Ann Arbor every summer, with the kids to see my grandmother who was still here at the house - and I was running out of gas just down the road at Sturgess' [sic] and I pulled in to get gas, and he came out to fill up my tank and said, 'Where is that damn railroad anyway? I've lived around here for 20 years, and I've...' And I've been hearing it ever since. I'm known as the fella who saw that railroad. My favourite thing to say about that is that I've also met two people who have seen it, and they've been there, and they'll take me to it sometime, but not just now. But anyway, it did... it had good reviews and didn't sell very many copies... sold enough so that there was a second printing... I don't know, but what there were only about five or six thousand printed at all at first. Then it went out of print - it sold a few copies a year for years, and then it went out of print, and after it went out of print, I decided I wanted to get somebody to reprint it. Viking [sic] didn't want to reprint it, you know do a paperback of it, and I approached a Boston publisher - David Godine - who brought it out, maybe that was 1978, '79, it was after I was living here, and it has sold many, many copies in paperback. And around here, among the neighbors, people will meet me for the first time, and say, 'Oh, you're the fella wrote that book'. I've written lots of books, but the... if it's that book... that's the one everybody means, and that's the only book of mine that many of my neighbors have... have read - those who have read it. But... at any rate, it was great fun, and it... it convinced me that I could write prose. I had been writing some critical prose, some articles, book reviews, and... nothing else. After that book I wrote a short story that was published in The New Yorker, that used the characters of my family, but made up the story, a story called Christmas Snow.
The 14th US Poet Laureate Donald Hall (1928-2018) was educated at Phillips Exeter Academy, then earned a bachelor's degree from Harvard in 1951 and a BLitt, from Oxford in 1953. He published many essays and anthologies of both poetry and prose including String too Short to be Saved: Recollections of Summers on a New England Farm, White Apples and the Taste of Stone, Without: Poems, and Ox-Cart Man, a children's book which won the Caldecott Medal. Hall was editor of the magazine Oxford Poetry, literary editor of Isis, editor of New Poems, and poetry editor of The Paris Review. He won many awards, including two Guggenheim Fellowships and a Robert Frost Medal. At the end of his first Oxford year, he also won the university's Newdigate Prize, awarded for his poem Exile.
Title: Publishing 'that' book
Listeners: Kendel Currier
Kendel Currier started working for Donald Hall in August of 1994 as his correspondence typist. Later she took on his manuscript typing as well, and in October of 1998 moved 100 meters down the road from Donald and became his personal assistant, adding many various new tasks to her work. As well as working for Donald for the last 10 and-a-half years, Donald Hall and Kendel Currier share a set of great (or for Kendel great-great) grandparents, making them distant cousins and part of a similar New Hampshire heritage.
Tags: String Too Short to be Saved, The New Yorker, Ragged Mountain, New Hampshire, Ann Arbor, The Viking Press, Boston, Christmas Snow, EB White, Roger Angell, David R Godine
Duration: 4 minutes, 36 seconds
Date story recorded: January 2005
Date story went live: 24 January 2008