NEXT STORY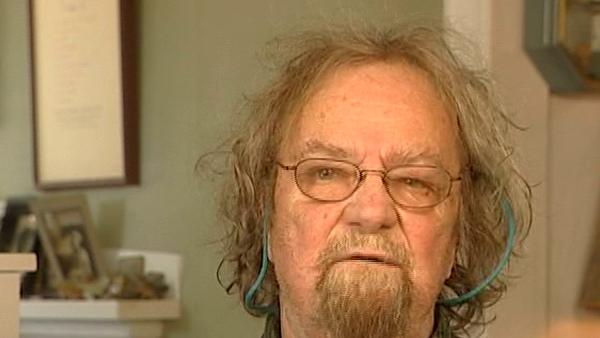 Peaking too soon and changes in university life
The end of my first marriage and psychoanalysis
1
...
4
5
6
7
8
...
12
When I went back teaching in Ann Arbor seemed pretty dull, and with Kirby not wanting to go, I said, 'I promise I'll come back in three years'. And three years later... two more years of Ann Arbor and teaching... I guess three years of teaching, and then we came back... I did get a Guggenheim, I applied again, and I got one... and we went back and spent a year. And the first year was the best year of that marriage, and the second year was probably the worst, and I'm not going to go into it, but it was the beginning of the end, and the marriage ended when the... I left the house in 1967. The two years in Thaxted were '59/'60, and '63/'64, and the marriage hung on for another three years but it was pretty much over by then. And that was a time in my life, when, well... a marriage ended after two years. I lived only a couple of blocks away from my kids, who I saw a lot of them, but there was failure in that, but it was also true that my work was getting overlooked. I wasn't writing so much. For five years I was single and during those years, I did not write so much, I drank a lot, had lots of girlfriends. I was pretty miserable really through much of the time, or way up and way down maybe. I did have psychotherapy with a psychoanalyst - I did... there were eight psychoanalysts in Ann Arbor, more than there were in Vienna, but only one of them would do therapy, and so I was old enough by the time I went to him - late 30s - that analysis therapy was... would analysis actually help? So I saw him a maximum of three times a week, and we sat in chairs opposite... opposite each other. He still did not talk very much... left the talking up to me. In the first six months I lectured him about psychoanalysis, figuring his education was inferior... this is a classic way of dealing... dealing with your pain, you know. And then he, sort of, said, 'Let's not see each other for a while'. And then a little later, I was hurting enough so I came back and began to use up the kleenex and began to find things out, but... it was invaluable to me and it allowed me eventually to love Jane and to enter into the best part of my life. Toward the end at one point, I was talking about probably some relationship or other, and I said, 'Oh, will I ever be able to love anybody?' And he said, very matter of factly, 'Oh yes, you'll be able to love, yeah'. He was talking to me by that time. For the first few years, he would hardly say anything. He had very eloquent eyebrows and when I said something there... I mean I explained my motive or something, and an eyebrow would flicker, and I know I'd just said something funny. I think what I learned from him - you know there weren't Eureka moments - I... I talked a lot to analysts, they have told me whenever anyone says, 'Eureka!' it's always false. There were no Eureka moments, but what I learnt a lot was that I had been naming feelings crudely and mistakenly, and there that there were times when I might say, 'I love', when I mean I hate and fear. Remarkable. There was... the intensity was there, but the label for the intensity was wrong - that's one reason why a poem can tell the truth without the poet knowing it... the intensity could convey the incredibly mixed reality of the feeling, feelings are never pure, without the writer being in intellectual command of what they are. Psychoanalysis is a language art and again and again I kept trying to convince him of this. He had a wonderful ear for puns and metaphors. I would say some cliché not using it literally, just the way it's commonly used, and the eyebrow would flicker, and I'd realize that was precisely the right word, you know, and it revealed something. And I went through... went back over lots of things, painful things in my past that were fairly hidden, and I began to change. It was enormously helpful. Unfortunately by this time, it's so expensive, and there's... there's so much anti-Freud business around, that it's hard to get a real Freudian analysis anymore, but I have known several people who have been enormously helped by them. And of course we all know many people who have not been helped, that goes without saying.
The 14th US Poet Laureate Donald Hall (1928-2018) was educated at Phillips Exeter Academy, then earned a bachelor's degree from Harvard in 1951 and a BLitt, from Oxford in 1953. He published many essays and anthologies of both poetry and prose including String too Short to be Saved: Recollections of Summers on a New England Farm, White Apples and the Taste of Stone, Without: Poems, and Ox-Cart Man, a children's book which won the Caldecott Medal. Hall was editor of the magazine Oxford Poetry, literary editor of Isis, editor of New Poems, and poetry editor of The Paris Review. He won many awards, including two Guggenheim Fellowships and a Robert Frost Medal. At the end of his first Oxford year, he also won the university's Newdigate Prize, awarded for his poem Exile.
Title: The end of my first marriage and psychoanalysis
Listeners: Kendel Currier
Kendel Currier started working for Donald Hall in August of 1994 as his correspondence typist. Later she took on his manuscript typing as well, and in October of 1998 moved 100 meters down the road from Donald and became his personal assistant, adding many various new tasks to her work. As well as working for Donald for the last 10 and-a-half years, Donald Hall and Kendel Currier share a set of great (or for Kendel great-great) grandparents, making them distant cousins and part of a similar New Hampshire heritage.
Tags: Ann Arbor, Guggenheim Fellowship, Thaxted, Vienna, Kirby Hall, Jane Kenyon, Sigmund Freud
Duration: 5 minutes, 48 seconds
Date story recorded: January 2005
Date story went live: 24 January 2008