NEXT STORY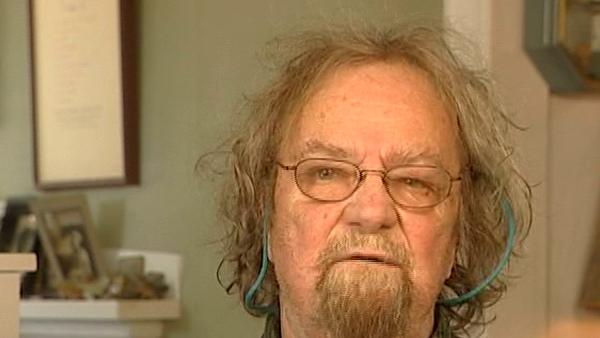 Falling in love and getting married to Jane Kenyon
Getting to know Jane Kenyon
1
...
4
5
6
7
8
...
12
In 1969, which was one of the... the lowest points of my life, but led to the best parts of my life, I taught a... I taught the introduction to poetry for non-English majors in the spring - there were about 140 students in it. Jane was a French major at the time, and she took that course but I didn't know it - I didn't know her. Later we established that she had once asked me a question in that class, but I didn't know who Jane Kenyon was among these 140 kids. But that summer, she applied to take my writing course, and every year maybe 50 people would apply giving me samples of their work, and I'd take 10, 12 that seemed to have some talent and thank goodness I took her. I remember one poem in particular - and it's a poem that's in her posthumous selected poems and her forthcoming collected poems, and now it's under the title of The Needle... poem she wrote when she was about 19, and she wrote a lot after that - that weren't so good as that one - but that is one that's permanent, and it resembles later Jane in many ways. It's not as good as the best of them, but that was the poem that maybe determined the rest of my life. She was in that class, and in that class there were lots of wonderful students and Jane did not stand out as being surely the best. Others in that class... several others, I'm thinking of four right now have published books - one or two books and so on. But most of them go on to other things. One of them, whom I still see, is a newspaper editor in Philadelphia, and another is a radio... public radio talk show host in Wisconsin, and she and I are in touch. I'm in touch with a lots of old students, even from my first years there still... but that class was the best class I ever taught... they were wonderful with each other... they were rude, they were funny, they were very fond of each other. I don't remember there being anybody who was sort of sullen and withdrawn in that class, but they used a very military vocabulary all the time on each other's work, I mean they... they wouldn't say, 'Oh, I don't think that's quite your best work'. They'd say, 'That's full of shit', and so on, and somehow it... a spirit of happiness in poetry, happiness in being young and... and talented, and happiness in being frank could all co-exist, and I loved the class - I just had a wonderful time. It met in my living room one night a week, and I would bring a case of beer, and when people had a beer, they'd generally leave a quarter or something there, and we'd sit around for three hours one night a week and there were... but, the class would always meet in a classroom at first, when those who were admitted would get together and find one night a week when we could all get together and meet in my living room, which was... everybody preferred, and after Jane's death I found a notebook that she had taken, kind of a journal... a notebook, that she must have written in after that first class. The place where she was living as an undergraduate was a co-op, a student co-op, and it was right near my house, and there was a note in her notebook: when I discovered that Donald Hall lived not two blocks from my house, I felt as I did when I discovered that Dublin was a Danish stronghold, or when I wanted to take the goldfish out of the jar, but found that the water was too cold to sustain life. I was pretty scary. But that had to be right at the very beginning because after a class or two, I certainly wasn't scary at all to anybody. And Jane was oh, one of the funniest and sharpest of the group but there were a lot of funny and sharp people there. I liked her a lot - she was very likeable, and... but she wasn't at that time in her life, very attractive. She became a beautiful woman really... late '30s and '40s - just amazing what happened to her. Her face is just dazzling in the photographs I have - and she... it was true... but, oh she had short hair and she had the remnants of acne, and she... she was not a clever dresser, didn't give a damn. So I didn't look at her very much. I certainly didn't think of her as a potential girlfriend, and at that time I had lots of girlfriends - there was safety in numbers, I was scared of getting committed to anybody, and I simply didn't put her in that category. In the class, I would work with... you know I'd write all over everybody's poems - we'd talk about it - but the poets would also come... they would also come by to my office hours, and she would come by, and after that class was over... just one term, she kept coming by to my office hours, and so I would see her fairly frequently. And I saw other people from the class, and sometimes I would see two or three of them together - we'd have coffee together or whatever. The... the class itself kept meeting without me, as a workshop outside the university, for three years after the class was over. Nothing like that ever happened before.
The 14th US Poet Laureate Donald Hall (1928-2018) was educated at Phillips Exeter Academy, then earned a bachelor's degree from Harvard in 1951 and a BLitt, from Oxford in 1953. He published many essays and anthologies of both poetry and prose including String too Short to be Saved: Recollections of Summers on a New England Farm, White Apples and the Taste of Stone, Without: Poems, and Ox-Cart Man, a children's book which won the Caldecott Medal. Hall was editor of the magazine Oxford Poetry, literary editor of Isis, editor of New Poems, and poetry editor of The Paris Review. He won many awards, including two Guggenheim Fellowships and a Robert Frost Medal. At the end of his first Oxford year, he also won the university's Newdigate Prize, awarded for his poem Exile.
Title: Getting to know Jane Kenyon
Listeners: Kendel Currier
Kendel Currier started working for Donald Hall in August of 1994 as his correspondence typist. Later she took on his manuscript typing as well, and in October of 1998 moved 100 meters down the road from Donald and became his personal assistant, adding many various new tasks to her work. As well as working for Donald for the last 10 and-a-half years, Donald Hall and Kendel Currier share a set of great (or for Kendel great-great) grandparents, making them distant cousins and part of a similar New Hampshire heritage.
Tags: The Needle, Philadelphia, Wisconsin, Dublin, Jane Kenyon
Duration: 6 minutes, 25 seconds
Date story recorded: January 2005
Date story went live: 24 January 2008