NEXT STORY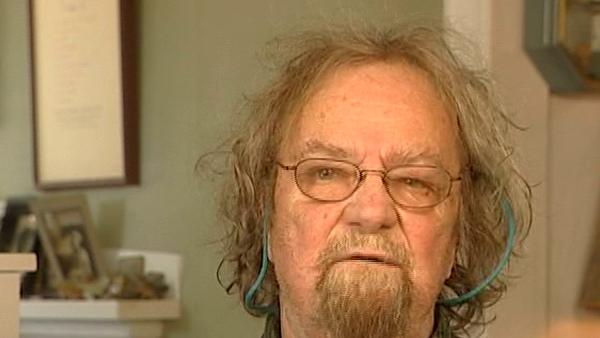 Jane Kenyon's depression
1
...
5
6
7
8
9
...
12
Jane and I, in our happiness here, hit upon a kind of schedule of work. After that first year when we worked in the same room... when we came back - we had to go back to Ann Arbor in the summer and move out to get here - and we had bookcases built while we were gone and her study is over the kitchen, second floor, and mine was the room that I used to sleep in when I was a kid, just behind the living room here... it was a bedroom, and it became my study, or Kendel calls it my... the poetry room - it's all poetry in it - thousands of volumes of poetry. And I went back to work in there. I had a little wood stove because we had no central heat for 10 years, we just had more wood stoves, more... and we put in, oh, and we put in storm windows and some insulation. And we continued to go to church, we hit upon various rituals... living here alone. We didn't talk all day, we... we both got up early and I would usually get started sort of earlier than her, and read the paper and drink black coffee and get to work writing on poetry and she would... oh eventually she walked the dog, but we didn't have the dog for a while... she would get up more slowly and get up to her study and start her fire in her... in her study and work. She was up there every day. She... I pretty much wrote every day. I would say I wrote every day, and she did not. She went through dry periods - but she would go up there and look at her work and try every day, and sometimes she would write letters when she couldn't work on poems, but then she'd go through periods of writing a good bit. And I used to read to her every day. We'd spend about an hour I think, a day, usually, reading, and we read tons of stuff. I read the Old and New Testaments, I read Paradise Lost, and Wordsworth. We also read F Scott Fitzgerald and the translation of Bovary [sic], and we read lots of Henry James, late Henry James which he dictated apparently, actually - it's wonderful to read aloud - late, complicated long sentence Henry James - it's absolutely marvellous to read aloud, and I did the reading aloud almost entirely. Sometimes in cars on long journeys, I would be driving, and she'd be reading, but the standard thing was... to... for me to read aloud about an hour a day, and we'd go through novel after novel. I actually read her Ulysses at one point, after we knew each other but before we were getting married or anything. She took a course of mine in Yeats and Joyce so she'd read Joyce then with a... with a bunch of people, but I sat here in this room and read it aloud to her, which was wonderful. I hadn't read it in a long time. It's tremendous to read aloud as long as nobody's listening and doesn't hear my attempts at an Irish accent it's ok. I mean I did read aloud to the kids but... you know, when I was lecturing... but if an Irish person came to the lecture hall I was deeply embarrassed, every time, but that was part of it. Also after we made one change to the house we extended the root cellar, put a ping pong table down there, and we used to go down and play ping pong, except that we didn't play games. Jane hated to lose and she was you know 5' 6" and I had much more reach, and if we had kept score, I would have won all the time, so we didn't, we just batted the ball back and forth, and had a good time. Every now and then I'd hit it so that she couldn't reach it and I'd call her Stubsy, whereupon the next ping pong ball would hit me in the groin savagely, and - without harm - but we had a lovely time. And we fought over who cooked, we... at the beginning we both loved to cook. And we never cooked together - we took turns and so on - we were different kinds of cook, but that was fun. And we would have a beer, glass of wine usually with it... it was very happy. Unhappiness is... I mean happiness is never unmixed but we got along very well and we quarrelled about once a year which meant that if we quarrelled it was terrible, so once a year, maybe three times a year, as much as many people do in one hour, you know and so on... it was surprising. We were both... I had been with my analyst guy... she had therapy too, and both of us, I think learned to... well I remember earlier in my life, I think that somebody I was with was mad at me. I learned that whenever you've... or was being grumpy... whenever you feel that way, the first thing to do is say, 'What am I... what am I mad at?' And she had the same sort of thing, yeah. And there would be times when we would be very silent, rather than looking for a quarrel which I think I would have done in an earlier life.
The 14th US Poet Laureate Donald Hall (1928-2018) was educated at Phillips Exeter Academy, then earned a bachelor's degree from Harvard in 1951 and a BLitt, from Oxford in 1953. He published many essays and anthologies of both poetry and prose including String too Short to be Saved: Recollections of Summers on a New England Farm, White Apples and the Taste of Stone, Without: Poems, and Ox-Cart Man, a children's book which won the Caldecott Medal. Hall was editor of the magazine Oxford Poetry, literary editor of Isis, editor of New Poems, and poetry editor of The Paris Review. He won many awards, including two Guggenheim Fellowships and a Robert Frost Medal. At the end of his first Oxford year, he also won the university's Newdigate Prize, awarded for his poem Exile.
Title: Routine in New Hampshire
Listeners: Kendel Currier
Kendel Currier started working for Donald Hall in August of 1994 as his correspondence typist. Later she took on his manuscript typing as well, and in October of 1998 moved 100 meters down the road from Donald and became his personal assistant, adding many various new tasks to her work. As well as working for Donald for the last 10 and-a-half years, Donald Hall and Kendel Currier share a set of great (or for Kendel great-great) grandparents, making them distant cousins and part of a similar New Hampshire heritage.
Tags: Ann Arbor, Old Testament, New Testament, Paradise Lost, Madame Bovary, Ulysses, Jane Kenyon, Kendel Currier, William Wordsworth, F Scott Fitzgerald, Henry James, WB Yeats, James Joyce
Duration: 5 minutes, 36 seconds
Date story recorded: January 2005
Date story went live: 24 January 2008