NEXT STORY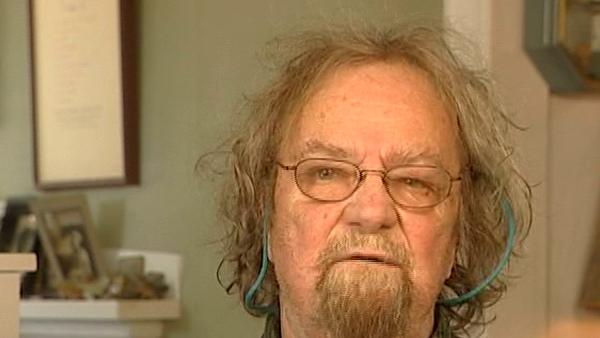 The Happy Man and developing adult onset diabetes
Helping out with each other's poetry
1
...
5
6
7
8
9
...
12
Jane and I were probably, almost always the first readers of each others poems... living in this house... and we were... oh it was always very exciting to do it. We would never write something and immediately show it to the other, which was a very bad idea. The minute somebody else talks about a poem, their voice becomes part of the poem, somehow, and I always wanted, and Jane did too, to spend quite a bit of the time with the poem alone, just looking at it everyday by myself, sort of as if it had a mind of its own, and my mind was its mind, and we didn't want any other consciousness in it. So I'd save up a few, so would she, and one morning, she would say, 'Perkins, I left some stuff on your desk'. I'd put some stuff on her footstool, then I'd run and hide while she read it, so I wouldn't look at her face while she was reading it - it was a big deal - and Janey always said that I'd come to her with her poems, saying, 'These are going to be good', and she'd say, 'Going to be, huh?', and she also... I heard her talking about it many times, she said that she would - after I'd finished talking about a draft of hers - she would go up to her study upstairs saying, 'Perkins just doesn't get it, and then I'd do everything he said'. Well, we never really did everything the other person said. I look through her posthumous selected poems now, and I... I see words that I tried to argue her out of, and I still think I was right, but we helped each other a lot. I was... I sort of gave more praise that... than Jane did, which kind of frustrated me. She'd say, 'You've taken this as far as the mind can take it', or, 'Don't touch it', but she wouldn't say, 'This is great', which is what I wanted her to say. But anyway we helped each other a lot. And of course, I had been her teacher, and therefore we had to get past that when we were first married, before we could really work on each other's stuff. I know when we were first married, she couldn't even write poems while I was in the house. I'd go off on a poetry reading, and I'd come back and she'd be... have been working on something. But this was not a... this was, we got past it within the first year at any rate. But at the beginning it was a real problem. Every... anytime I started criticising her work, I mean praising it, blaming it, whatever, I was her teacher again, and we had to get past that to be husband and wife. And the way it happened, we didn't, you know, plan it, you can't plan these things, was that we got a third person involved. There's a poet named Gregory Orr who came to Michigan, on a fellowship and we got along with him very well and we had a great time. And the three of us would get together with the manuscripts that each of us was writing, and then, with the third person in the room it was perfectly fine for me to talk about Jane's work, Greg was talking about it as well, and we work all together. And it was perfectly easy... no... no problem, we got past it, and when Greg left Ann Arbor, I guess it was the same time we did - three years later - we didn't need his presence... we didn't need any third party's presence to get to work on each other's stuff. We had gotten past that problem of the teacher coming back again.
The 14th US Poet Laureate Donald Hall (1928-2018) was educated at Phillips Exeter Academy, then earned a bachelor's degree from Harvard in 1951 and a BLitt, from Oxford in 1953. He published many essays and anthologies of both poetry and prose including String too Short to be Saved: Recollections of Summers on a New England Farm, White Apples and the Taste of Stone, Without: Poems, and Ox-Cart Man, a children's book which won the Caldecott Medal. Hall was editor of the magazine Oxford Poetry, literary editor of Isis, editor of New Poems, and poetry editor of The Paris Review. He won many awards, including two Guggenheim Fellowships and a Robert Frost Medal. At the end of his first Oxford year, he also won the university's Newdigate Prize, awarded for his poem Exile.
Title: Helping out with each other's poetry
Listeners: Kendel Currier
Kendel Currier started working for Donald Hall in August of 1994 as his correspondence typist. Later she took on his manuscript typing as well, and in October of 1998 moved 100 meters down the road from Donald and became his personal assistant, adding many various new tasks to her work. As well as working for Donald for the last 10 and-a-half years, Donald Hall and Kendel Currier share a set of great (or for Kendel great-great) grandparents, making them distant cousins and part of a similar New Hampshire heritage.
Tags: Michigan, Ann Arbor, Jane Kenyon, Gregory Orr
Duration: 3 minutes, 35 seconds
Date story recorded: January 2005
Date story went live: 24 January 2008