NEXT STORY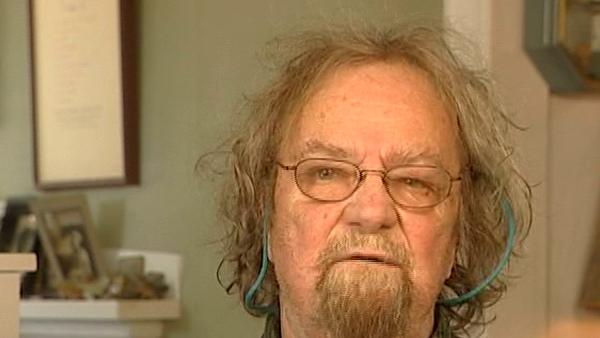 The influence of leukemia on my writing
Jane Kenyon's leukemia: searching for a bone marrow donor
1
...
6
7
8
9
10
...
12
A bone marrow transplant means that you'd have someone else's immune system, and it's then possible that the new immune system will reject the cancer cells that survive chemotherapy. Because of the Philadelphia chromosome, her cancer cells would always survive chemotherapy - they could go away for a while - they'd be invisible. The oncologists all used a metaphor that they 'hide' and no one knows what that means. So it's possible that somebody else's marrow, thriving in your own bones, can reject returning cancer cells and you can survive. So we set out to try to discover a matching marrow. Jane came back from the hospital in remission, slated to undergo further chemos every month, and they would be various... there would be an injection, there'd be an infusion... I think once or twice it was just pills... some of them were kind of devastating but not always. She had days, and weeks that... that weren't so bad, but again and again, something would turn up. She would... oh, she got Herpes zoster - there were all sorts of symptoms. Three times she became delusional - always because of the chemotherapy, not because of the original leukemia - and I would have to drive her up to emergency and she'd be back in the hospital again for another week or a day or two and so on. It was quite a siege. While this was going on then from, say March, on, we were searching for a matching marrow, and the first thing you try to do is to match it with a sibling or any close relative. Jane had a brother and he had his blood tested and it was not a match. You have to... there are... there's a quality in the blood cells called antigens. There are six antigens and you want to match all six. He matched, I think, in three out of six - not good enough to make... to do a transplant. Therefore we had to look for a stranger. There's a bank of registered antigens, mostly just four antigens... they have to test further, where there were, I cannot remember right now, maybe 200,000 samples. It was very hard to find a match and the original scan of Jane's antigens and the ones in the bone marrow bank didn't turn up any exact matches at all. Friends of ours around the country went to have their blood tested to see, but the chance of anybody you know or anybody who's a neighbor, who's not a relative, matching, are very tiny, but somebody may... may match somehow. It kept failing to match. Then the blood marrow took in people whose four antigens matched four of Jane's to see if the other two might match - 10 at a time, all over the country, people went to their hospitals out of their own goodness or charity and allowed further blood testing to see if they matched. We were in and out - it was always we, totally we, always - it was our leukemia. We were in and out of the hospital, as I say, over and over again, sometimes on schedule for infusions of chemotherapy but again and again because of dire events in her body or in her mind. And then in August, it was a long time, came a telephone call that someone had been found who matched with five out of six antigens, and there were other qualities of the blood that seemed promising, but the hospital was willing to go ahead and give Jane the bone marrow transplant. The hospital... I say we were dealing with a hospital in Seattle, Washington, which is sort of the Mecca of bone marrow transplants. It was a doctor named E Donnall Thomas who invented the procedure of the bone marrow transplant originally back in the '50s, I think... and originally perhaps just identical twins, but gradually it came so that they were unrelated pairs even. After he had made this discovery, and won the Nobel Prize, someone funded a hospital in Seattle - The Fred Hutchinson Cancer Center [sic] - in particular... they handle other things... but in particular to deal with leukemia, and especially to oversee bone marrow transplants. There's a kind of Sears Roebuck catalog of bone marrow hospitals and I began to read - it was alphabetical by state - so I discovered that in Boston, there were one or two hospitals that had done 25 or 30 transplants of non-related marrows, and New York there were places that had done 35 or 40, and then I discovered that out in Minnesota one hospital had done 200. Well I was reading by state, and I finally got to Washington, and here was the Hutchinson Cancer Center, which had done maybe 6, 700, at that time, of bone marrow transplants so I went to them - they had the most experience. She was a particularly difficult case - 46 year old, well she was 47 by that time - female, with ALL and the Philadelphia chromosome. So we went to the place that seemed to have the most experience, to be the best, and it's a very good hospital... and they were very good people. We arranged to go out in September and the anonymous donor would be operated on - her marrow harvested, as they say - and then flown to Seattle and Jane would have her transplant. But shortly before we were ready to fly, her remission failed and leukemia returned, and they would not do the transplant with leukemia in residence. So Jane went back into hospital for new chemo, more chemo, a kind of massive assault on her for several weeks in order to try to re-establish remission so that we could go. And this was a time of, when we were on tenterhooks obviously. And they did tell us that remission had occurred again and that the harvest had been put off, but was rescheduled, and we flew out to Seattle together.
The 14th US Poet Laureate Donald Hall (1928-2018) was educated at Phillips Exeter Academy, then earned a bachelor's degree from Harvard in 1951 and a BLitt, from Oxford in 1953. He published many essays and anthologies of both poetry and prose including String too Short to be Saved: Recollections of Summers on a New England Farm, White Apples and the Taste of Stone, Without: Poems, and Ox-Cart Man, a children's book which won the Caldecott Medal. Hall was editor of the magazine Oxford Poetry, literary editor of Isis, editor of New Poems, and poetry editor of The Paris Review. He won many awards, including two Guggenheim Fellowships and a Robert Frost Medal. At the end of his first Oxford year, he also won the university's Newdigate Prize, awarded for his poem Exile.
Title: Jane Kenyon's leukemia: searching for a bone marrow donor
Listeners: Kendel Currier
Kendel Currier started working for Donald Hall in August of 1994 as his correspondence typist. Later she took on his manuscript typing as well, and in October of 1998 moved 100 meters down the road from Donald and became his personal assistant, adding many various new tasks to her work. As well as working for Donald for the last 10 and-a-half years, Donald Hall and Kendel Currier share a set of great (or for Kendel great-great) grandparents, making them distant cousins and part of a similar New Hampshire heritage.
Tags: Seattle, Washington, Nobel Prize, Fred Hutchinson Cancer Research Center, Boston, Sears Roebuck catalog, Minnesota, Jane Kenyon, E Donnall Thomas
Duration: 7 minutes, 31 seconds
Date story recorded: January 2005
Date story went live: 24 January 2008