NEXT STORY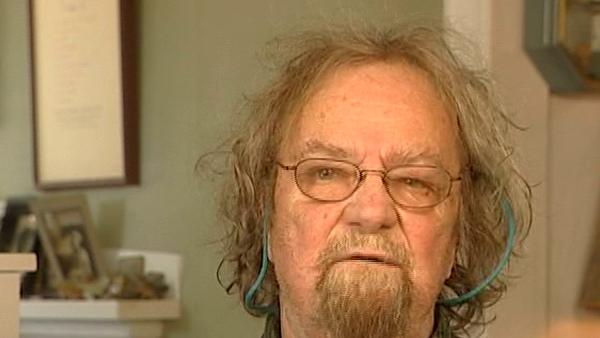 Jane Kenyon's bone marrow transplant
The influence of leukemia on my writing
1
...
6
7
8
9
10
...
12
Around this hospital there are a good many apartment buildings which exist for the families of bone marrow patients. The patient is in the hospital for treatment before, and immediately after, the bone marrow, but then they go home and the caregiver who, of course, was me in this case, supervises infusions, and pill taking, and trying to get the patient to swallow some nutrition. We went out there... we found our apartment to sublet for a moment and then went into the hospital. All the time that Jane was sick, I stayed by her side. I would read to her some, but she could no longer listen to Henry James. She was too sick... maybe one column by Dave Barry a day, was the most of it. She couldn't talk that much. She was just... she was nauseated constantly and in a great deal of pain, because of the treatment to try to save her life. I read some but it was very hard for me to concentrate on my reading. I could help her a little bit... I could rub her head, or back, or I could bring her hot blankets. I could, when... I could fetch her tea maybe when... on a good day, something like that. But there was one thing that I could do and could concentrate on and that was writing. There were things I was in the middle of, there were a couple of children's books I was working on that I was able to do. But most of what I did was to write about Jane, to write about what was happening. I wrote hundreds and hundreds of little poems about the events of the illness, sitting beside her, writing about her. Sometimes, she would say, 'What are you writing, Perkins?' when she felt well enough to talk, and I might read her something I'd been writing about... what was happening right in front of us... it was extraordinary - poetry was a companionship even at that moment. I wasn't trying to, you know, make poems out of what was happening, I was just doing what I had to do... after all, from the age of 14, this is what I did all day, was to write, and my life was nothing but her illness at this time, and therefore her illness came out in the writing. And I was beginning what eventually became a book that I published, I guess, three years after her death, a book called Without... book of poems which is about the progress of her illness and her death and then the first year of grieving and mourning afterwards. One time when we were still in New Hampshire before we went out to Seattle, I looked out the window, and saw it was August, late August, and I saw that the leaves were beginning to turn, and I realized that I had forgotten that the leaves had come to the trees, and I thought it's a year without seasons, and it's a year without punctuations. And I picked up a piece of paper and began to write. I wrote the... the poem, that's itself called, Without, which in the book, Without, occurs at the moment of her death. I actually mostly wrote... I wrote many drafts of it while she was alive beside me. It was about the landscape of leukemia - the barren, changeless landscape - in which you didn't... there... there were no seasons, there was nothing... 'without without no this no that no that'. And I wrote the poem without punctuation, which is, I think the only one I have in print without punctuation, but it was imitated form... it was the lack of boundaries in this steady, pitiless landscape of leukemia. Writing about it, helped me get through the moments of her illness and she was glad that somebody was writing, she was too sick to write, she couldn't write but it helped me, as it helped me in the grieving so that I thought from time to time, what does somebody do who can't write poems? A silly and maybe arrogant thing to think of, but it was just what kept me going. While she was alive, caring for her, doing little things, kept me going, but there was no other subject. I would be with her usually beginning at about six in the morning and would come to see her while the night nurses were still on, and I'd find what her night was like, how her night had been. I'd sit beside her and drink coffee, read the paper, and stay with her all day until, usually, we watched... well when she felt well enough, we watched the PBS News program from six to seven, and then she was pretty exhausted and she wanted to sleep and I would go home about seven and then come back the next morning. Often, she would sleep then for a while and then wake up and she had some long conversations with night nurses when they were not doing their rounds, when they had some free time, I know... so she had some companionship then also. She was always free to call me and I would come over, and she did that out in Seattle, one night, she suddenly felt particularly frightened, and I came back to the hospital.
The 14th US Poet Laureate Donald Hall (1928-2018) was educated at Phillips Exeter Academy, then earned a bachelor's degree from Harvard in 1951 and a BLitt, from Oxford in 1953. He published many essays and anthologies of both poetry and prose including String too Short to be Saved: Recollections of Summers on a New England Farm, White Apples and the Taste of Stone, Without: Poems, and Ox-Cart Man, a children's book which won the Caldecott Medal. Hall was editor of the magazine Oxford Poetry, literary editor of Isis, editor of New Poems, and poetry editor of The Paris Review. He won many awards, including two Guggenheim Fellowships and a Robert Frost Medal. At the end of his first Oxford year, he also won the university's Newdigate Prize, awarded for his poem Exile.
Title: The influence of leukemia on my writing
Listeners: Kendel Currier
Kendel Currier started working for Donald Hall in August of 1994 as his correspondence typist. Later she took on his manuscript typing as well, and in October of 1998 moved 100 meters down the road from Donald and became his personal assistant, adding many various new tasks to her work. As well as working for Donald for the last 10 and-a-half years, Donald Hall and Kendel Currier share a set of great (or for Kendel great-great) grandparents, making them distant cousins and part of a similar New Hampshire heritage.
Tags: Without, New Hampshire, Seattle, Jane Kenyon, Henry James, Dave Barry
Duration: 6 minutes, 13 seconds
Date story recorded: January 2005
Date story went live: 24 January 2008