NEXT STORY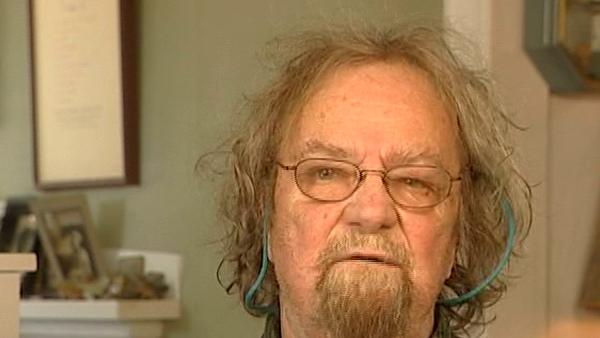 Childhood influences and my first poem
1
2
3
4
5
...
12
Something happened in Connecticut when I was very little that certainly also contributed to the elegiac in me, a sense of loss anyway, and maybe even before I became so intimately concerned with the losses in New Hampshire. When I was maybe in second or third grade, or something like that, I sort of lost my mother. She didn't go away but she went away in the house. She… I had been the only child, and she had been doting. She was lonely I think, in this you know, alien world that she had moved to, and she paid a great deal of attention to me, and it was wonderful love. At night often when I was going to sleep, I think I would deliberately keep myself awake, and say, 'Mom, I can't sleep', in order to get her to come upstairs. And she would lie down beside me on top of the covers and sing in my ear. In retrospect I realize she did not have much of a singing voice but - oh it was bliss. It was absolute bliss. She sang songs she had known as a girl: "Keep the Camp Fires Burning", several war songs, songs that she had grown up with, and it was lovely passing off into sleep that way. But in general she was enormously attentive. And then she began to fade away, to become distant. She lost a great deal of weight. Doctors said she had nervous indigestion, or they explored her for problems in her stomach. She lost an incredible amount of weight. As a young woman in pretty good shape she probably weighed about 125, 130, and as an older lady she got up to 158 maybe. But she got down to 68 pounds, and I diagnosed her. She had anorexia nervosa - I'm sure she did. Nobody thought about psychiatry in that culture, in that circle, at that time. Instead, they did… well one doctor I know put her on Phenobarbital all day long. She was already sort of, withdrawn, and she was on that for quite a while, and I would come home from… she stayed in bed most of the time. I would come home from school, and she would be lying in bed, usually awake, but distant, vague, and all that love was gone. It wasn't, you know, replaced by anything mean or cruel or anything it was just evaporated. I saw… my father used to take me out to breakfast sometimes, and she was too weak to get up and make breakfast, and he'd take me to a diner, and… but he went to work all day, and I went to school most of the day, but when I came home there wasn't much of a mother there. She stopped shopping. She stopped going downtown. Not entirely, not all at once, but gradually. She didn't take me to movies any more, which she had done, or take me with her when she was shopping, and I know that I resented it and was hurt, and something was taken from me, that came back in a million ways. We… we were very close when she was very old, and very affectionate with each other, and when I had been sick at Exeter and came back she took care of me, and she was a doting mother, but I lost it there at a time when I certainly didn't understand - or for that matter nobody understood. She got better. I knew just a few years ago, I knew a recovering anorexic who had been down to that kind of weight, and near death, and she said, 'So I decided to live', and I think my mother decided to live. She also had another doctor - a whole series of doctors - and one of them said, go out, go to restaurants, have a drink. And that was the point at which my parents took to spending maybe three nights a week at a restaurant drinking scotch and soda- and a lot of scotch and soda… and she did gradually recover, but it took a long time before she was all back. I remember maybe five years after the initial period, one time when… oh, she was still vague a lot of the time. I… I don't think it was Phenobarb… I was playing ping pong with my father in the cellar, and a ball went off the edge of the table, and bounced right near her, where she was watching. And my father said,' Luce' - her name was Lucy, wanting her to pick up the ball. But she didn't notice, and I said, 'She didn't hear you. She'll hear you next year'. And after a long pause, I heard her say later, 'I didn't like that crack'. She was just so detached, vague, away. And she came back totally, and became perfectly normal, and never had a recurrence of it at all, but again I see, I think that she went through a… a hard time of loneliness, feel… and feeling I think disloyal to her upbringing in New Hampshire. She took me up here with her a great deal, and during school vacation, sometimes when my father would be working and my mother would take me up here - before I started coming by myself and farming - she would take me up to the farm and be reunited with her parents and her sisters. I think she was very lonesome there… she was… in Connecticut, in the suburbs, she was mocked for her New Hampshire accent. She had a good one, she'd worked out how not to do it, but she tended to drink cocer-coler, whereas other folks were drinking coca-cola. And years later when she came out to California, she crossed the Sierrer Nevader mountains - that many R's added to the State of Nevada… for quite some… but when she was older, she talked New Hampshire all the way. Nobody was around to mock her anymore, at that point… to make fun of her. And she had trouble, as my father had trouble with his father, she had trouble with being disapproved of by my father's mother who was a stickler for things. My father's mother would come to the house and run a white-gloved finger on top of the door jamb where you couldn't see anything to see if it picked up any dust, and… she was checking her out. It was awful stuff - goodness me - she had reason to be unhappy down there.
The 14th US Poet Laureate Donald Hall (1928-2018) was educated at Phillips Exeter Academy, then earned a bachelor's degree from Harvard in 1951 and a BLitt, from Oxford in 1953. He published many essays and anthologies of both poetry and prose including String too Short to be Saved: Recollections of Summers on a New England Farm, White Apples and the Taste of Stone, Without: Poems, and Ox-Cart Man, a children's book which won the Caldecott Medal. Hall was editor of the magazine Oxford Poetry, literary editor of Isis, editor of New Poems, and poetry editor of The Paris Review. He won many awards, including two Guggenheim Fellowships and a Robert Frost Medal. At the end of his first Oxford year, he also won the university's Newdigate Prize, awarded for his poem Exile.
Title: Mother's illness
Listeners: Kendel Currier
Kendel Currier started working for Donald Hall in August of 1994 as his correspondence typist. Later she took on his manuscript typing as well, and in October of 1998 moved 100 meters down the road from Donald and became his personal assistant, adding many various new tasks to her work. As well as working for Donald for the last 10 and-a-half years, Donald Hall and Kendel Currier share a set of great (or for Kendel great-great) grandparents, making them distant cousins and part of a similar New Hampshire heritage.
Tags: Connecticut, New Hampshire, Keep the Camp Fires Burning, Exeter, New Hampshire, California, Nevada
Duration: 7 minutes, 37 seconds
Date story recorded: January 2005
Date story went live: 24 January 2008