NEXT STORY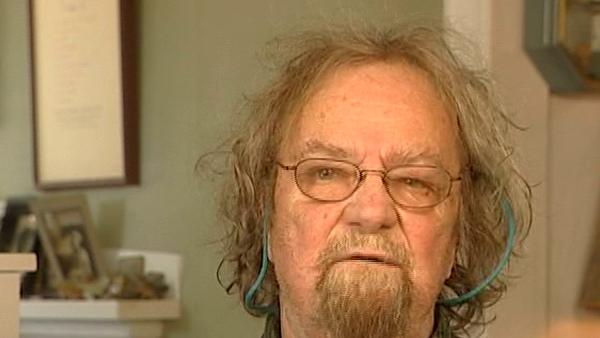 Working on Otherwise: New and Selected Poems with Jane Kenyon
Going home and the return of the leukemia
1
...
6
7
8
9
10
...
12
She began to feel a little better. We walked or went outside and walked, but we walked, you know, 30 or 50 paces or something like that, and she was going to be ready to come home. It's about 100 days after the transplant - I believe that's it - and that's the most dangerous point, and by this point, she had the beginnings of an immune system - somebody else's immune system - and we were able to fly back in February having arrived in October. We landed at the Manchester New Hampshire airport, and my two kids were there, and some of their kids, 10.30 at night or something like that - the kids carrying placards, 'Welcome back Jane'. And it was a magnificent moment. We had hope. We knew that the leukemia could return and might well return because of the Philadelphia chromosome in particular, but of... we were hopeful by this point. We came back, and the dog, who had not seen Jane for so many months, could not believe his nostrils. He sniffed and sniffed and looked at her and sniffed, and finally began to believe and he began to sing - I compare him to a contratenor - some sort of wonderful, crazy song coming from him and leaping. He was quite an old dog by that point, but he was very, very happy. We came in here... my son Andrew drove us back from the airport and Jane didn't want to go to bed yet - it was too thrilling to be home. She lay on the sofa and the dog examined her from head to toe and kept singing. They were terribly fond of each other, this dog and she. He lived for five years after Jane died, and finally died. But it was wonderful to be back, and we had of course, soon, to go up to the hospital and get blood work all the time. She began to be a little better, a little stronger, not enough to work yet, but it became possible to... to think of it, ahead of time. And there was one wonderful day in March. It began as a wonderful day when we went walking the dog together, and probably walked a hundred yards... the dog... when we were well, she would walk the dog in the morning and I would walk him in the afternoon, and every now and then, when the days got longer and warmer, we would walk him together, and he just adored that - the two of us together - he was very happy. We walked him up and down, and we came back here and then Jane was feeling well enough, so she thought of travelling oh, 20 miles away to see my aunt and uncle, whom we were fond of, and close to, but whom we had not seen for many, many months. She felt able to do that, she lay down a bit after the walk and then we drove over and saw them, and it was amazing, and optimistic. We were... and on the way back she began to have terrible pains in her stomach, and in fact, she was having a gall bladder attack. And the gall bladder attack was a side effect of the chemotherapy also, because she'd had intravenous feeding for many months and it is very fatty, and in some people - we didn't know this - but in some people that leads to gall bladder trouble. She had to go back in the hospital for weeks. She had to have the gall bladder out, and that set her way back. We came home, and she began, a little bit... to feel better, not as well as she had before the gall bladder, but began to climb out a little bit. And then came a time in April when she felt particularly ill... bone pain, which... not really bone pain, I suppose... I don't know what it has to do, but it was associated with the bones for her, and she... she felt that she was back sliding a bit. But she was stubborn and wouldn't give into it. That lasted for a few days, and we had blood work again, and we went up for blood work at the hospital. They took a long time to report. When they came back to us, they said that the chief oncologist and her assistant wanted to see us in a little consultation room. And amazingly I didn't realize what this meant. But what it meant was that the doctor, Lisa Mills, the chief oncologist, said, 'The leukemia's back - there's nothing we can do'. And Jane died 11 days later. It had suddenly come back. She couldn't have any more chemotherapy - she could literally have had some chemo that would have extended her life by two weeks or so, but it was irreparable by this point - she was going to die. And I wept, and Jane was pretty dry eyed. I asked questions; Had it to do with her gall bladder? Was there anything new happening happening? You know, what the kind of silly thing one does. She just said one thing, 'Can I die at home?'. And the doctor said, 'I don't see why not'. And we drove home and went to bed, and there was no point in trying anymore.
The 14th US Poet Laureate Donald Hall (1928-2018) was educated at Phillips Exeter Academy, then earned a bachelor's degree from Harvard in 1951 and a BLitt, from Oxford in 1953. He published many essays and anthologies of both poetry and prose including String too Short to be Saved: Recollections of Summers on a New England Farm, White Apples and the Taste of Stone, Without: Poems, and Ox-Cart Man, a children's book which won the Caldecott Medal. Hall was editor of the magazine Oxford Poetry, literary editor of Isis, editor of New Poems, and poetry editor of The Paris Review. He won many awards, including two Guggenheim Fellowships and a Robert Frost Medal. At the end of his first Oxford year, he also won the university's Newdigate Prize, awarded for his poem Exile.
Title: Going home and the return of the leukemia
Listeners: Kendel Currier
Kendel Currier started working for Donald Hall in August of 1994 as his correspondence typist. Later she took on his manuscript typing as well, and in October of 1998 moved 100 meters down the road from Donald and became his personal assistant, adding many various new tasks to her work. As well as working for Donald for the last 10 and-a-half years, Donald Hall and Kendel Currier share a set of great (or for Kendel great-great) grandparents, making them distant cousins and part of a similar New Hampshire heritage.
Tags: Manchester, New Hampshire, Jane Kenyon, Lisa Mills
Duration: 6 minutes, 7 seconds
Date story recorded: January 2005
Date story went live: 24 January 2008