NEXT STORY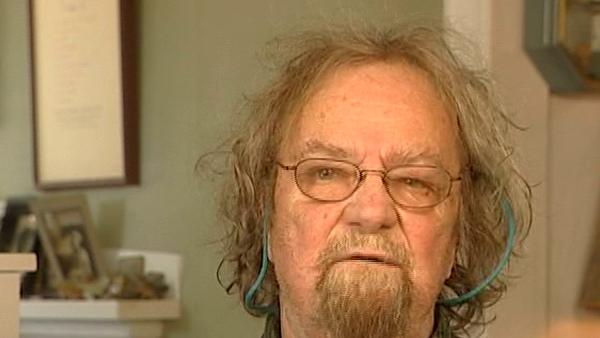 Jane Kenyon's last days and death
Visitors and the cover of Otherwise
1
...
7
8
9
10
11
12
People kept visiting... dear friends, Alice and Joyce, my children, came visiting to say goodbye, and gradually she deteriorated. Her powers of speech were affected. She was telling me one morning, fourth day, or fifth day, 'I want... I want...' and then she couldn't say what she wanted, and she said... what was it she said? It was food... it was... cabbage...
[Q] Peas?
... no, it was some food...
[Q] Spinach?
... spinach, that's right, thank you. 'I want... I want spinach'. She got... it wasn't spinach, but that's what her voice said, and therefore, I think, not because of an incapacity of her vocal cords, but because of the wearying of the mind, she spoke less and less. When somebody came to visit, I always left them alone with her for a while. I let in, you know, only the closest people. She didn't much want to see people, but she understood people wanted to see her. And Liam and Tree came up - Liam Rector is a poet and dear friend of both of ours, and he was married to Tree Swenson who was a book designer, and who actually had designed the covers on Jane's three books from the Graywolf Press. The only reason Jane wanted her book to be published by Graywolf Press was that Tree Swenson was designing them - she was a very good designer. And Tree came up and Liam, late on. The cancer cells in her blood stream were knocking out the oxygen, so that her brain was becoming starved of oxygen and she could think less, and speak less, and come up with words less, so that the conversations were quite difficult. But when Liam and Tree came up, we knew that there would be a 'Selected Poems', posthumously, and we knew that Tree would be the designer for it, and Tree asked her if she had any notions about the design of the book. And Jane was in bed then, not getting up except for a commode next to the bed, and she remembered that there was a... an image... a painting... of a painting, that she thought of, but she couldn't remember the artist. It was from a book called The Impressionist Garden, that someone had sent us out in Seattle at Christmas, and I don't know who sent it. Many people sent us presents, or sent her presents out there, but this room... the living room was full of stuff from Seattle, that hadn't been put away, just unpacked out of boxes, and she remembered that that book was in this room. So I put her in the wheelchair from the bedroom... we wheeled her out here - it was her last time in the bedroom - and she pointed to the book, correct book and she couldn't use her hands, but I leafed through the book for her, and I remembered looking through that book with her in Seattle, and there was a particular painting that she'd struck at, and she'd said maybe she could use that for the cover of a book. But I didn't remember which painting, and I flipped over the pages, and she pointed to one, and it's a... it's a illustrate... it's a painting by Caillebotte, who didn't... there are very few canvases of Caillebotte that exist, but they are very beautiful, and this was one of a kitchen garden, and lovely. And so Tree took that book home and copied the cover, and used it for the cover of Otherwise, when it eventually came out... just a year later it came out. In fact, Tree went back from that last visit with Jane and worked feverishly to try to design the cover, so that she could show it to Jane if Jane lived another week or something. But Tree was able to bring it to the funeral... Jane never saw it. But Jane had a hand in designing the last cover of her last book. When Liam and Tree left after, you know, a frustrating 15 or 20 minutes with Jane, they went down and walked down by the pond for an hour or two before going home, and I discovered later that my son Andrew had done the same thing. He'd had his few minutes with her, and then he'd gone down and just walked and walked, probably others did. Her friend Caroline Finkelstein saw her for a while... Jane could hardly speak, and on the way back to Caroline's house - she was driving 128 miles an hour or something in rage and frustration - and got a speeding ticket.
The 14th US Poet Laureate Donald Hall (1928-2018) was educated at Phillips Exeter Academy, then earned a bachelor's degree from Harvard in 1951 and a BLitt, from Oxford in 1953. He published many essays and anthologies of both poetry and prose including String too Short to be Saved: Recollections of Summers on a New England Farm, White Apples and the Taste of Stone, Without: Poems, and Ox-Cart Man, a children's book which won the Caldecott Medal. Hall was editor of the magazine Oxford Poetry, literary editor of Isis, editor of New Poems, and poetry editor of The Paris Review. He won many awards, including two Guggenheim Fellowships and a Robert Frost Medal. At the end of his first Oxford year, he also won the university's Newdigate Prize, awarded for his poem Exile.
Title: Visitors and the cover of "Otherwise"
Listeners: Kendel Currier
Kendel Currier started working for Donald Hall in August of 1994 as his correspondence typist. Later she took on his manuscript typing as well, and in October of 1998 moved 100 meters down the road from Donald and became his personal assistant, adding many various new tasks to her work. As well as working for Donald for the last 10 and-a-half years, Donald Hall and Kendel Currier share a set of great (or for Kendel great-great) grandparents, making them distant cousins and part of a similar New Hampshire heritage.
Tags: Graywolf Press, The Impressionist Garden, Seattle, Otherwise: New and Selected Poems, Joyce Peseroff, Alice Mattison, Liam Rector, Tree Swenson, Gustave Caillebotte, Caroline Finkelstein, Jane Kenyon
Duration: 4 minutes, 59 seconds
Date story recorded: January 2005
Date story went live: 24 January 2008