NEXT STORY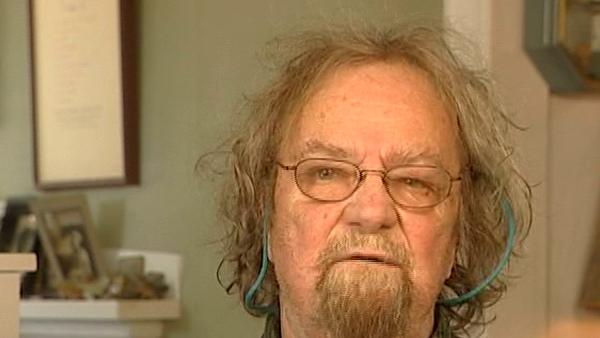 Jane Kenyon's funeral
Jane Kenyon's last days and death
1
...
7
8
9
10
11
12
We had visiting nurses and a nurse's helper who would come and wash her, and... there was no point now to use any of her regular medicines - but anti-pain medicines. I don't think she was in a great deal of pain then - over 15 months I'd learned to gauge her pain... the doctors always asked her on a scale from one to ten and so on, and I think I could usually tell, and it wasn't high up now. But they put a morphine bolus attached to her leg so that whenever she groaned or made a noise that sounded painful, I would touch the morphine bolus and I stayed with her... stayed with her. I slept beside her at night in the bed and sat beside her all day and every now and then she'd be thirsty, or even at the beginning she was hungry, occasionally. Ironically, she would have a cracker, or certainly some sip of water to be... feel more comfortable, but we didn't have any nutritious drinks at this point. And she diminished, she dwindled, she went out, dimming like a bulb, the rheostat dimming it bit by bit. And there was one night when - I think it was a Wednesday night... she died on Saturday - when she kept getting out of bed. She would start to urinate and try to get alongside to the commode, and that would wake me up, and I'd get up and help her on to the commode and change the bed and put her back in. And that morning I got up while she was asleep beside me in bed and I went out to the kitchen to feed the dog and cat... put the dog out. When I came back, she was in another chair across the room - she had somehow waked up, gone across the room, and I was terrified that she would... I... I panicked. It's the only time I panicked during those last terrible days. I was afraid that she would fall and break a limb, and have useless pain. And I called the oncologist and said, 'We have to put Jane in hospital. I can't take care of her'. And she said, 'Alright I'll get a bed, you get the ambulance'. And I came to Jane and said, 'We've got to put you in the hospital, I'm afraid you'll fall'. And she said... her eyes filled with tears, and she said, 'Do we have to?' And I immediately went back and called the oncologist, and said, 'No, she's going to stay here. That's where she wants to be'. She desperately wanted to die in our bed. And from that time on, I don't think she ever got out of bed again. We had pads and diapers and... and so on, for her, and we said few things. By this point... earlier we'd been able to talk freely for several days, and talked about everything, talked about the past. She cried only twice... one time she said death was easy, but it was the separation, and she burst into tears. And another time I talked about travels we had made together, and I talked about making love on this bed, and her voice came out crying, 'No more fucking, no more fucking', which I found very touching but I should not have referred to it really. At any rate, at the end there, there was very little and the morning before she died, the Friday morning, I left her in the room, to go out and I think mail letters or something, and I said, 'I'm... I'm going out to put these in the box', and she said, 'OK'... last... famous last words - the last words that she ever spoke. Her oncologist, who you know, was useless at this point, but was a very good and tender woman, came and saw us twice during that week, including the last night before she died. Jane was already into the brain stem breathing, which I'd heard before when my grandmother died... three short breaths, a pause and a long one, then a pause and three short ones - and that went on for two hours or so. And that night she was clearly going to die very soon - I mean with hours. I tried mostly not to pet her or kiss her. I did say, 'I love you'. I couldn't help it, but I didn't... she'd written a poem about being with her father when her father died, and how you had to leave them alone. You had to let them go, and not hold on to them, so I tried not to. But that night at about eight o'clock, I kissed her, and the last act between us was that her lips puckered to kiss me back. Maybe that's autonomic, but, I don't know. So I slept beside her all night, but I slept in little snatches, you know, I'd... I'd sleep half an hour and wake up to hear that she was still breathing, and in the morning I got up, sat beside her, was sitting beside her when the breathing got... it moved from the... that brain stem breathing to just quick, rapid pants, and that was the last stage I knew... there was oxygen was simply not getting to the brain stem anymore. And then there was the last breath, and I heard it, and I sort of knew it was the last breath, and I pulled down her eyelids. Her eyes had stayed open for days. She was not seeing anything, but she was hearing up to a point. Then I had to call the visiting nurse. The visiting nurse had to certify death before the funeral parlour could pick her up. It was a Saturday morning and there was... the visiting nurse was out on tour, outside beeper range, so it was four hours or so before she came to certify death. I got to sit with her body. I was glad I did.
The 14th US Poet Laureate Donald Hall (1928-2018) was educated at Phillips Exeter Academy, then earned a bachelor's degree from Harvard in 1951 and a BLitt, from Oxford in 1953. He published many essays and anthologies of both poetry and prose including String too Short to be Saved: Recollections of Summers on a New England Farm, White Apples and the Taste of Stone, Without: Poems, and Ox-Cart Man, a children's book which won the Caldecott Medal. Hall was editor of the magazine Oxford Poetry, literary editor of Isis, editor of New Poems, and poetry editor of The Paris Review. He won many awards, including two Guggenheim Fellowships and a Robert Frost Medal. At the end of his first Oxford year, he also won the university's Newdigate Prize, awarded for his poem Exile.
Title: Jane Kenyon's last days and death
Listeners: Kendel Currier
Kendel Currier started working for Donald Hall in August of 1994 as his correspondence typist. Later she took on his manuscript typing as well, and in October of 1998 moved 100 meters down the road from Donald and became his personal assistant, adding many various new tasks to her work. As well as working for Donald for the last 10 and-a-half years, Donald Hall and Kendel Currier share a set of great (or for Kendel great-great) grandparents, making them distant cousins and part of a similar New Hampshire heritage.
Tags: Jane Kenyon
Duration: 6 minutes, 47 seconds
Date story recorded: January 2005
Date story went live: 24 January 2008