NEXT STORY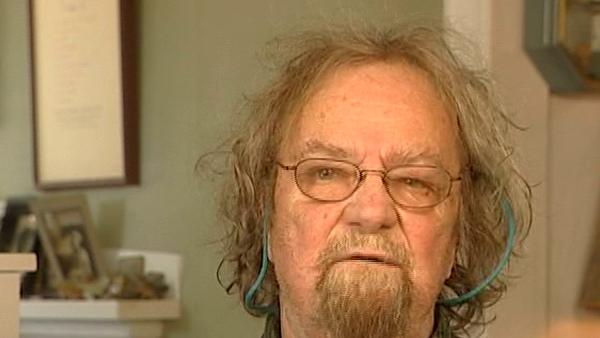 Letters of condolence and memorials
1
...
7
8
9
10
11
12
People came and took her out on a gurney to the truck and I shut the dog into the... my study so he wouldn't see her go. But I saw her go. She died on... 7.57 am on Saturday morning April 22nd, and the funeral was on April 26th, and I busied myself, of course, with arrangements for that, and it was a... a busy time. I'd take her clothes up, I delivered the obituary and the materials for the funeral. A local funeral parlour who had buried my grandfather, my grandmother, and my mother, now tended to Jane. And the funeral itself was on a beautiful day. It was April 26th, which can be rainy and ugly. It was a bright... bright, breezy day, and the funeral was at... I can't remember whether it was at two or at three in the afternoon... but the little church that we went to would seat about 80, but it held about 250 that day - people were standing everywhere. Poets came from all over, flew up, drove up, and so on, and the neighbors. There were two classes of people there - the poets and the neighbors - and it was wonderful to see everybody. And Jane's oncologist from Seattle flew all the way from Seattle to come to that... took three days off from work which she had to repay to somebody else and so on. But that was a... I mean, she did that for my sake, of course. It was a comfort for me to have her there. And the funeral... Liam Rector read two of Jane's poems - I couldn't do it. We sat up front, and afterwards we took her body down to the Proctor Cemetery, which is four miles from this house in Andover. Jane and I had bought a plot there many years before when we were both perfectly well because we were so wedded to this place, we loved it so much, we loved where we were living. We knew we would never go anywhere else. So it was a... it's a morbid thing to buy your plot when you are both well, but it was a happy thing. We were pleased - we chose the actual place. So we... the funeral procession wended its way down there... there were people outside the church... there were a total of 300 people there, they had loudspeakers set outside the church, and about 300 came to the internment also. Whereas some of the women from the church, in particular the neighbors, came into this house and set out the punch and the coffee, and the cakes and all the funeral things - we all came back - everybody was invited to come back here afterwards. We stood around the grave and the minister spoke but practically nobody could hear her, and Robert Bly had come from Minnesota for the funeral, and he struck up Amazing Grace, and we... we had sung Amazing Grace during the service, but he struck it up, and everybody who could hear and who knew the words or could hum to the tune, sang it along. And then we all stood there and no one knew what to do - it was up to me. I finally said - I don't remember saying it but I'm told I said, 'We have to go now dear', and addressed... addressing the grave. We came back here, and I sort of party hopped for a couple of hours, from group to group. It was a beautiful day. I had to put the dog into a dog run outside because he was going crazy, and he barked all the time. But there were people in the field all around the house, on all three sides of the house that aren't mountain, and I got to talk to just about everybody. And I can say I enjoyed the funeral... I enjoyed the attention to Jane, and I kept on enjoying it afterwards.
The 14th US Poet Laureate Donald Hall (1928-2018) was educated at Phillips Exeter Academy, then earned a bachelor's degree from Harvard in 1951 and a BLitt, from Oxford in 1953. He published many essays and anthologies of both poetry and prose including String too Short to be Saved: Recollections of Summers on a New England Farm, White Apples and the Taste of Stone, Without: Poems, and Ox-Cart Man, a children's book which won the Caldecott Medal. Hall was editor of the magazine Oxford Poetry, literary editor of Isis, editor of New Poems, and poetry editor of The Paris Review. He won many awards, including two Guggenheim Fellowships and a Robert Frost Medal. At the end of his first Oxford year, he also won the university's Newdigate Prize, awarded for his poem Exile.
Title: Jane Kenyon's funeral
Listeners: Kendel Currier
Kendel Currier started working for Donald Hall in August of 1994 as his correspondence typist. Later she took on his manuscript typing as well, and in October of 1998 moved 100 meters down the road from Donald and became his personal assistant, adding many various new tasks to her work. As well as working for Donald for the last 10 and-a-half years, Donald Hall and Kendel Currier share a set of great (or for Kendel great-great) grandparents, making them distant cousins and part of a similar New Hampshire heritage.
Tags: Seattle, Proctor Cemetery, Andover, Minnesota, Amazing Grace, Jane Kenyon, Liam Rector, Robert Bly
Duration: 4 minutes, 39 seconds
Date story recorded: January 2005
Date story went live: 24 January 2008