NEXT STORY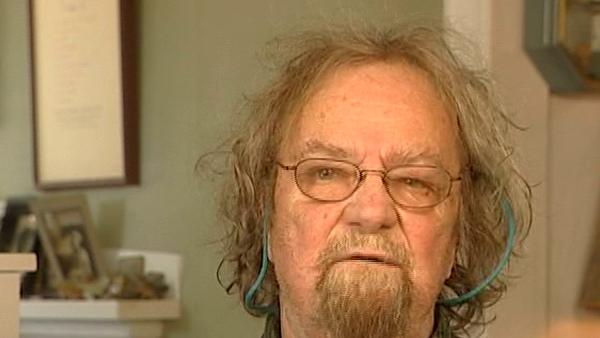 Reactions to Without
The benefits of a change in the pronoun
1
...
7
8
9
10
11
12
When I was writing these poems I was trying to make good poems and I was working on them. I was also very aware... I was really on one subject only... I couldn't think of anything else, and I was also aware that it would be very easy for me to make terrific mistakes... to be really stupid, trying to write these poems because of the absolute intensity and extremity of my feelings. So I went out very deliberately to consult others. I've always used other readers, I... Jane was my principal other reader for a long time, but I always had other friends - old friends from college or sometimes young people I met when I was doing poetry readings whom I took to - who turned out to be good readers, and helpful, who would be willing to criticise your work, help you out. When I had a recognisable book of Without - the first draft of the book as a whole - I sent it to 10 people. I picked 10 people who had helped me in the past and they were very quick to... to answer... nobody shirked, and I got a lot of very helpful comments from people. You don't take what... you know, everything that everybody says, but people say things that strike you - it's something you should have seen yourself - and all sorts of people helped me out with that. I remember Galway Kinnell helping me with one particular word. It wasn't only one word but I remember one that he did. I remember a big change that somebody did who didn't make any other changes. I had written the parts about the illness... the first part had been... I do this and Jane does that, I do this and Jane... and she suggested trying 'He', instead of 'I'. It was just a forest of these capital letter 'I's' in it, and it really worked... it really helped. So for a second draft - when I responded to all the comments of 10 people - I tried 'He' and then I found 10 different people. There had been many people who had helped me over the years and I went to some who hadn't for a long time, but I went to 10 different people who had not seen it before, so that they would not be... look at it thinking of it as a change, but for the first time. And nobody objected to 'He'. People... a couple of people thought that was a good strategy. I didn't know really until I got that back, but it has remained that, and after I had gone through the comments from the second 10 people and spent another six months or so working on the manuscript of the book, I sent it to 10 people again, but I had mixed, sort of, the best readers from the first 20. I've never been so methodical with anything, but I knew that this time I really needed a lot of help, and I got a lot of help from people. After the first printing in hardcover, I changed two or three things for the next printing, and every printing I changed another word or two... I kept finding more things to do, but... there were some changes I'm very glad I made but they... they weren't really major changes in anything... I've kept tinkering with it.
The 14th US Poet Laureate Donald Hall (1928-2018) was educated at Phillips Exeter Academy, then earned a bachelor's degree from Harvard in 1951 and a BLitt, from Oxford in 1953. He published many essays and anthologies of both poetry and prose including String too Short to be Saved: Recollections of Summers on a New England Farm, White Apples and the Taste of Stone, Without: Poems, and Ox-Cart Man, a children's book which won the Caldecott Medal. Hall was editor of the magazine Oxford Poetry, literary editor of Isis, editor of New Poems, and poetry editor of The Paris Review. He won many awards, including two Guggenheim Fellowships and a Robert Frost Medal. At the end of his first Oxford year, he also won the university's Newdigate Prize, awarded for his poem Exile.
Title: The benefits of a change in the pronoun
Listeners: Kendel Currier
Kendel Currier started working for Donald Hall in August of 1994 as his correspondence typist. Later she took on his manuscript typing as well, and in October of 1998 moved 100 meters down the road from Donald and became his personal assistant, adding many various new tasks to her work. As well as working for Donald for the last 10 and-a-half years, Donald Hall and Kendel Currier share a set of great (or for Kendel great-great) grandparents, making them distant cousins and part of a similar New Hampshire heritage.
Tags: Without, Jane Kenyon, Galway Kinnell
Duration: 3 minutes, 33 seconds
Date story recorded: January 2005
Date story went live: 24 January 2008