NEXT STORY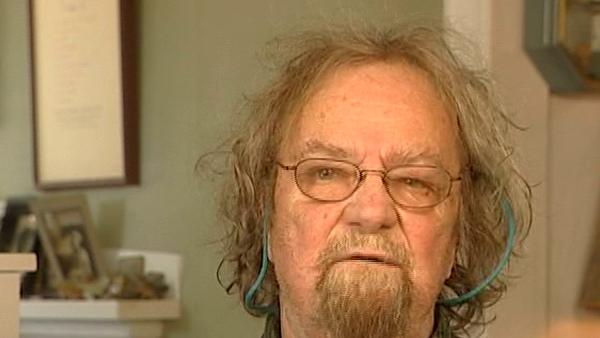 Early love of poetry
Deciding to become a poet
1
2
3
4
5
...
12
So I got some Shelley and Keats, with what comprehension I'm not sure, but began to write predictably some poems in early 19th century diction, which were terrible, and for a couple of years I wrote... I tried to write stories too, but I think mostly poems, and it was one of the things that I thought about doing. Another thing I thought about doing was being an actor and I... I took part in all the school plays. My voice was such that I was usually asked to be the announcer, speaker, anytime... and I thought of... the common thread was that I had to be something outstanding you know, whatever, it's a very common thread. The... Oliver Wendell Holmes said that the... the desire among adolescents or something... the desire to be extraordinary is commonplace and it truly is. Then when I was 14, doing both of these things, I had the lead in the high school senior play when I was a freshman, and by the time the Sophomore play came around, I took a minor part, turned down a major part, because I wanted to concentrate on poetry entirely, and there was one particular event that did that. I occasionally went to boy scouts, I had to take a bus or a trolley, to boy scouts and I... I never took to boy scouts much, I think I remained a Tenderfoot but it was a way to get out of the house and I did it occasionally. And one night I was talking with an elderly boy scout, a 16 year old, when I was 14 and I was a freshman in high school, and we were sort of bragging at each other, just beginning to get to know each other, and I said that I had written a poem in study hall that day, and he said, 'You write poems?' and I said, 'Yes, do you?', and he, at 16, said 'It is my profession'. It's a wonderful thing. There is an old movie called Bonnie and Clyde where Clyde says, 'We rob banks'. Very cool. Very cool. But I felt that that was like we rob banks. And he was a guy named Dave Johnstone and he was a nice guy and we started talking about poetry and he knew about modern poetry. He knew about TS Eliot and Wallace Stevens who lived just up the street in Hertford, Connecticut. We also had a textbook in high school where I began to find some modern poems, but it was Dave Johnstone in particular. I used to go see him, oh, maybe as much as once a week, to talk about poetry, and this was... he lived in New Haven, just a few miles from me, but because he was in New Haven, and Yale University was there, he knew some, say, 18 year olds who were literary guys at Yale. So I actually got at the age of 14 - I looked old for my age - to hang around with some 18 year old Yale guys who were talking about poetry and I was full of hero worship for these people who wanted to be poets, spend their lives with poetry, and for the poets themselves, and again, I saved up my money, and I bought collected poems of TS Eliot in cloth for two dollars and fifty cents, and took it home with me. I still have it. It's in my study right here, and I annotated it at 14, and... where Eliot at the beginning of The Waste Land dedicates that poem for Ezra Pound, Il Miglior Fabbro, I wrote nertz, because I knew by that time that Ezra Pound was broadcasting for Mussolini to the American troops and I wrote, and misspelled being a 14 year old pretentious, you know, wrote... Eliot wrote, 'I show you fear and a handful of dust' and I wrote 'epigrammatic symbolism', misspelling both epigrammatic and symbolism. And... at the same time I was cutting down my load in the school play. Coming... instead of rehearsing all afternoon, coming back, going up to my bedroom and closing the door, and writing poems.
The 14th US Poet Laureate Donald Hall (1928-2018) was educated at Phillips Exeter Academy, then earned a bachelor's degree from Harvard in 1951 and a BLitt, from Oxford in 1953. He published many essays and anthologies of both poetry and prose including String too Short to be Saved: Recollections of Summers on a New England Farm, White Apples and the Taste of Stone, Without: Poems, and Ox-Cart Man, a children's book which won the Caldecott Medal. Hall was editor of the magazine Oxford Poetry, literary editor of Isis, editor of New Poems, and poetry editor of The Paris Review. He won many awards, including two Guggenheim Fellowships and a Robert Frost Medal. At the end of his first Oxford year, he also won the university's Newdigate Prize, awarded for his poem Exile.
Title: Deciding to become a poet
Listeners: Kendel Currier
Kendel Currier started working for Donald Hall in August of 1994 as his correspondence typist. Later she took on his manuscript typing as well, and in October of 1998 moved 100 meters down the road from Donald and became his personal assistant, adding many various new tasks to her work. As well as working for Donald for the last 10 and-a-half years, Donald Hall and Kendel Currier share a set of great (or for Kendel great-great) grandparents, making them distant cousins and part of a similar New Hampshire heritage.
Tags: Bonnie and Clyde, Hertford, Connecticut, New Haven, Yale University, The Waste Land, Percy Bysshe Shelley, John Keats, Oliver Wendell Holmes, Dave Johnstone, TS Eliot, and Wallace Stevens, Ezra Pound, Benito Mussolini
Duration: 4 minutes, 52 seconds
Date story recorded: January 2005
Date story went live: 24 January 2008