NEXT STORY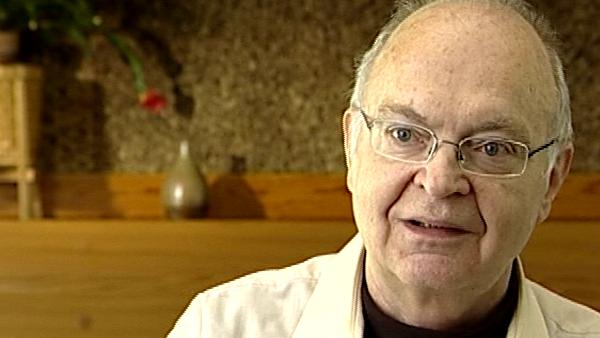 Learning to read and school
1
2
3
4
5
...
10
If you want to go way back, if you go… like 16 of my great-great-grandparents… in 1840 they all would have been in Germany, but by 1870 they all were in America. So if, you know… consider all the different lines. My mother… my father's… the Knuth part of my ancestry was the most diverse, in a way. He came from Schleswig-Holstein, rather near the border with Denmark, and… and he was the last to come over. He… during the Schleswig-Holstein crisis in 1860s – I think it was 1864, probably – he went AWOL from the army; didn't want to fight against the Prussians, and he decided to come to America, and knocked on the window one night, and told his parents, 'I'm out of here', and… and wound up in Illinois. And then worked… learned… learned to be a blacksmith at that… at that time. So… so then his wife… and… was somebody he met in America. She had come… her family had come over earlier from the… from the Hannover area, and… and she lived in Indiana, all… all very near Chicago area. And… and so the… that part of the family is… is from a different part of Germany.

My mother's side came… they all emigrated in 1840s, and they were farmers in the area of what is now Niedersachsen – it's a small town in Germany called Bad Essen – and they… her family came and were farmers in Ohio, near Cleveland, Ohio. So… so they… yeah, the background then is, my father's side round Chicago, where he… where he was born and grew up, and my mother's side from Cleveland, Ohio, where… where she was born. My dad's first teaching assignment was in Cleveland, and that's where he met my mom. Then he… then he got a call to Milwaukee, which was way far from any of their, you know, anybody else in the family, because it was a job that opened up, and so he went and… and took this… this job at a school that needed a teacher.
Born in 1938, American computing pioneer Donald Knuth is known for his greatly influential multi-volume work, 'The Art of Computer Programming', his novel 'Surreal Numbers', his invention of TeX and METAFONT electronic publishing tools and his quirky sense of humor.
Title: Family history
Listeners: Dikran Karagueuzian
Trained as a journalist, Dikran Karagueuzian is the director of CSLI Publications, publisher of seven books by Donald Knuth. He has known Knuth since the late seventies when Knuth was developing TeX and Metafont, the typesetting and type designing computer programs, respectively.
Tags: Germany, America, Schleswig-Holstein, Denmark, Prussians, Illinois, Hannover, Indiana, Chicago, Niedersachsen, Bad Essen, Ohio, Cleveland, Milwaukee
Duration: 2 minutes, 53 seconds
Date story recorded: April 2006
Date story went live: 24 January 2008