NEXT STORY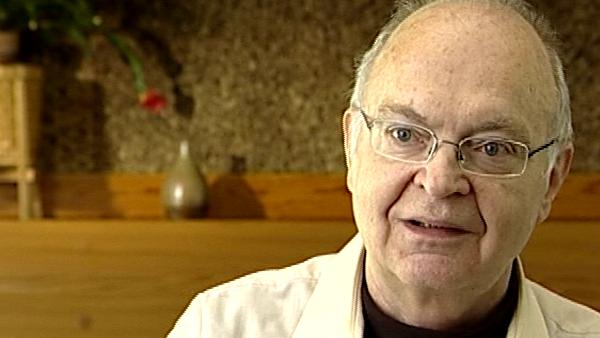 Work on attribute grammars and the Knuth-Bendix Algorithm
1
2
3
4
5
6
...
10
My son was a year… my daughter was born in December of '66, and my son was born in the summer of '65, so, you know, he's one-and-a-half years old, and she's one month old. My wife, Jill… Jill needed a gall bladder surgery. I was scheduled to be a lecturer… a national lecturer, to go around the country for 3 weeks, in February, and I was also scheduled to do other things like lecture for 3 weeks in Copenhagen in summertime, in France in May, etc., etc. I had sent in the manuscript for Volume One. It was… it was, you know, being processed by Addison-Wesley, and the galley proofs were starting to arrive early… early in 1967, but I was in… in the middle of writing Volume Two, and I was actually almost exactly in dead center of it. I mean if it… if it has 900 pages, I was on page 450, or whatever it was. Anyway, I was half… I was almost exactly halfway done the Volume Two, and… and it was taking much longer… longer than I, you know, than I thought it should, and I was getting… it was getting very hard to… some of the mathematics was… was at the limits of my ability… so… but I've got this deadline I've got to finish Volume Two, because I had already promised that it… that it would be done years ago. And that's only Volume Two, there were supposed to be seven volumes.

Okay, so I'm going around and… and lecturing. My parents and Jill's parents came to help out around here with the… with the kids, but I had to leave for… I had to leave, and every… and this lecture tour meant that I was in a different city every day. And so in one way it was terribly boring, because the small talk is the same in every city. What can you say in the first… when you first meet somebody? So you know, you get up in the morning, get in the airplane, go, somebody else, somebody greets you, the faculty takes you out to lunch, they ask you, 'Where… where are you going next, Don?' And so on, and, 'How is your book?' And then you give your lecture, and then you sleep, and the next day, you're in Atlanta or something. So… so, but on this trip, maybe it was my first time? No… no one of my stops was in Stanford, one of my stops, well… well anyway, there were, yeah, one of the important stops was in Cornell, and so, yeah, in different… different places. I was in Rhode Island, where there was a college where nobody understood computer science, at all, and the… and the audience just sat there dutifully listening to me and, you know, and not smiling, you know, and then I left. And then I went to University of Pennsylvania, and… and the students… and the overflow crowd, and everybody is… is with me and everything, and it's an exciting lecture to give. Then I went to Cornell, and I had 2 days there. It was a weekend, and… and Peter Wegner was there. As a professor, I had met him before, in England, and… and.. or no, he had come to Caltech, anyway… so Peter and I went hiking around Ithaca, on the weekend, and one of the big… one of the big questions, issues, in computer science at that time was how… it was called the semantics of programming language. How do you describe the meaning of… of things in the language? We knew about the grammar, but how do you get the meaning of the language? And… and I had got this idea that a… that a good way to… to define the meaning is, if you know the meaning of little things, then you can… then you can use that to make, build up, the meaning of larger things, and then so on, and… and continue on. But there was another approach, where you could start with the meaning… you could start at the top, and sort of propagate that downwards, into the… into the meaning of the… into how the… how the context affects the words of the sentence.
Born in 1938, American computing pioneer Donald Knuth is known for his greatly influential multi-volume work, 'The Art of Computer Programming', his novel 'Surreal Numbers', his invention of TeX and METAFONT electronic publishing tools and his quirky sense of humor.
Title: 1967: a turbulent year
Listeners: Dikran Karagueuzian
Trained as a journalist, Dikran Karagueuzian is the director of CSLI Publications, publisher of seven books by Donald Knuth. He has known Knuth since the late seventies when Knuth was developing TeX and Metafont, the typesetting and type designing computer programs, respectively.
Tags: Copenhagen, France, by Addison-Wesley, Atlanta, Stanford University, Cornell University, Rhode Island, University of Pennsylvania, Peter Wegner, Caltech, Ithaca, Peter Wegner, Jill Knuth
Duration: 4 minutes, 35 seconds
Date story recorded: April 2006
Date story went live: 24 January 2008