NEXT STORY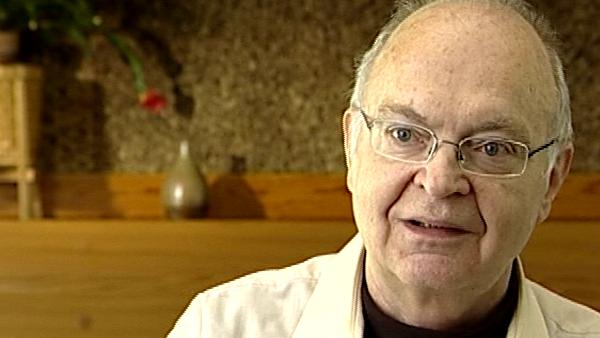 My sense of humor
Being a nerd of nerds at high school
1
2
3
4
5
...
10
I also started the school newspaper. I was editor of the… of the paper, and during my senior year, I would do an all-nighter every Monday night. I stayed up the whole night, getting the paper done by 7 o'clock in the morning. We didn't have… we didn't have a professional way to produce it, so I produced it on a mimeograph machine, which was something that's way obsolete now, but it… it uses very greasy ink, and the reason I did that was because we happened to have one at our house. My dad did part time work for [an] architect in Milwaukee, printing up the specifications, and you know, he could make a little freelance money this way to supplement his meager salary, and he… and he also used this machine to… to typeset music for local choirs. And… and so I had this machine at home, and also some electric typewriter that he had, or maybe my mother had. Anyway we had it at home, so I could produce our… our school newspaper at home, without having to worry about fancy typesetting. But we had a lot of reporters, and I… I wrote some features for it, like crossword puzzles, and things like that.

So again, I was doing a lot of writing in my… in my spare time during high school. I worked on the Yearbook and other publications as well, and friends of mine… friends and I wrote plays that were put on by… by groups in the high school. So it was a fun time. But I would say at that part of my life I was pretty much a… like a machine, an autom… I mean I was just… I would just learn, absorb stuff, and take tests and, you know, get 100% on the tests if I could, without really sitting back and taking a look at finer things in life, or something like this.

I was a… I was a dutiful child who said, you know, okay, you're supposed to go to school Don, so I went to school, and you're supposed to learn, so I learned, and I had fun on the side with some… with some of these writing projects, but I really wouldn't read a book unless it was assigned to me. Sometimes I would read, I remember – well I'm a very slow reader – and I remember Bleak House, by Charles Dickens, with 60, 70 chapters, and I… and it took me so long to read it that I had to use it for two book reports instead of one, and I didn't… so it wasn't until I was in my 30s before I actually found some of the great literature of the world and… and read it for my own pleasure.

In high school, well I guess I… I was a fairly successful machine, because they said that my… well, okay, in those days they didn't give just letter grades, like A, B, C, but they gave a number grade, and based on, you know, when you took an exam, they would average… average these scores, and they would grade your homework and… and it was all based on a zero to 100 system. And they said that my… my average – which was… which was more than 97.5 – was a… was a record for the school that hadn't been achieved before, so I was pretty much a nerd of nerds at that… at that time.
Born in 1938, American computing pioneer Donald Knuth is known for his greatly influential multi-volume work, 'The Art of Computer Programming', his novel 'Surreal Numbers', his invention of TeX and METAFONT electronic publishing tools and his quirky sense of humor.
Title: Being a nerd of nerds at high school
Listeners: Dikran Karagueuzian
Trained as a journalist, Dikran Karagueuzian is the director of CSLI Publications, publisher of seven books by Donald Knuth. He has known Knuth since the late seventies when Knuth was developing TeX and Metafont, the typesetting and type designing computer programs, respectively.
Tags: Milwaukee, Yearbook, Bleak House, Charles Dickens
Duration: 4 minutes, 23 seconds
Date story recorded: April 2006
Date story went live: 24 January 2008