NEXT STORY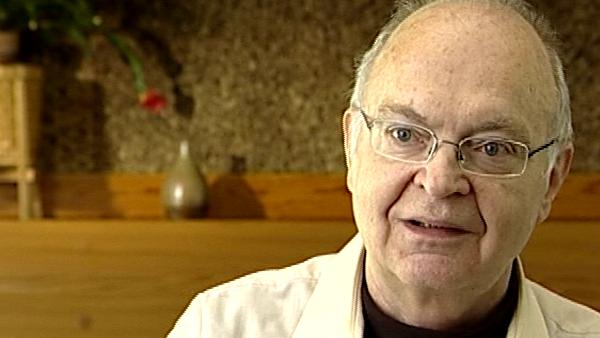 My children: Jenny
1
...
6
7
8
9
10
Since the beginning I've tried to be a good father and not... not just an absentee or something. I... I did spend a lot of time on writing my books but I also spent a lot of time with them. One of my favorite... one of my favorite papers was inspired by them on a trip that we took in California. It's... it's kind of a joke paper called The Complexity of Songs, and... and what we tried to find was the longest song that you could have without knowing much. And, you know, we would start out with songs like, 99 Bottles of Beer on the Wall and... and that didn't take much to memorize enough of it to... to sing for a long time and... and then we... we went on to other, you know, there's A Partridge in a Pear Tree. Anyway I could study each of these songs from a mathematical standpoint to see how much... how long a computer program it would take to generate the song to last a long time. And... and my kids were part of this inspiration because we were on a trip to Pinnacles National Monument and we were in the car and instead of saying, 'Daddy when are we going to get there?' they... we were singing songs. And... and then we ran out of songs and so we thought of this and it led to an interesting mathematical problem and finally we came up with the final solution which was 'Yeah, yeah, I like it, yeah, yeah, I like it', repeated endlessly and... and that was the... the best solution to that problem. My... I'm, you know, happy that I have some grandchildren now as well... the... four boys. It seems that something in my... my mother - if she were alive today she would have, I think it is 10 grandchildren... great grandchildren - all boys. So there's something funny going on here, it doesn't seem quite random. But the... my... my son has, amazingly enough, became an athlete. Here is... his dad is a complete slouch but... but John, when he was at Stanford was a world class Ultimate player and was, you know, the most valuable player at nationwide tournaments. And... and then he became part of... of semi professional team and they... they came in second in the world several times, and he being left-handed was... was apparently, that was an advantage of somebody playing Ultimate. But a really difficult game where... lots of running and... and strategy going on. So people would come to me and I'd meet a lot of people in other countries that know... that know my son and never heard of me, and this is... this is very interesting because of... because of his athletic ability. But he also turned out to be a... a terrific teacher working with... with younger students and... and he's been a high school math teacher now for... for more than 10 years. He went through Stanford's program called STEP, Stanford Teacher Education Program, and then taught in local schools here. Now he's teaching in Colorado, and won an award as... as the best math teacher in Colorado at a... at a private school or something like that. So he's... he's in his element, this is... this is what my father was and... and, you know, I've... I've always felt that teaching is... is the thing that I... is my role. I... I teach through books because this way I reach a lot more people, John doesn't like to write - we talk to him instead of getting letters home. The... there's such a need in this country now for people who are dedicated high school teaching and it's such a... such a thankless job because of modern high schools. He was teaching kids who were on drugs and... and pregnant with... with huge family problems and... and he didn't have the situation that a lot of teachers have where people have guns in the school. But it can be... but... but considering the challenges and the low salaries that... that teachers get it... it seems we need a real revolution in society so that the people... that people who have the motivation to be good teachers are also properly rewarded and... and get some... some credit for... for what they're doing. I've met a lot of heroic teachers from Richmond, California, for example, who teach computer science there and... and it's a hard life. They... they have to be supported by their spouses and so... and so does my son. His wife works for Sun Microsystems, telecommuting and that means that they can make ends meet.
Born in 1938, American computing pioneer Donald Knuth is known for his greatly influential multi-volume work, 'The Art of Computer Programming', his novel 'Surreal Numbers', his invention of TeX and METAFONT electronic publishing tools and his quirky sense of humor.
Title: My children: John
Listeners: Dikran Karagueuzian
Trained as a journalist, Dikran Karagueuzian is the director of CSLI Publications, publisher of seven books by Donald Knuth. He has known Knuth since the late seventies when Knuth was developing TeX and Metafont, the typesetting and type designing computer programs, respectively.
Tags: Pinnacles National Monument, The Complexity of Songs, California, 99 Bottles of Beer on the Wall, A Partridge in a Pear Tree, Stanford University, STEP, Colorado, Richmond, California, Sun Microsystems, John Knuth
Duration: 5 minutes, 49 seconds
Date story recorded: April 2006
Date story went live: 24 January 2008