NEXT STORY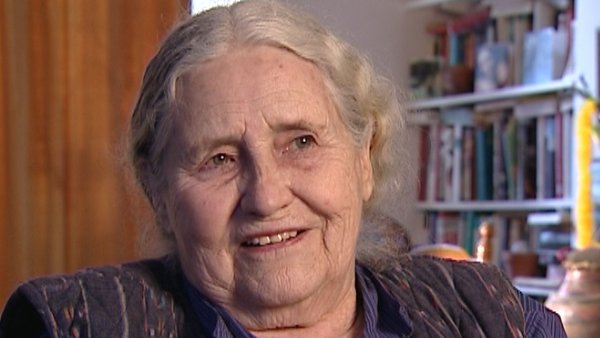 'Ben is me!': why kids like Ben
Dealing with an alien child
1
2
3
So, now I've talked about what went into The Fifth Child, which includes emotions that have nothing whatsoever to do with The Fifth Child, and it's why it has this life. But when it came out, something quite different happened. I got letters by the shoal, and I still get letters by the shoal from people who have had defective children, autistic children, children with something wrong with them. They will say, you have written my experience. Now, you cannot write when you get the tragic letter like this back... you cannot write back and say, 'No, no, this is a goblin from the past; this is... this has got nothing to do with now, this is a throwback to the distant past'. You cannot do that when people... So you write letters saying, I'm terribly sorry that you have an autistic child or Asperger's syndrome or whatever – what a terrible thing, I really am so sorry. So you write these letters that have got... once again, you're off on the side, it's got nothing to do with the book, what you wrote. But I had a letter last week from a woman saying that she'd had two autistic children, one after the other, and reading my book she understood what the mother went through because she had this totally alien child – and a fifth child – and she had to bring it up as if it was normal, and she couldn't do it.
Now, the interesting thing about... just to return briefly... when I wrote the first version of The Fifth Child, it was interesting that I didn't write about the siblings much. I finished this book and I read it and I thought, my God, are you mad? Who would suffer from this child would be the brothers and sisters – they would suffer. The parents might have a bad time, but nothing to what the poor old siblings were having, so I had to rewrite it. So what it really is about now in its form is just as much about the mother and the child as the brothers and sisters and this child because they have to accommodate him in some way or another.
And I can't remember ever doing that –writing a book where I completely ignore the central theme. It just wasn't in my mind; I was so absorbed with the woman's experience with this child, that... because no one of course understood what was happening. Her husband didn't understand, nobody wanted to know what was going on. The doctors didn't want to know what was going on. She couldn't... what she really thought couldn't be said – that this is an alien child.
British writer Doris Lessing (1919-2013) was awarded the 2007 Nobel Prize in Literature. Her novels include 'The Grass is Singing', 'The Golden Notebook', and five novels collectively known as 'Canopus in Argos'. She was described by the Swedish Academy as 'that epicist of the female experience, who with scepticism, fire and visionary power has subjected a divided civilisation to scrutiny'. Lessing was the 11th woman and the oldest ever person to receive the Nobel Prize in Literature.
Title: Dealing with an alien child
Listeners: Christopher Sykes
Christopher Sykes is an independent documentary producer who has made a number of films about science and scientists for BBC TV, Channel Four, and PBS.
Tags: The Fifth Child
Duration: 2 minutes, 57 seconds
Date story recorded: June 2007
Date story went live: 21 October 2011