NEXT STORY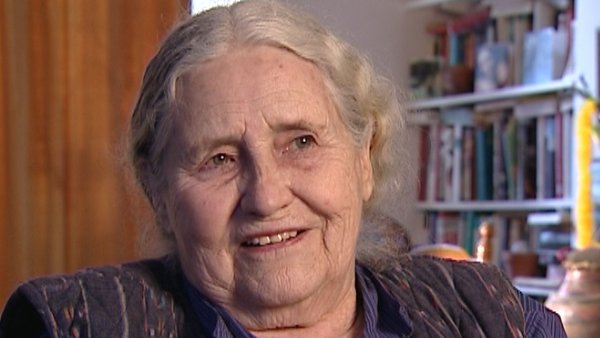 Mara and Dann
The sense of adventure is a gender thing
1
2
3
Now I'm going back to... Mara and Dann, which is the book before General Dann. It's an adventure story. Once again – I'd had this in my mind for many, many years – I'd wanted to write an adventure story, the classical adventure story. Immediately there is a problem. The problem is that if you write an adventure story set now it instantly turns into an affair of fast cars and helicopters and weapons and drugs and God only knows what, sort of like, you know, this... gone out of my head ... you know this series of... this... sorry, hold it! This is what happens... it's gone out of my mind. What is the...? It doesn't matter. Anyway, that is what an adventure set in our culture becomes: it becomes something that bores me profoundly, and I'm going to go off on another tangent to say I think this is a... a sex thing, it's a gender thing. And I'm now going on a third tangent – where did I discover this profoundly – it was the beginning of the war between Saddam and Kuwait, and I'm in Heathrow in the business class, and they have a vast screen up, with the progress of the war.
And we're all sitting around, all the men are in front of the screen; they are fascinated. They are fascinated by the bloody tanks! The women are sitting around knitting and sleeping. The men are looking at all the hardware – this is what they're interested in. And I thought, you know... this is, it's almost like a lesson in why men and women are unlike. We sat there for two hours, the plane was late leaving, and the men were there, riveted.
British writer Doris Lessing (1919-2013) was awarded the 2007 Nobel Prize in Literature. Her novels include 'The Grass is Singing', 'The Golden Notebook', and five novels collectively known as 'Canopus in Argos'. She was described by the Swedish Academy as 'that epicist of the female experience, who with scepticism, fire and visionary power has subjected a divided civilisation to scrutiny'. Lessing was the 11th woman and the oldest ever person to receive the Nobel Prize in Literature.
Title: The sense of adventure is a gender thing
Listeners: Christopher Sykes
Christopher Sykes is an independent documentary producer who has made a number of films about science and scientists for BBC TV, Channel Four, and PBS.
Tags: Mara and Dann, General Dann, Mara's Daughter, Griot and the Snow Dog, Kuwait, Heathrow Airport, Saddam Hussein
Duration: 2 minutes, 10 seconds
Date story recorded: June 2007
Date story went live: 21 October 2011