NEXT STORY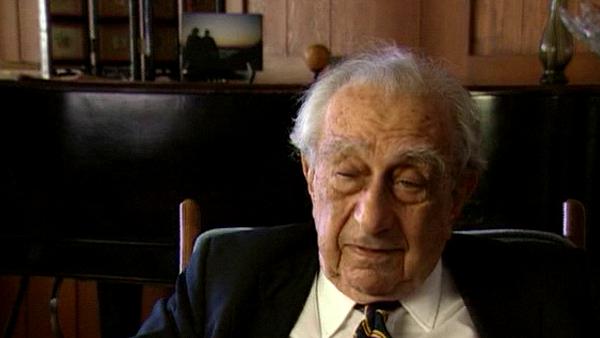 Oppenheimer's secret testimony and Chevalier
The Oppenheimer hearings (Part 3)
1
...
10
11
12
13
14
15
He wrote his letter to Hoover, the head of FBI and stated in the letter, with all kinds of arguments, that - I believe I quote correctly- More probably than not Oppenheimer is a Communist agent. This indeed was something that Hoover could not and probably did not want to stop. It was taken to the President and the President gave instructions to Louis Strauss to stop Oppenheimer's clearance. Oppenheimer's term as Chairman of the Advisory Committee was terminating in any case. Everything could have been done quietly, but Oppenheimer returning from a trip in Europe, said- I want this case to be investigated. I want to make my case and be cleared of any accusations of this kind. That was the beginning of the hearings in the spring of 1954 of Oppenheimer. Many of the scientists were asked to testify. My connection with it in a way started when I saw Oppenheimer at a meeting, I believe it was in Pittsburgh, and Oppenheimer said- This investigation is going on. You will be asked to testify. Will you please see my lawyer. - All right. I went to see Oppenheimer's lawyer and I got for him- from him a half an hour speech, or longer, telling me what I knew, what was entirely unnecessary for me to hear, that Oppenheimer indeed did good and most valuable work as head of Los Alamos during the war. - Thank you. I heard it. Fine. I was called to testify. I could not very well say I won't come and I intended to testify for Oppenheimer. I was then of course already in Livermore, in close touch not only with Ernest Lawrence, but also with Luis Alvarez and they kept talking with me about the subject, giving me all kinds of details that I did not know before of Oppenheimer's connections with- well, let us say simply people who were on the left wing. Whether they did anything illegal was not clear to me. Eventually I went to Washington with the clear intention to testify that Oppenheimer should be cleared. I was not comfortable about that. There was quite obviously a lot of evidence on the other side, but that's what I thought I ought to say. I arrived and just before going in for the hearing the attorney who carried the case against Oppenheimer, a Mr Robb, said- I want to talk with you. I had an impulse not to talk with him, but after all I have talked on Oppenheimer's request to his lawyer; was it fair for me to listen to one side and not to the other? Robb asked me- How will you testify? I said- Clear Oppenheimer. Robb thereupon showed me a part of a secret document that was the testimony, the sworn testimony, a part of the sworn testimony of Oppenheimer himself - it was at that time secret - a few weeks after the hearing it was published and it is now available, of a lengthy document that does not take nice reading, almost thousand pages on the Oppenheimer hearing.
The late Hungarian-American physicist Edward Teller helped to develop the atomic bomb and provided the theoretical framework for the hydrogen bomb. During his long and sometimes controversial career he was a staunch advocate of nuclear power and also of a strong defence policy, calling for the development of advanced thermonuclear weapons.
Title: The Oppenheimer hearings (Part 3)
Listeners: John H. Nuckolls
John H. Nuckolls was Director of the Lawrence Livermore National Laboratory from 1988 to 1994. He joined the Laboratory in 1955, 3 years after its establishment, with a masters degree in physics from Columbia. He rose to become the Laboratory's Associate Director for Physics before his appointment as Director in 1988.

Nuckolls, a laser fusion and nuclear weapons physicist, helped pioneer the use of computers to understand and simulate physics phenomena at extremes of temperature, density and short time scales. He is internationally recognised for his work in the development and control of nuclear explosions and as a pioneer in the development of laser fusion.
Duration: 6 minutes, 14 seconds
Date story recorded: June 1996
Date story went live: 24 January 2008