NEXT STORY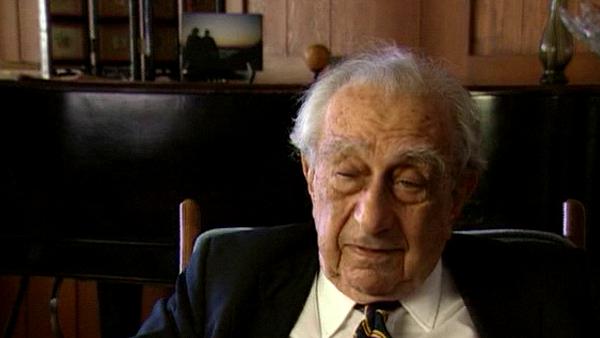 Jumping off the moving train
A lack of enthusiasm for Sommerfeld
1
2
3
4
5
...
15
I'm sorry to tell you I did not enjoy Sommerfeld. He was a bit on the high brow side and I can tell you one story about him that might explain my lack of enthusiasm. The story is about a very excellent American student who later got the Nobel Prize, van Vleck, who went as a young student to study in Munich. And there he was in the library, and in comes Sommerfeld. Excuse my German, I think you will understand it. Sommerfeld enters. van Vleck shows up and politely says- Guten Morgen, Herr Sommerfeld. He's rewarded with a none-too-pleasant grunt. Next time it happens Van Vleck says- Guten Morgen, Herr Professor. This time, Sommerfeld smiled a bit. On the following occasion, he said- Guten Morgen, Herr Doktor. Now, this time Sommerfeld said- Guten Morgen. But the last time Sommerfeld came in and van Vleck said- Guten Morgen, Herr Geheimrat. Well, Geheimrat means secret councilor. A very high title in Germany. And Sommerfeld looks at him- Aber Ihr Deutsch ist jeden Tag besser! But your German is improving every day! Well, that was not the kind of improvement that was my ambition. I studied, I sort of liked it, I was none too happy.
The late Hungarian-American physicist Edward Teller helped to develop the atomic bomb and provided the theoretical framework for the hydrogen bomb. During his long and sometimes controversial career he was a staunch advocate of nuclear power and also of a strong defence policy, calling for the development of advanced thermonuclear weapons.
Title: A lack of enthusiasm for Sommerfeld
Listeners: John H. Nuckolls
John H. Nuckolls was Director of the Lawrence Livermore National Laboratory from 1988 to 1994. He joined the Laboratory in 1955, 3 years after its establishment, with a masters degree in physics from Columbia. He rose to become the Laboratory's Associate Director for Physics before his appointment as Director in 1988.

Nuckolls, a laser fusion and nuclear weapons physicist, helped pioneer the use of computers to understand and simulate physics phenomena at extremes of temperature, density and short time scales. He is internationally recognised for his work in the development and control of nuclear explosions and as a pioneer in the development of laser fusion.
Duration: 2 minutes, 42 seconds
Date story recorded: June 1996
Date story went live: 24 January 2008