NEXT STORY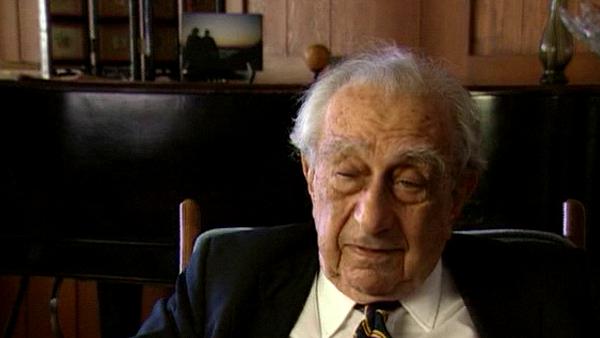 Professor Kobe (Part 2)
1
2
3
4
5
...
15
I also had to be examined, not only in physics, but two auxiliary subjects which I, of course, selected to be mathematics and chemistry. No trouble, except that a good mathematics professor - I forget his name - was absent. And the one who was to take the examination, and that I remember, was named Professor Kobe. There was a story about him, rather generally known. In a company, the question was asked- Which one of those here thinks more highly about himself? And everyone wrote Kobe, with the only exception of Kobe. He wrote- Kobe and rightly so. Well, I went to see him, he looks at me- I never see you in my lectures. I don't quite know how I blushed, how I excused myself. - Well, let's see anyway, what shall I examine you in? Shall we say non-Euclidean geometry? Shall we say this, shall we say that? Shall we talk about the theory of functions? And I more or less, modestly said, in every case- I know a little about it. That went on for maybe five or ten minutes. Then Kobe says- Here you are, you haven't taken one of my lectures. You know a little, a little, a little of this, and of that. And you want to pass your examination? Maybe you even want a good grade. At that point, I clearly remember, I interrupted him and I said- Yes, sir, I would like to have a good grade. Well, that sort of stopped the questions. He said- Well, it doesn't seem to make- make much of a difference for you- to you. I'll examine you in the theory of functions. That was just as well with me, I liked the subject. And then, next time, in the next Tuesday evening, when we part with ping-pong, I told all this to Heisenberg. And Heisenberg laughed and laughed and then he stopped laughing and he said- Now listen. If I say anything to Kobe about you, it's an absolute certainty that you will fail. You'd now better prepare. So I did.
The late Hungarian-American physicist Edward Teller helped to develop the atomic bomb and provided the theoretical framework for the hydrogen bomb. During his long and sometimes controversial career he was a staunch advocate of nuclear power and also of a strong defence policy, calling for the development of advanced thermonuclear weapons.
Title: Professor Kobe (Part 1)
Listeners: John H. Nuckolls
John H. Nuckolls was Director of the Lawrence Livermore National Laboratory from 1988 to 1994. He joined the Laboratory in 1955, 3 years after its establishment, with a masters degree in physics from Columbia. He rose to become the Laboratory's Associate Director for Physics before his appointment as Director in 1988.

Nuckolls, a laser fusion and nuclear weapons physicist, helped pioneer the use of computers to understand and simulate physics phenomena at extremes of temperature, density and short time scales. He is internationally recognised for his work in the development and control of nuclear explosions and as a pioneer in the development of laser fusion.
Duration: 3 minutes, 11 seconds
Date story recorded: June 1996
Date story went live: 24 January 2008