NEXT STORY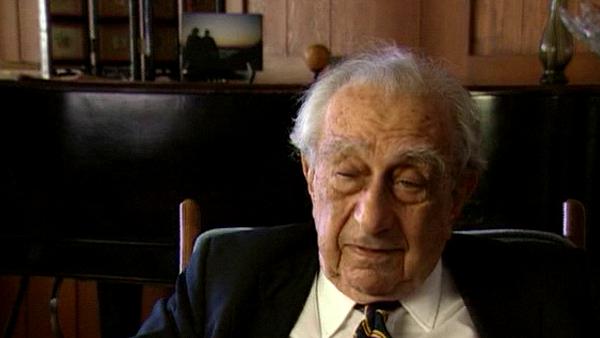 Applying for a non quota visa
Driving across Denmark on a motorbike with George Gamow
1
...
4
5
6
7
8
...
15
I would like to hurry on now. After a very nice year in Copenhagen, very wonderful, because I did do my job in physics and I did everything else that the Rockefeller people were afraid I would do exclusively. We got back to England. Very soon after that we went off for a Christmas holiday to Hungary and coming back from there I had two letters waiting for me. One of those letters were- was from my friends Johnny von Neumann and Eugene Wigner who invited me to come to America for a job in Princeton. The other was from a Russian, George Gamow, who went to America, became professor in Wa- Washington at the George Washington University and invited me to join him there. Well I must tell you, I had gotten acquainted with George Gamow in Copenhagen and a very solid part of our connection was due to an expedition we made to there in my Rockefeller year, when he was also there and invited me to come on his motorbike all the way across Denmark. That excursion was wonderful. It started with a total eclipse of the moon. It was the only time in my life I sat on a motorbike. But, I want to tell you this about Gamow: he had good ideas. Most of them wrong, all of them adventurous and some of them excellent. But this is the important thing about Gamow. His physics and his riding a motorbike were completely different. His physics was ingenious. He's the one who explained the connection between the energy of an alpha decay and the lifetime of the alpha particles, that the alpha decay was really due to a particle's wave function leaking into a region where the particle should not be, according to classical mechanics. Gamow's physics was ingenious and very often wrong. Fortunately, his driving a motor- motorbike was very much less ingenious and absolutely safe. We had a good time. And when he came to America, he invited me to join him.
The late Hungarian-American physicist Edward Teller helped to develop the atomic bomb and provided the theoretical framework for the hydrogen bomb. During his long and sometimes controversial career he was a staunch advocate of nuclear power and also of a strong defence policy, calling for the development of advanced thermonuclear weapons.
Title: Driving across Denmark on a motorbike with George Gamow
Listeners: John H. Nuckolls
John H. Nuckolls was Director of the Lawrence Livermore National Laboratory from 1988 to 1994. He joined the Laboratory in 1955, 3 years after its establishment, with a masters degree in physics from Columbia. He rose to become the Laboratory's Associate Director for Physics before his appointment as Director in 1988.

Nuckolls, a laser fusion and nuclear weapons physicist, helped pioneer the use of computers to understand and simulate physics phenomena at extremes of temperature, density and short time scales. He is internationally recognised for his work in the development and control of nuclear explosions and as a pioneer in the development of laser fusion.
Duration: 4 minutes, 2 seconds
Date story recorded: June 1996
Date story went live: 24 January 2008