NEXT STORY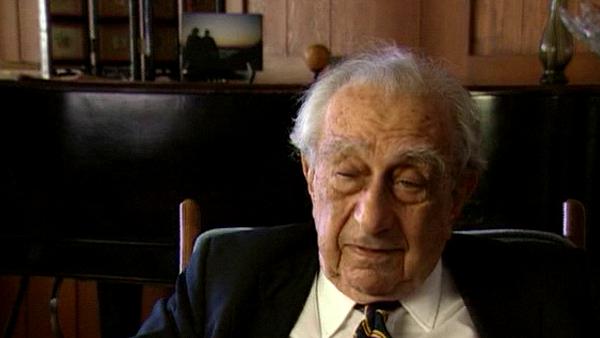 A theory to increase the effectiveness of the explosion
Making sure that an even greater explosion would not be set off
1
...
6
7
8
9
10
...
15
In the meantime, the British contingent appeared, among them the very excellent, effective workman, Peierls. It was his job in the end to do this calculation and I can tell you something peculiar about the results. What he did was good and sufficient. It was not sufficiently good and sufficient for us, in the end, to trust it and the actual shot was made on a simplified, not optimized model, in which we could have greater confidence. Instead, I did a number of other things that I felt I was more qualified to do in the sense that with the help of a few others, like Konopinski, a little group all together or not much more than half a dozen people, we could do- accomplish things that others would not do so easily. One of these was something that came up way back in Berkeley, in our original discussions on the hydrogen bomb. Something that Oppenheimer transmitted to Compton and Compton took it seriously enough to consider it as one of the main arguments for us to have a separate place and it was thi- If something like a thermonuclear reaction was possible, was not there some possibility that a nuclear explosion could set off a much bigger explosion engulfing the whole world? How could that happen? Would it? There are two obvious ways to consider and one of them, frequently mentioned, is quite wrong- An explosion in the water, in the ocean, would be surely not terribly harmful. There are nuclei in the ocean, for instance, a few heavy hydrogen nuclei, that could react, but they are so few and far between that before a reaction that feeds upon its own energy - a thermonuclear reaction - could get going, the energy would be long since dissipated by the initial shock. No. Our worry was the air. The main component in the air is nitrogen and the collision of two nitrogen nuclei could produce neutrons that then could propagate the reaction in the nitrogen. We made very thorough estimates about it and proved, I think sufficiently, that this could not happen either. But I must say - I'm glad to say - that this same point was pursued with the measurements, in Oak Ridge and with excellent calculations, by Lowell Wood after the war, so that to increase our assurance of one in a million, to where it belonged, to none at all, call it one in many trillions. It could not happen. That was a part of the job. I was interested in another part that I started to take very seriously and that I can easily explain.
The late Hungarian-American physicist Edward Teller helped to develop the atomic bomb and provided the theoretical framework for the hydrogen bomb. During his long and sometimes controversial career he was a staunch advocate of nuclear power and also of a strong defence policy, calling for the development of advanced thermonuclear weapons.
Title: Making sure that an even greater explosion would not be set off
Listeners: John H. Nuckolls
John H. Nuckolls was Director of the Lawrence Livermore National Laboratory from 1988 to 1994. He joined the Laboratory in 1955, 3 years after its establishment, with a masters degree in physics from Columbia. He rose to become the Laboratory's Associate Director for Physics before his appointment as Director in 1988.

Nuckolls, a laser fusion and nuclear weapons physicist, helped pioneer the use of computers to understand and simulate physics phenomena at extremes of temperature, density and short time scales. He is internationally recognised for his work in the development and control of nuclear explosions and as a pioneer in the development of laser fusion.
Duration: 5 minutes, 18 seconds
Date story recorded: June 1996
Date story went live: 24 January 2008