NEXT STORY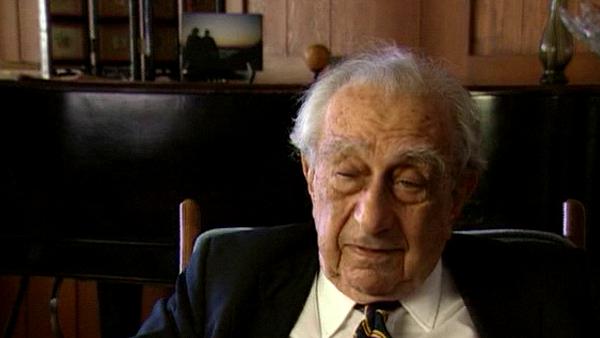 Leaving Los Alamos
The aftermath of the test and bombing Hiroshima
1
...
8
9
10
11
12
...
15
One remarkable reaction to that, that is well known, generally known, but I better quote it, came from Oppenheimer. He was with a group much closer to the explosion and when people from the media got to him, he made that- a very memorable statement. One of his remarkable properties was that he was familiar with world literature including the Hindu Bhagavad-Gita and in his response to the press he quoted the God Shiva- I have become Death - the destructor, the destruction of worlds. I would like to remind of that because that was the same Oppenheimer who weeks earlier, couple of weeks earlier, convinced me that we should not make an effort merely to demonstrate before using. All this happened in southern Me- New Mexico, a good couple of hours drive home. When I arrived at home, Mici, who was not supposed to know about any of this, received me with the news- I read in the newspaper that there was an explosion in one of the ammunition centers in Mexico, but nobody was hurt. I'm quite sure Mici knew something but I was not supposed to tell her more. I tried to go to sleep. I couldn't. By eleven o'clock I was at my desk and here comes a very wonderful young woman who worked with me in the small group, I brought her along from Washington, Maria Jacob- Mr Teller, Mr Teller - we were not allowed to use any titles, I was not Doctor - Mr Teller, have you ever seen such a thing in your life? What do I do, what do I tell her? I laughed and she did too. Did I see anything like that in my life? She was with a group of uninvited junior people who went to the top of the San- Sandia mountain, quite a few miles from the place where the bomb was to be detonated. They knew when it was to come. It didn't. They decided it was a failure and were coming down the mountain and then unexpectedly, there it went. All this you know, July 16. Three weeks later, the first actual bomb was used on Hiroshima. There was quite a stir, a lot of discussion, but not much after that. The 15th of August the Japanese surrendered and that was the time of people really getting excited, going from place to place, from party to party, very great happiness. The job is done.
The late Hungarian-American physicist Edward Teller helped to develop the atomic bomb and provided the theoretical framework for the hydrogen bomb. During his long and sometimes controversial career he was a staunch advocate of nuclear power and also of a strong defence policy, calling for the development of advanced thermonuclear weapons.
Title: The aftermath of the test and bombing Hiroshima
Listeners: John H. Nuckolls
John H. Nuckolls was Director of the Lawrence Livermore National Laboratory from 1988 to 1994. He joined the Laboratory in 1955, 3 years after its establishment, with a masters degree in physics from Columbia. He rose to become the Laboratory's Associate Director for Physics before his appointment as Director in 1988.

Nuckolls, a laser fusion and nuclear weapons physicist, helped pioneer the use of computers to understand and simulate physics phenomena at extremes of temperature, density and short time scales. He is internationally recognised for his work in the development and control of nuclear explosions and as a pioneer in the development of laser fusion.
Duration: 4 minutes, 44 seconds
Date story recorded: June 1996
Date story went live: 24 January 2008