NEXT STORY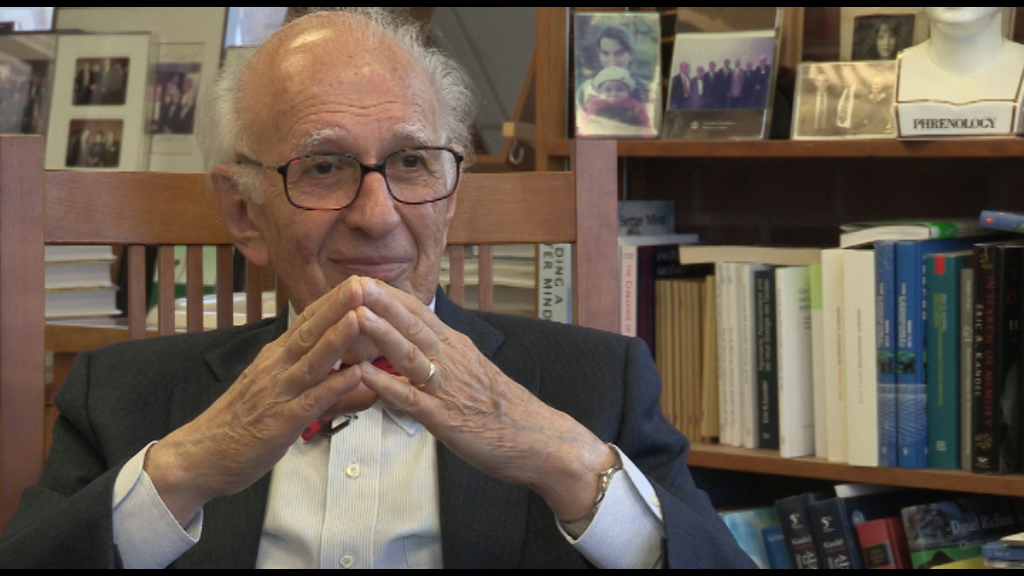 I decide to learn how memory works
Working with Stanley Crain
1
2
3
4
5
...
8
So Grundfest very generously volunteered to nominate me for the National Institute[s] of Health. So when I was graduating medical school, which was in 1956, all physicians were drafted. But the percentage, less than 1% that was selected for the NIH, could use that as substitute, two years of [service] as the Public Health Service as an alternative - they actually had a uniform - for serving in the conventional armed forces. So he nominated me, and I was accepted in Wade Marshall's lab after I finished my internship. So between '56 and '57 I took an internship at Montefiore. And I again had several months [of elective period] and I came back, and Grundfest suggested, 'Look, why don't you work with Stanley Crain?' And the reason he suggested that was because we had a long conversation one day about dendrites, and after that conversation, Grundfest gave me a series of papers that Stephen Kuffler had written about the crayfish stretch receptor in which the stretch receptor really was a series of dendrites that inserted into the muscle. If you pulled on a muscle you excited the dendrites. So he was looking at the dendrites, recording intracellularly from these cells, and studying the dendrites directly. And I said, 'Wow, this is the way it should be done.' So Grundfest saw that I was really becoming interested in sort of a reductionist approach, simple systems. So he said, 'Look, you enjoy the [Kuffler] papers so much. Why don't you work with Stanley Crain? He's bringing a reductionist approach to bear on the study of the nervous system.' And Stanley Crain was amazing. Stanley Crain had collaborated with Edith Peterson who was here at Columbia, a pioneer. She developed tissue culture system for the nervous system. First one to do that. [Stanley] had spinal root ganglion culture, and he recorded from single individual cells in culture. And I saw him do this. He showed me how to make electrodes, how to fill them with potassium chloride, and he encouraged me to setup the crayfish giant axon system from scratch, to learn how to do dissection, so I could visualize it. To learn how to make the electrodes, hook them up to amplifiers, to oscilloscopes. I learned how to really do an electrophysiological experiment, and we would connect the oscilloscope to a loud speaker, so when you had an action potential it would either [go] boom, boom, boom, like a gun going off. Now I don't like guns going off, but the excitement of hearing that sound is fabulous. So I put an electrode in the cell, I heard my own intracellular recordings, boom, it was really inspiring. This was the most routine experiment, it was nothing novel about it, I was repeating something that, you know, anyone could do, but I found it very exhilarating. And it committed me to this kind of an approach in the nervous system.
Eric Kandel (b. 1929) is an American neuropsychiatrist. He was a recipient of the 2000 Nobel Prize in Physiology or Medicine for his research on the physiological basis of memory storage in neurons. He shared the prize with Arvid Carlsson and Paul Greengard. Kandel, who had studied psychoanalysis, wanted to understand how memory works. His mentor, Harry Grundfest, said, 'If you want to understand the brain you're going to have to take a reductionist approach, one cell at a time.' Kandel then studied the neural system of the sea slug Aplysia californica, which has large nerve cells amenable to experimental manipulation and is a member of the simplest group of animals known to be capable of learning. Kandel is a professor of biochemistry and biophysics at the College of Physicians and Surgeons at Columbia University. He is also Senior Investigator in the Howard Hughes Medical Institute. He was the founding director of the Center for Neurobiology and Behavior, which is now the Department of Neuroscience at Columbia University. Kandel's popularized account chronicling his life and research, 'In Search of Memory: The Emergence of a New Science of Mind', was awarded the 2006 Los Angeles Times Book Award for Science and Technology.
Title: Working with Stanley Crain
Listeners: Christopher Sykes
Christopher Sykes is an independent documentary producer who has made a number of films about science and scientists for BBC TV, Channel Four, and PBS.
Tags: National Institutes of Health, Harry Grundfest, Stephen Kuffler, Stanley Crain, Edith Peterson
Duration: 3 minutes, 19 seconds
Date story recorded: June 2015
Date story went live: 04 May 2016