NEXT STORY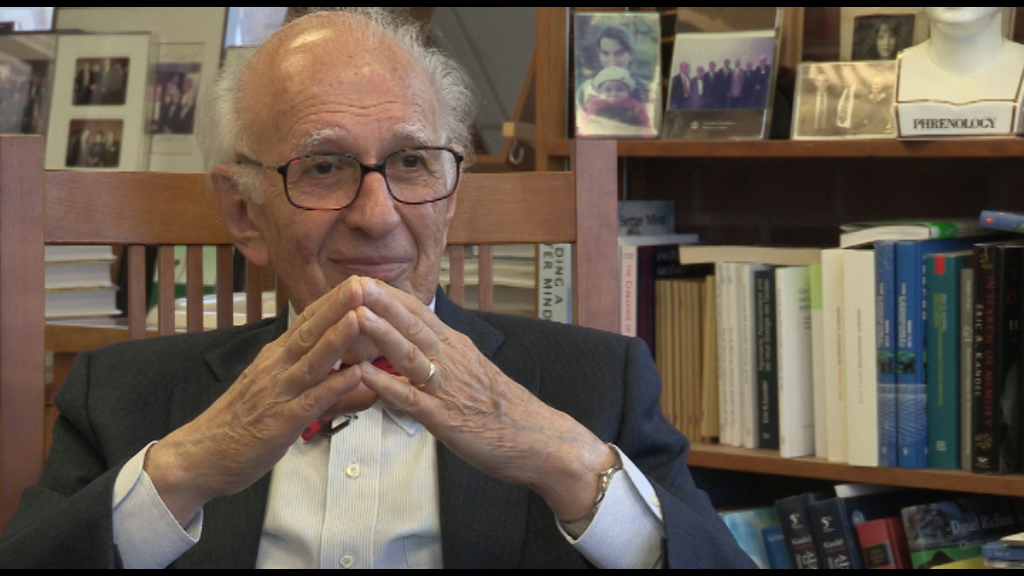 Goldfish brains
1
2
3
4
5
...
8
Only two people in the world were working on this at that time. Angélique Arvanitaki Chalazonitis in Marseille, and Ladislav Tauc in Paris. Denise is French, so far so good. They both came through, we both had them for dinner, and both seemed very interesting, and Denise said going to Marseille is like going to Albany. So we went to Paris, and I worked with Ladislav Tauc.
But before I could start with Ladislav Tauc, I had to take my residency. I had promised Ewalt that after a year. So 1960 I [would be] at Harvard, at the Mass Mental Health Centre, doing psychiatry. So this was a fascinating experience. I still had the idea that I would become a psychoanalyst, and this was a very analytically-oriented place, and I was thinking maybe I would combine psychoanalysis with brain science. And soon after I arrived there, in fact the first day, I walked into Ewalt's office, and he had been so gracious to me, and I said, 'I wonder Dr Ewalt whether I could have some space so I could set up a lab so in my spare time I could do some research'. I should tell you that when I was a resident, residents worked from nine to five, and every fifth or sixth weekend. So there was a lot of spare time. And he banged on the table and said, 'Who the hell do you think you are? Look at these 20 people who arrived the same time you did, what makes you think you're any better than they are?' I said, 'Dr Ewalt, I have absolutely no reason to believe I'm any better than they are clinically, but I have had some research training, and I would not like to lose out on that while I'm here'. He said, 'Get out to the wards and see patients'. I was so pissed off I was ready to quit. I called up Jerry Lettvin who was then at the Veteran's Hospital, he said, 'Come over here, it's a much more pleasant environment'. So I seriously considered doing that, but I was too much of a Harvard snob to give up a Harvard education, and I thought sooner or later I would win out. I went over to the medical school, to my delight I found that Steve Kuffler had moved to Harvard. And he brought with him Hubel and Wiesel. And after a while they recruited Furshpan and Potter and Kravitz. And wonderful to interact with them. But also somebody new slightly, Elwood Henneman was there. And Henneman offered me a lab. So I started to set up a lab over there.
Eric Kandel (b. 1929) is an American neuropsychiatrist. He was a recipient of the 2000 Nobel Prize in Physiology or Medicine for his research on the physiological basis of memory storage in neurons. He shared the prize with Arvid Carlsson and Paul Greengard. Kandel, who had studied psychoanalysis, wanted to understand how memory works. His mentor, Harry Grundfest, said, 'If you want to understand the brain you're going to have to take a reductionist approach, one cell at a time.' Kandel then studied the neural system of the sea slug Aplysia californica, which has large nerve cells amenable to experimental manipulation and is a member of the simplest group of animals known to be capable of learning. Kandel is a professor of biochemistry and biophysics at the College of Physicians and Surgeons at Columbia University. He is also Senior Investigator in the Howard Hughes Medical Institute. He was the founding director of the Center for Neurobiology and Behavior, which is now the Department of Neuroscience at Columbia University. Kandel's popularized account chronicling his life and research, 'In Search of Memory: The Emergence of a New Science of Mind', was awarded the 2006 Los Angeles Times Book Award for Science and Technology.
Title: I'm a Harvard snob!
Listeners: Christopher Sykes
Christopher Sykes is an independent documentary producer who has made a number of films about science and scientists for BBC TV, Channel Four, and PBS.
Tags: Harvard, Ladislav Tauc, Jack Ewalt
Duration: 2 minutes, 56 seconds
Date story recorded: June 2015
Date story went live: 04 May 2016