NEXT STORY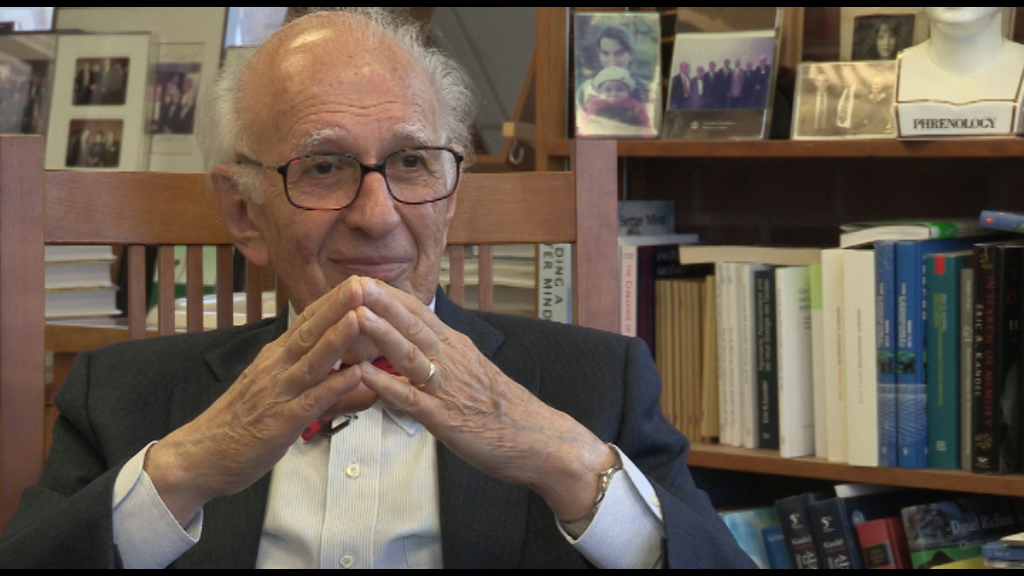 Feeling intellectually invigorated
1
...
4
5
6
7
8
So when I look back on my career, which has been so privileged, I can identify, you know, several factors that I think are particularly important. One is that, you know, surviving Vienna gives you a certain courage to go on, to face difficult situations and to try to overcome them. It, you know, I wouldn't say I'm free of anxiety, I can be quite anxious, but it makes a survivor out of you. Also, I mean a European background gives you a certain cultural perspective which is very important to me. And I still identify very strongly with the wonderful and intellectual environment in Vienna in 1900 where Jews and non-Jews interacted in such a productive fashion.
In addition, I think my psychiatric training and my interest in psychoanalysis and also my experience at Harvard in history and literature were very helpful, because all of those things that I learned at Harvard, and in psychiatry and psychoanalysis, work at bridging between disciplines. And I enjoy that a great deal. And I think one of the few things I was able to bring to bear is that very early on I was not scared of behavior. I was able to bridge behavior to cellular nerve biology before most other people were willing to do that. So when the Kuffler group, that knew infinitely more neurobiology than I did, they didn't tackle these problems until later, while I had the blind naiveté to go ahead and do this.
Then it was Denise, who really had from the beginning an unbelievable degree of confidence in my creativity. I thought it was completely unrelated to reality, but she saw something in me that I did not see, and she still sees things in me that I don't see. She also sees things in me that I don't want her to see, but she sees lots of things in me that I don't see. And she was an enormous source of encouragement. It's hard to describe how important she was particularly in helping me see my way in relationship to my brother who was wonderful, but she thought I was more creative than he. She thought that he certainly had more book knowledge than I did, but in terms of thinking freely she thought I was quite strong in that.
And then I was very fortunate with my colleagues. At every point in my career, I bumped into the right person. Richard Coggeshall when I was working with identified cells and trying to look at the anatomy. And then Craig Bailey when we were actually looking at the anatomy of it. Kupfermann and Carew and Pinsker looking, you know, at the behavior. Koester and a whole bunch of other people when I get interested in biophysics. Steve Siegelbaum later on in the same category. Jimmy Schwartz in the phase of biochemistry. Phillip Goelet and particularly Richard Axel in the molecular genetic era. You know, Seth Grant when we moved into genetically modified mice. So really I've been extremely fortunate. And then, you know, my junior colleagues have been unbelievable. I've had fantastic people. We spoke recently about Priya Rajasethupathy. I mean, a fabulous post-doctoral student. Arnie Kriegstein. You know? Made the development of Aplysia possible. Kelsey Martin. Kausik Si. Fabulous, fabulous post-doctoral students.
Eric Kandel (b. 1929) is an American neuropsychiatrist. He was a recipient of the 2000 Nobel Prize in Physiology or Medicine for his research on the physiological basis of memory storage in neurons. He shared the prize with Arvid Carlsson and Paul Greengard. Kandel, who had studied psychoanalysis, wanted to understand how memory works. His mentor, Harry Grundfest, said, 'If you want to understand the brain you're going to have to take a reductionist approach, one cell at a time.' Kandel then studied the neural system of the sea slug Aplysia californica, which has large nerve cells amenable to experimental manipulation and is a member of the simplest group of animals known to be capable of learning. Kandel is a professor of biochemistry and biophysics at the College of Physicians and Surgeons at Columbia University. He is also Senior Investigator in the Howard Hughes Medical Institute. He was the founding director of the Center for Neurobiology and Behavior, which is now the Department of Neuroscience at Columbia University. Kandel's popularized account chronicling his life and research, 'In Search of Memory: The Emergence of a New Science of Mind', was awarded the 2006 Los Angeles Times Book Award for Science and Technology.
Title: My privileged career
Listeners: Christopher Sykes
Christopher Sykes is an independent documentary producer who has made a number of films about science and scientists for BBC TV, Channel Four, and PBS.
Tags: career, Vienna, psychoanalysis, neurobiology, creativity, colleagues
Duration: 4 minutes, 24 seconds
Date story recorded: June 2015
Date story went live: 04 May 2016