NEXT STORY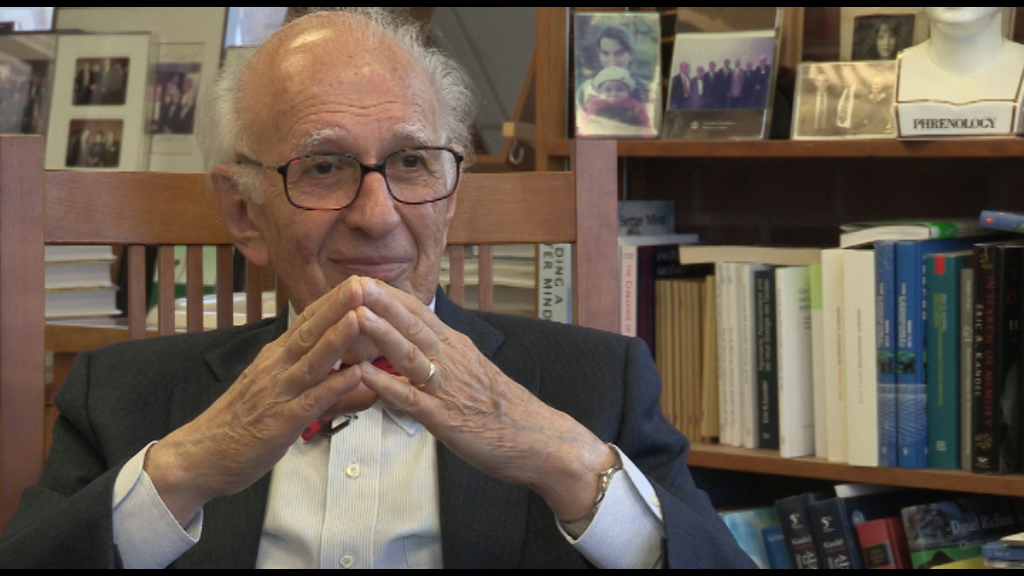 Enjoying life
My book on German Expressionist artists
1
...
4
5
6
7
8
I don't remember when, I'm making it up now. In about… 1988 or something like that, I was awarded an honorary degree from the University of Vienna Medical School and they asked me to give a talk on behalf of all the recipients. So I thought I would belt the hell out of them, tell them how I felt, how the University of Medicine handled itself: two days after Hitler came to power, a Nazi was appointed dean of the medical school, and two days later, half the faculty, the Jewish faculty was half the faculty, was fired. And you see a famous picture, it may even be in this book, of his calling a faculty meeting and giving the 'Heil Hitler' salute. So I thought I was going to tell them that. And then I decided, don't be a schmegegee, they're honoring you, use that on another occasion. Be decent.
So I thought I would do something about the history of the Vienna School of Medicine and its contribution to world medicine. So I began to read up about that, and to speak to people about it, and I discovered Rokitansky and how important he was, and Škoda, the people he worked with, and also brought in Sigmund Freud, and also Gall. I mean, the fact that Viennese medicine contributed a great deal, not only to medicine as a whole, but to understanding the mind and the brain, and it was well received, and… period. End of paragraph.
Many years later, about 2005/2006, maybe even after that, the Practitioners' Club, which is a club that I belong to in New York that meets six times a year at the Century Association, you go around and you take turns, one member pays for the dinner, there are about 30 or 40 members, and the other gives a talk. Whatever you want. Your science, your hobby. I thought I would speak about my hobby, Klimt, Kokoschka and Schiele. Very well received, and as I gave that talk I saw a connection between Rokitansky and the influence he had on this through the Zuckerkandl salon. And I sort of put together a talk, and once for a meeting of the European Neuroscience Society, I was asked to give a talk. And I gave a talk that put the whole thing together, beginning with Rokitansky, Zuckerkandl, and all the way, the influence of Zuckerkandl and Klimt, etc. And these young kids just went wild. They thought it was one of the best talks they'd ever heard. They didn't know these artists. They ran to the museums and had a great time. And that's when I decided to put it together and make a book out of it. And it's given me enormous pleasure. And now this movie came out, The Woman in Gold, and sales of my book, which have been doing reasonably well to begin with, popped up again.
And Schoenberg, the lawyer who has a critical role, he was the one who really saved Adele Bloch-Bauer so that Lauder could buy it, he sends me - knew him slightly - he sends me an email after the art book comes out, says 'Nu, where's my grandfather?' And I said, 'Your grandfather's a great artist', which most people don't realize, 'but it didn't fit into my book'. And subsequently I've come back to his grandfather. Most people don't know it, it's an interesting and complicated story. So Schoenberg, great composer, is not earning much money. And he thought he would become a painter, because painters earn money very easily. So he is very impressed with this young guy, Gerstl, who before Kokoschka was already moving into an expressionist direction, and before Schiele was beginning to paint himself in the nude. Really quite extraordinary painter. He was very young in his early 20s and Schoenberg was very much taken with him, and asked Gerstl to give him some lessons. And then he invites Gerstl to come with him to his summer residence, spend the summer with him. And he comes and he proceeds to have an affair with Madam Schoenberg. Not a good idea. Schoenberg finds out about it, tells Madam Schoenberg you have a choice, him or me. She chooses Schoenberg, and Gerstl does himself in, like age 26. Paints a painting of her with her mouth sealed… or eyes closed, because she was told never to look at him again, and then…
And so, you know, to write about this, when I was speaking about Klimt, Kokoschka and Schiele, I didn't think was a good idea. But what is not known is that Schoenberg after the death of Gerstl went on to paint for about a three- or four-year period, quite remarkably and became abstract. So in 1910, he was already doing abstract art. And the general thinking is that abstract art began with Kandinsky, and Kandinsky was trying to leave figuration and become abstract, and he couldn't do it. And then in January 1911, goes to a New Year's concert, and he hears Schoenberg, and Schoenberg's atonal music, says if he can leave tonality, I can leave figuration. He goes and he does some abstract work in April of 1911, not knowing that Schoenberg himself had already done abstract work. And I have several essays on that.
Eric Kandel (b. 1929) is an American neuropsychiatrist. He was a recipient of the 2000 Nobel Prize in Physiology or Medicine for his research on the physiological basis of memory storage in neurons. He shared the prize with Arvid Carlsson and Paul Greengard. Kandel, who had studied psychoanalysis, wanted to understand how memory works. His mentor, Harry Grundfest, said, 'If you want to understand the brain you're going to have to take a reductionist approach, one cell at a time.' Kandel then studied the neural system of the sea slug Aplysia californica, which has large nerve cells amenable to experimental manipulation and is a member of the simplest group of animals known to be capable of learning. Kandel is a professor of biochemistry and biophysics at the College of Physicians and Surgeons at Columbia University. He is also Senior Investigator in the Howard Hughes Medical Institute. He was the founding director of the Center for Neurobiology and Behavior, which is now the Department of Neuroscience at Columbia University. Kandel's popularized account chronicling his life and research, 'In Search of Memory: The Emergence of a New Science of Mind', was awarded the 2006 Los Angeles Times Book Award for Science and Technology.
Title: My book on German Expressionist artists
Listeners: Christopher Sykes
Christopher Sykes is an independent documentary producer who has made a number of films about science and scientists for BBC TV, Channel Four, and PBS.
Tags: Carl von Rokitansky, Bertha Zuckerkandl-Szeps, Arnold Schoenberg
Duration: 6 minutes, 46 seconds
Date story recorded: June 2015
Date story went live: 04 May 2016