NEXT STORY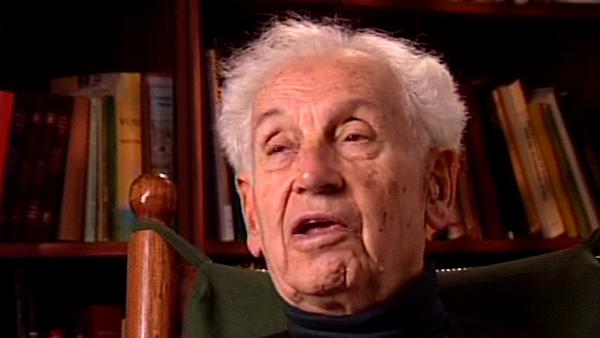 Sympatric speciation
1
...
10
11
12
13
14
15
There was one other point that I emphasized in the… in the new volume and that is that this claim, and I had said this already earlier, this claim that the species are unimportant in nature, they're just an accident of nature, is quite wrong. In fact the species is the real unit of evolution. Every species occupies a certain niche in nature, a certain… place in the whole machinery of life and of ecotypes and… ecosystems and so forth, and every new species is an experiment, so to speak, of evolution. Most of them are unsuccessful, die out rather quickly, but every once in a while a species discovers a new unused resource in nature, a new unused adaptive zone, and then can be successful there and speciate again there within this new environment. And in order to have evolutionary change and evolutionary so-called progress, a abundant production of new species is a necessity just like abundant genetic variation within a population is a necessity for natural selection to work.
The late German-American biologist Ernst Mayr (1904-2005) was a leading light in the field of evolutionary biology, gaining a PhD at the age of 21. He was also a tropical explorer and ornithologist who undertook an expedition to New Guinea and collected several thousand bird skins. In 1931 he accepted a curatorial position at the American Museum of Natural History. During his time at the museum, aged 37, he published his seminal work 'Systematics and Origin of the Species' which integrated the theories of Darwin and Mendel and is considered one of his greatest works.
Title: The species in nature
Listeners: Walter J. Bock
Walter J. Bock is Professor of Evolutionary Biology at Columbia University. He received his B.Sc. from Cornell and his M.A. and Ph.D. from Harvard. His research lies in the areas of organismal and evolutionary biology, with a special emphasis on functional and evolutionary morphology of the skeleto-muscular system, specifically the feeding apparatus of birds.
Tags: nature, book, species, ecotype, ecosystem, evolution, genetic variation, genetics, population, natural selection
Duration: 1 minute, 22 seconds
Date story recorded: October 1997
Date story went live: 24 January 2008